Ki-61-I Hein HEI "Tony"
by Andrei Koribanics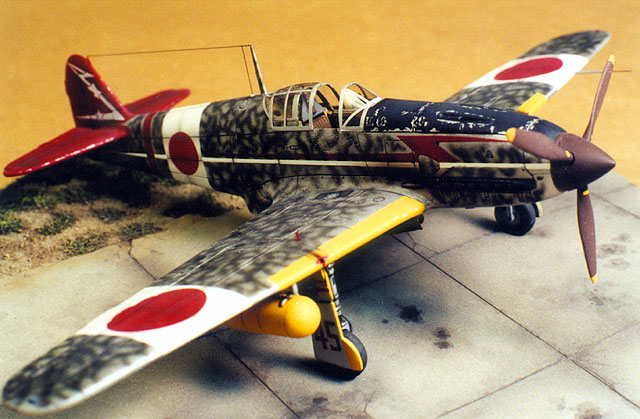 Ki-61-I HEI Hein "Tony"

Dragon's 1/72 scale Ki-61 Tony type III is available online from Squadron.com
This is DML's 1/72 Ki-61-1 HEI 'Hein' (Tony).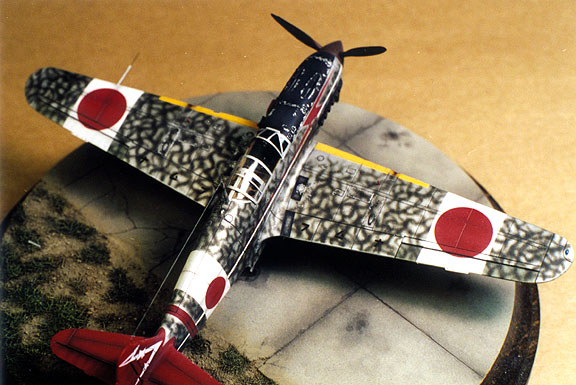 DML's Tony is a beautiful little kit of Japan's only in-line engined WWII army fighter. Compared to Hasegawa's offering, I found it better captured the aircraft's sleek lines and is more highly detailed, inside and out.
The model went together nicely with only a couple of problem areas:
The forward upper cowl piece required some sanding to fit properly, being a bit too wide.

More noticeable was the total lack of dihedral in the wings. This was solved by scoring and gently bending the lower wing piece to the proper dihedral.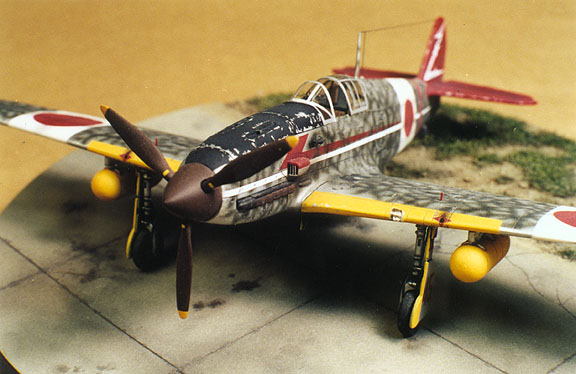 The interior is quite detailed straight from the box, but was enhanced with the addition of a new instrument panel and foot pedals from the Eduard photetched brass set, scratchbuilt gun breeches, rear deck and seat. I considered the Hasegawa canopy to be more accurate in outline, so this was used to vac-form a replacement, suitably cut and 'framed' with painted decal strip and positioned open. The exhausts were also replaced with Hasegawa's, as I found them to be more convincing.
Other scratchbuilt additions include the addition of detail to the air scoop, the underwing oil cooler, venturi, and landing light... an MV Products lens with a vac-formed clear cover.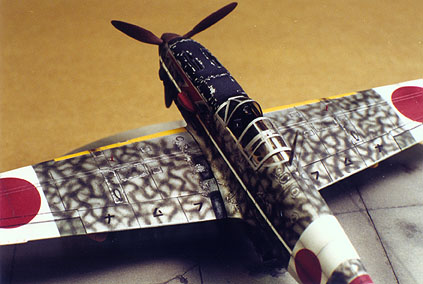 The scheme is that of TSgt. Kiyoshi Ando, Jan. 1945, who was killed in an attack on a U.S. B-29, according to the Osprey Army Air Aces book.
While the exterior of DML's kit boasts better detail than Hasegawa's 1/72 scale Hein, the surface is finely textured (I believe from sand-blasting the mold).
Achieving brilliant metallic effects will be difficult on this surface without sanding and polishing, thus risking the finely recessed detail. As my version was destined to wear a rather dull, worn aluminum surface it didn't present a problem. If you want a version with a bright, polished surface however, I'd suggest using the Hasegawa kit.
Testors Metalizer Buffing Aluminum provided the overall color. Model Master paints were used or all other painting, including the squiggle camouflage.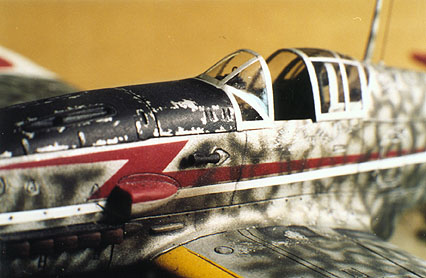 Chipping was achieved with Rub-N-Buff silver, thinned with mineral turpentine and applied with a fine brush. Hinomaru are from the Hasegawa kit (I still think they make the best 'meatballs'), and the squadron insignia is from Aeromaster.
Ando's personal markings, the red lightning flash and the '45' on the gear doors was airbrushed onto clear decal film with frisket stencils. The white fuselage stripe is cut from white decal film.
Andrei Koribanics II