Messerschmitt
Me 262A-1a/U3
By Helmut Latoschinski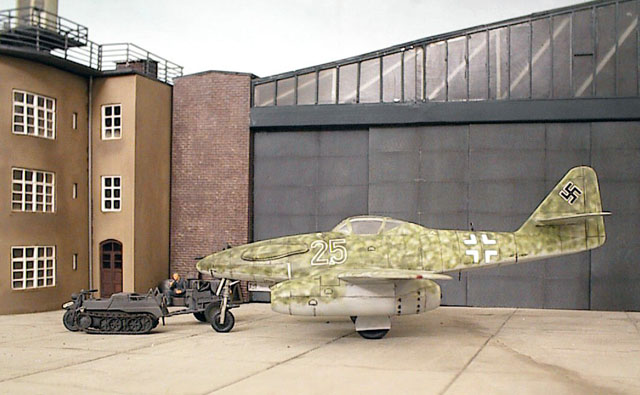 Messerschmitt Me 262A-1a/U3
"White 25" of 2. NaGr 6
The Me 262 will be well known to regular HyperScale visitors, so I won't bore you with common knowledge.
Even so, it is worth mentioning a few specifics about the "U3" field conversion. The objective was to get a fast reconnaissance aircraft. Instead of the 4 x MK 108 30 mm cannon bay there were two Rb 30/50 cameras installed. Due to the size of this camera it was necessary to build up two bulges on the nose. Most of these aircraft were not armed, but a few were fitted with single MK 108 in the nose tip. In this case the barrel was cut off at a 45° angle - very unusual.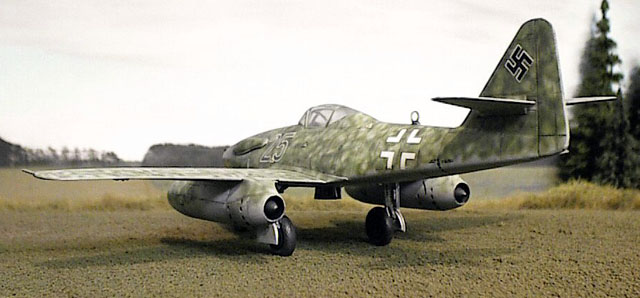 "White (outline) 25" flew for "Nahaufklärungsgruppe 6" (Close Range Recce Unit) and was found partly destroyed after war at Lechfeld, Bavaria together with some other aircraft of the same unit. David Wadman's book contains some nice shots of these aircraft.
You may note some new diorama features in the photographs of this model.
The kit is the inexpensive 1/72 scale Revell Germany Me 262A-1a/U3.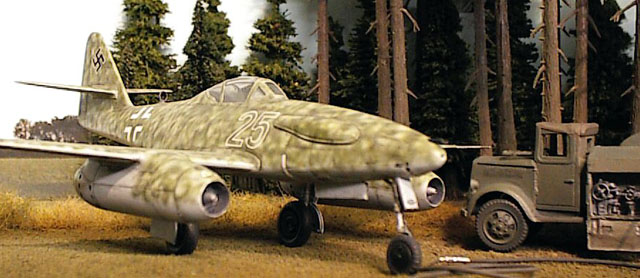 I added the single MK 108 and the brakelines. Unfortunately, this nicely detailed kit suffers from a poor canopy. The engine nacelles don't fit perfectly either, so you will have to do a little putty & sanding.
What you see is a "repaint". The first attempt ended up too light, and the two-tone "spaghetti" was too wide. After regarding the source pics I decided to make a second attempt. I am pleased with the results.
The first step was painting the entire kit with a home brew of RLM 76 (Tamiya).
Step Two was applying the lighter "spaghetti". There is no sure evidence if it was either RLM 02 or RLM 82. I chose Gunze RLM 82.
The last step was the darker tone, this time Gunze's RLM 83. BTW, the "spaghetti" is not the same as the "wave pattern" that was common for maritime used aircraft. In case of the NaGr 6 aircraft, it was a relative dark random pattern of wave, zig-zags or horizontal stripes. Some spots of the light base tone shine through.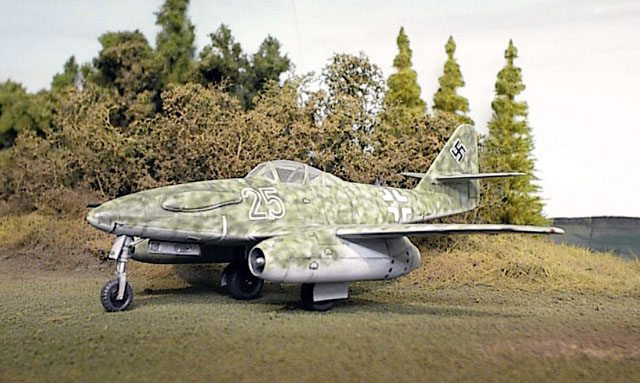 This was the first time for me to use my new "fine works" airbrush, a product named "Triplex". It looks much like Iwata HP-A and works in a mixture of single-action and double-action features. The triggers allows only one movement, but gives you air first. If you pull more, paint is added the more you pull. This allows what i would call "control". At this point, my trusty Aztek was not consistent enough, especially on lines about 1 to 1,5 mm!
The decals are from the excellent Cutting Edge Set "German Reconaissance Fighters".
Weathering was achieved using enamel washes for the panel lines and some paint chipping with silver pencil.
Cutting Edge's instructions

"Luftwaffe Reconaissance Fighters" David Wadman, Barry Ketley & John Bradley

"Aufklärer - Luftwaffe Aircraft & Units 1935 - 1945" (German edition)
---
Text, Models and Images Copyright © 2000 by Helmut Latoschinski
Page Created 11 February, 2001
Last Updated 04 June, 2007
Back to HyperScale Main Page
Back to Features Index