Panzer IIIL
by Mike Millette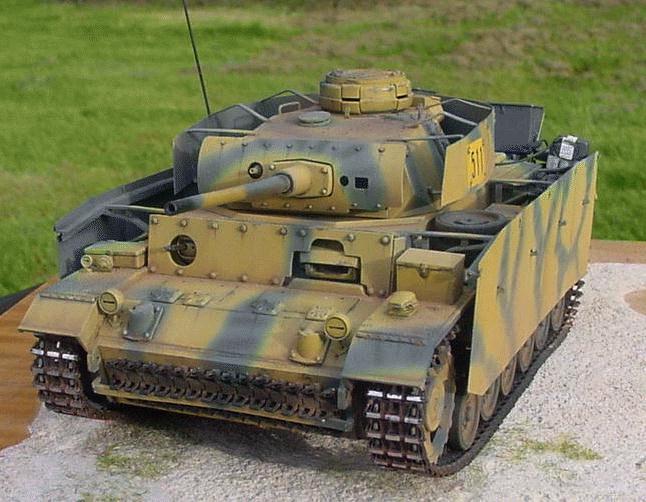 Panzer IIIL

HyperScale is proudly sponsored by Squadron
One German armor subject that I have wanted to model for some time was a Panzer III L with some rather unique markings. This Panzer III shows up in both the Squadron Signal "Panzer Colorss" and the Kagero "Panzer III ausf. L/M". Both books include a color profile that interprets this vehicle with a gray base coat covered by fine lines of olive green over sprayed with large "clouds" of panzer dark yellow.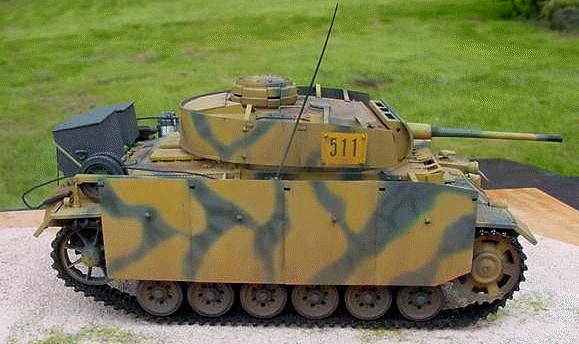 The vehicle carries the tactical number "511" in what appears to be a yellow rectangle on the back and sides of the turret skirt.
This is a conversion of Dragon's 1/35 scale Flammpanzer to a Panzer III L
To start with, one might ask why did I go to the trouble of converting Dragon's Flammpanzer when Tamiya makes a perfectly good Panzer IIIL. That's easy - I was able to purchase the kit from a local hobby store for $15US. Also, after examining both the Tamiya kit and the Dragon kit, it seemed to me that it would be easier to convert the Dragon kit into an L than it would be to convert the Tamiya kit into a later version, which I also wanted to do. I'll use the Tamiya kit to build an ausf M.
Fortunately the Flammpanzer kit, as it is designed and packaged, consists of a number of sprues that carry parts for multiple versions of the Panzer III. This is the happy result of Dragons approach to model sales, which is to maximize the number of common sprues for to enable the marketing of a wide variety of versions. The kit itself looks quite nice and with a few additions makes a very nice model. There are of course a few things to look out for, but all in all construction is rather straightforward.
The kit was detailed using a variety of products.
The hull skirts were added using Aber's excellent PE set.

Aber's Photo-Etched grilles for the engine air intakes were also used.

The turret skirts were made from thin sheet plastic and thin brass strip to make the support brackets. I had such a difficult time trying to get Aber's turret set to line up properly that I ended scratch building these items.

Bolt heads were added using short sections of plastic rod with a hex shaped cross section. These were cut using "The Chopper".

Wiring was added for the driving lights.

The tow cable tie downs were made using leftover PE "sprue" from a couple of different Aber sets. These were then detailed with PE wingnuts.

The cargo rack was constructed using the same brass strip used to make the turret skirt brackets.

The cargo boxes were scratch built to match the two boxes shown carried by "511" in the photograph. They are made of sheet plastic with lead foil & wire handles.

The dangling bucket was "borrowed" from a Tamiya SdKfz 251.

Tamiya's "German Fuel Drum" set provided the jerry can. It has a white cross painted on it to distinguish it as one used for carrying water.

A Tamiya Panzer III L turret was also used. During construction, I damaged the Dragon item beyond repair and replacing it with the Tamiya turret, ordered from Tamiya's parts service, turned out to be the easiest solution.

Fruil's ATL 04 pinned track set was used. I love these track sets because I can paint & weather them and then once finished, lightly rub them on a piece of 400 grit sandpaper and "viola" perfect looking track wear. They also sag just right, not that you can see it with the skirts in place, but I know it's there!

The tow cables are a combination of Karaya cables and the Tamiya cable ends that come with the Panzer IV OVM sets. These cables look great and best of all they are super easy to work with.
The kit was painted using a combination of Model Master, Aero Master & Floquil enamels.
First the kit was painted in Model Masters Panzer Gray which was lightly highlighted and shadowed using tinted versions of the base color. Then Aero Master's RLM 70 was used to paint the fine green lines. Finally a lighted version of Floquils SP Panzer Yellow was used for the large "cloud" pattern. This was further lightened and sprayed randomly within the "clouds".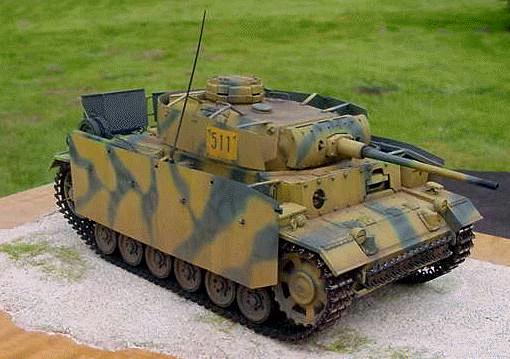 The markings were applied by first masking off a rectangle for the background. Clear gloss was applied to the turret skirt and decal numbers were applied. I could not find the correct decals so I used some railroad decals with approximately the right font and then sliced them up so that I could add extra pieces to "stretch" them. The entire kit was then sprayed overall with clear flat lacquer. Rather than applying an overall wash I sprayed a heavily thinned mixture of red-brown and black randomly over the entire model.
A localized pin wash was applied where shadows would appear around raised detail and finally pastels were applied to simulate that last layer of road dust.
Aside from the frustration involved with the odd fit of the Aber turret skirts, trashing the original kit turret and a few irritating clean up tasks in delicate areas (the idler wheels in particular) this was a fun build.
I like the combination of the green and yellow over the gray base coat and all in all I'm pretty satisfied with the effort. I'm really happy with the way the pastels simulate the accumulated road dust.
Click the thumbnails below to view images full-sized.
Click the "Back" arrow on your browser to return to this page.
---
Model, Images and Text Copyright © 2001 by Mike Millette
Page Created 06 June, 2001
Last Updated 04 June, 2007
Back to HyperScale Main Page
Back to Gallery Index