Nakajima A6M2 Type 2
Floatplane Fighter "Rufe"
by Chris Beaumont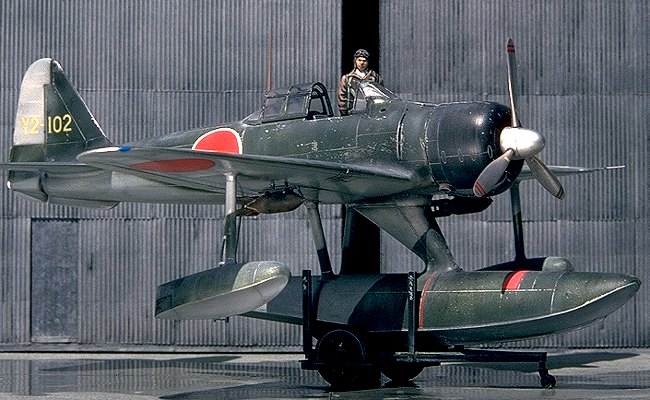 Tamiya's 1/48 Zero on floats "Rufe"

Tamiya's 1/48 scale "Rufe" is available online from Squadron.com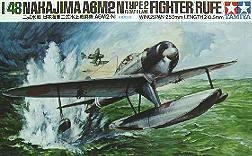 This aircraft is the Nakajima built seaplane version of the Mitsubishi Zero fighter, code named "Rufe" by the Allies. The Allies used a system of Japanese aircraft identification code names as simple references instead of a potentially confusing series of numbers or letters (to use a fictitious example - IJN-459AZ). Male names like Tony, Frank and Rufe were assigned to all fighter types and reconnaissance seaplanes. Rufe is actually an old-fashioned American hillbilly name.
The floats are obvious additions. Less noticeable modifications carried out by Nakajima to the Mitsubishi Zero fighter included a slightly larger rudder and additional measures to waterproof the airframe. The "Rufe" was active throughout the Pacific campaign with roles including fighter-bomber, reconnaissance and escort. Many seaplane bases were built throughout the string of island outposts set up by the Japanese to facilitate their planned conquest of the Pacific. 327 Zero floatplane/fighter "Rufe's" were said to have been built.
T h e P h o t o F e a t u r e
This photo feature compliments a six and a half page black and white article done for Australia's "Plastics Modeller" magazine in the April-May 1995, No.29 edition. The article features 27 photos to illustrate the building and paint finish of the model.


The emphasis is on a realistic paint chipping technique applied to Tamiya's 1/48 Zero floatplane fighter "Rufe" as described in a step-by-step painting guide. Also mentioned are the valuable influences of the well-known modeller Francois Verlinden and the Japanese aviation artist Shigeo Koike, whose exquisite paintings are featured on many of Hasegawa's model kit box tops.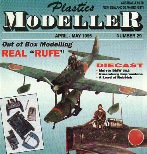 "Plastics Modeller" magazine No.29 is available from

ModelArt Australia
PO Box 4045
Ringwood 3134
Victoria, Australia.
Ph:03 9812 2955, Fax:03 9812 2885.
The editor of "Plastics Modeller" - now called "ModelArt Australia" magazine
is Frank Morgan.
F i l m R e f e r e n c e
If you ever need a boost of inspiration to make or finish building a model seaplane / floatplane then watch the movie "Murphy's War" starring Peter O'Toole. It involves dogged attempts by O'Toole's character to pilot a floatplane, a Grumman J2F6 "Duck", to sink a U-boat somewhere in the sunny Caribbean during the last days of Germany's involvement in WWII.
You will see a lot of great color action scenes of a wartime weathered floatplane in it's natural environment.
Click on the thumbnail images below to view the image full sized.
Use the "Back" arrow on your browser to return to this page.
---
Model, Text and Photographs Copyright © 1998 by Chris Beaumont
Page Created 17 August 1998
Last updated 04 June 2007
Back to HyperScale Main Page
Back to Feature Index