Israeli Ayit
by Julien Haccoun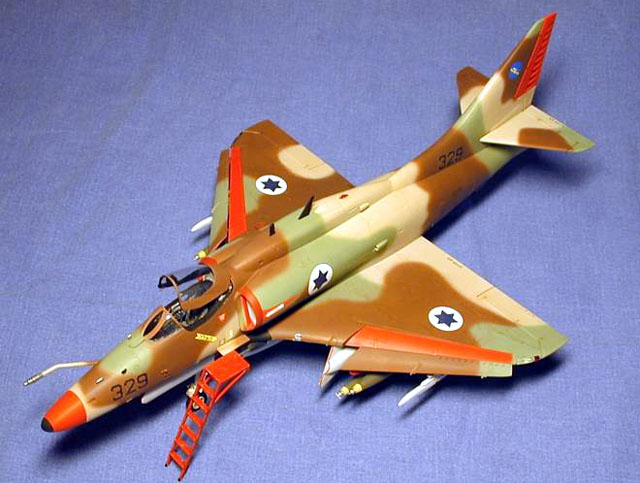 Ayit

Hasegawa's 1/48 scale A-4C Skyhawk is available online from Squadron.com

Here is my 1/48 Ayit. It is based on the gorgeous A-4 Skyhawk model recently released by Hasegawa.
Construction straight from the box is fairly straightforward, although there are many tiny parts to add at the end (antennae, hooks, ECM fairings, nav lights, etc...). Now this project was far from being easy, since I had to make a number of modifications to the base model.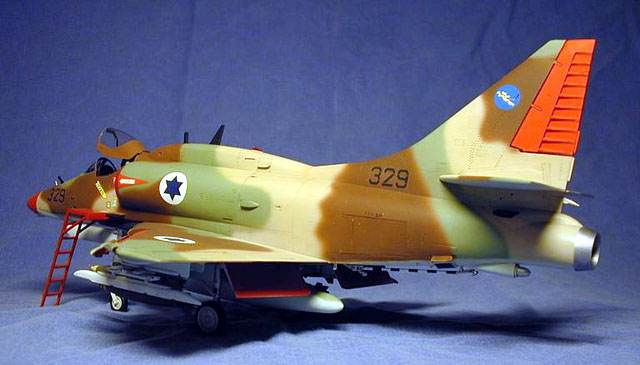 First I installed Aires cockpit. The parts are beautiful but the fit is horrible, so once the tub and back decking is in place it is nearly impossible to close the fuselage halves. I closed them by force with a generous amount of super glue and zap-kicker. This job done I had to graft the extended exhaust pipe that Israelis added during the Kippour war. This part was taken from Hobbycraft A-4 and believe me, the fit wasn't that nice either! A lot of putty and sanding was required tu integrate it properly. Since the shape wasn't accurate enough to my eyes (the pipe is too long and not tapered enough), I modified it and also added Hasegawa's inner pipe inside. Again a lot of cyano, sanding and polishing was necessary to obtain a decent finish.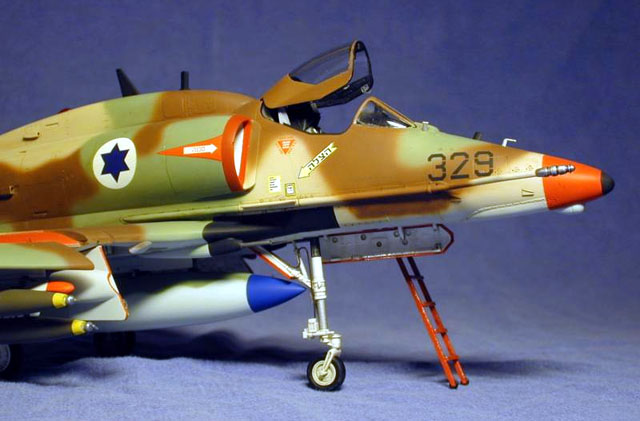 Another delicate task was to identify all the specific antennae mounted on the Israeli Ayit. Quality pictures of these aircraft are not easy to find. I identified a number of items that I picked either from Hasegawa's leftovers or from Hobbycraft parts. The 30 mm gun pods were also taken from HC model, but as I compared them to the real parts I noticed that they were wrong in shape. I corrected them accordingly using cyano and again a bit of sanding... Their barrels are made of inox tubing.
The landing gear legs were slightly detailed with thin piping (yep, I hate doing this!)
This model was painted using pictures I found on the web, especially one featuring a pair of training aircraft flying in tight formation.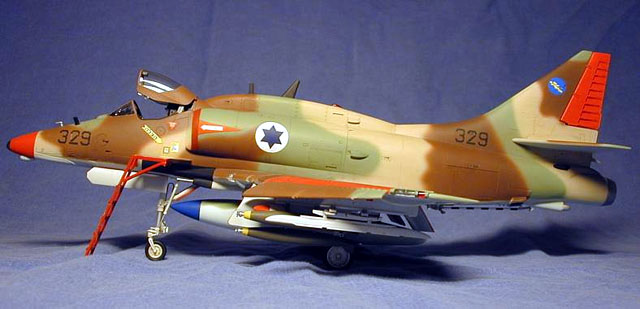 Paints are from Gunze range, straight from the bottle, except the red used for the nose and rudder that is base on bright red with about 20% of fluorescent orange to simulate the "near-dayglo" paint (althought the difference is nearly invisible on most pictures I took...). The scheme was quite complex to spray (freehand) but with a properly thinned paint and a bit of method, it can be done without much trouble.
The decals are from SkyDecals (purchased from FlightDecs) sheet n°1 and were very easy to apply over a gloss coat. My only concern is that the red of the intake warning didn't match my paint... Too bad, too late! A nice coat of Aeromaster flat sealed them once and for all.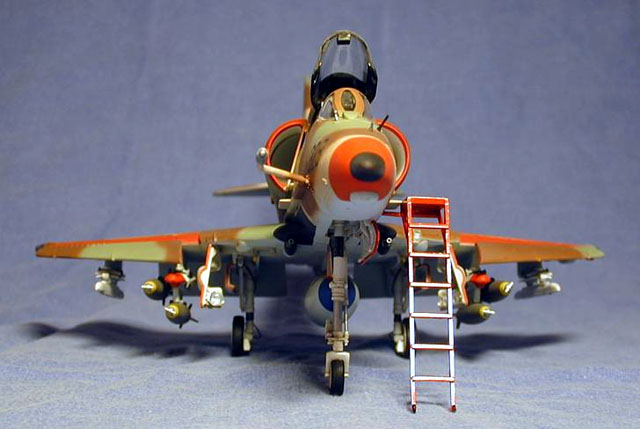 The bombs also come from the Hobbycraft kit and are very nice. They're hung underneath a Hasegawa TER taken from their Weapons Sets. When I have time, I'll add one or two Sidewinders to complete their loadout..


In the end I'm glad I finished this one. It was quite a challenge built over two months, but I am quite satisfied with the result. It adds a lot of colour to my showcase, between my Ukrainian Flanker and my Sabre.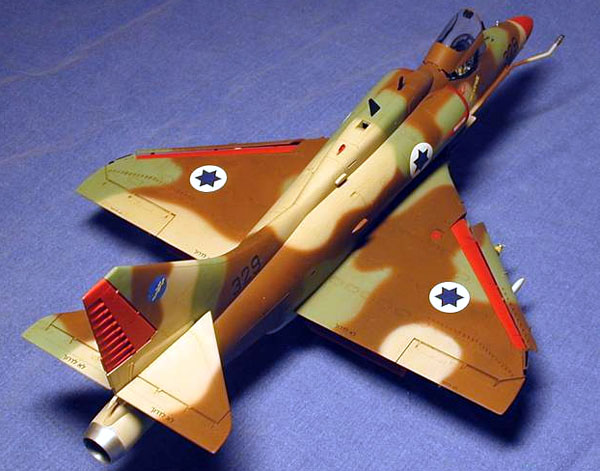 Now, I'll have to make a couple of Adversary Scooters to get along!
Click the thumbnails below to view larger images:
[../photogallery/photo13689/real.htm]
---
Images Copyright © 2001 by Julien Haccoun
Page Created 16 October, 2001
Last Updated 04 June, 2007
Back to HyperScale Main Page
Back to Features Index