Supermarine Spitfire Ia
by Andrew Johnson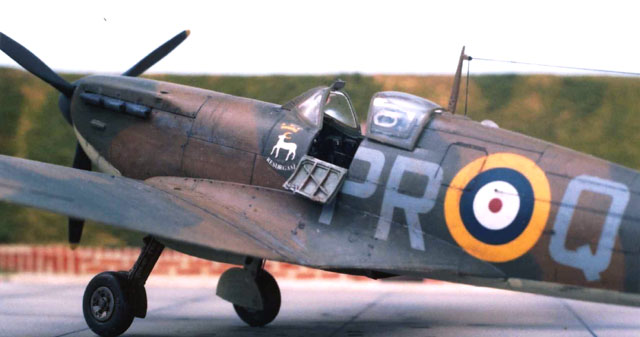 Supermarine Spitfire Mk. Ia


Tamiya's 1/48 scale Spitfire Mk. Ia is available online from Squadron.com
The Spitfire probably had the best combination of speed and manoeuvrability of any fighter around in 1939. Its tightly fitting lines did not permit the storage of much fuel so its endurance was limited. Thus, its role was restricted to point defence.

With 8 x .303 Browning machine guns it was well-armed for a fighter vs fighter contest, but less able to knock down bombers. A one second burst would release 152 rounds into the air, or 1.72 kg of projectiles, compared to 52 rounds and 2.37 kg of the Bf-109 E (Tony Williams). When it came to the Battle of Britain it was the right plane at the right time. You were much more likely to survive an encounter with the dreaded 109 in a Spitfire then in a Hurricane or Defiant. Fighter Command knew this, so kept Spitfire squadrons in the line for longer, thus the squadrons lost about the same number of pilots as the Hurricane squadrons which were more frequently rotated.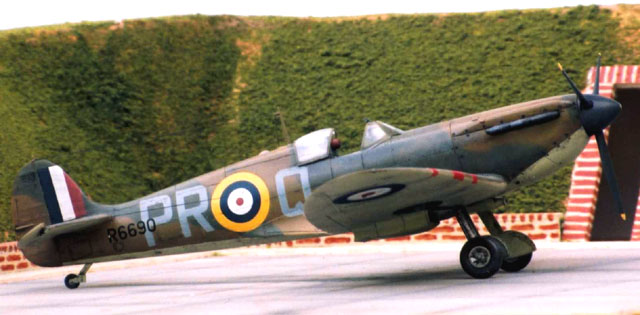 The major reason for the high casualties in Fighter Command was poor tactics (the infamous tight vics) and inevitably, inadequately trained pilots. John Alcorn recently published an analysis of the Fighter Command squadrons. In terms of kill/loss ratios many squadrons were losing one aircraft for every German plane shot down, a trade the Luftwaffe could afford better than the RAF. However, if the British pilot survived he could return to duty, unlike his German counterpart.

In terms of verified victories 609 (Aux) Squadron was the 2nd highest scorer with 48 victories against 14 losses to 31st October following 21 days engaged. 609 Squadron was under the control of 10 Group and was based at Middle Wallop in Wiltshire. This had its advantages, being further from the frontline of London, the Squadron had a better chance of climbing to altitude unmolested. 609 Squadron frequently engaged JG2 (Richthofen) coming over from Brittany.

On 28th November 1940, Flt Lt. John Dundas from 609 shot down the Geschwaderkommodore Helmut Wick before he too was shot down into the sea near the Isle of Wight by the Kommodore's wingman.
Tamiya's 1/48 Scale Spitfire Ia
This is Tamiya's 1/48 scale Spitfire Mk. Ia. It is hard not to fall in love with the Spitfire as its shape comes together.

Whilst there is no resin interior available there is a nice Eduard photo etch set I would recommend for the cockpit. I added extra scratch detail as per the many cockpit photos available. Strangely, Tamiya omitted the armour plate for behind the seat, which needs to be added.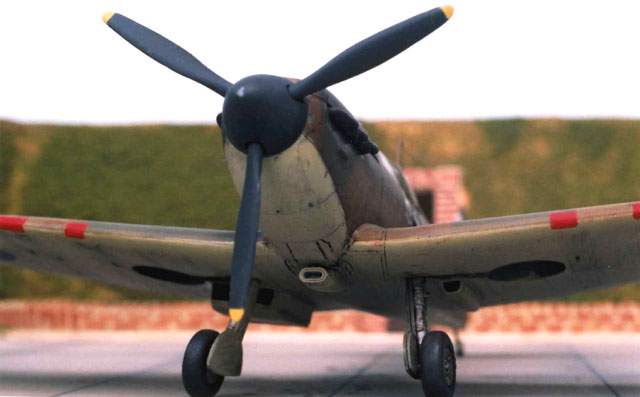 Don't forget to detach and drop the elevators. You will not find a photo of a grounded Spitfire without those drooped elevators! You should attach a radio aerial to the mast, but not if you are making a Mk V!
Painting, Decals and Blast Pen
The paint and 609 Squadron markings come from Aeromaster. The blast pen base is made from wood, cardboard, polyfilla, acrylic and water paints followed by white glue and railway grass. The photos are taken with either telephoto lens, or a normal lens with a 15 mm extender. Film is 400 ASA at f16 with 1/15 to 1/30 second exposure.
Click the thumbnails below to view larger images:
---
Model, Images and Article Copyright © 2001 by Andrew Johnson
Page Created 16 November 2001
Last updated 04 June 2007
Back to HyperScale Main Page
Back to Features Page