ďHorstĒ in 1/2 Scale
Sturmgeschutz III Ausf. G
Sd Kfz 142/1
by David M. Schultz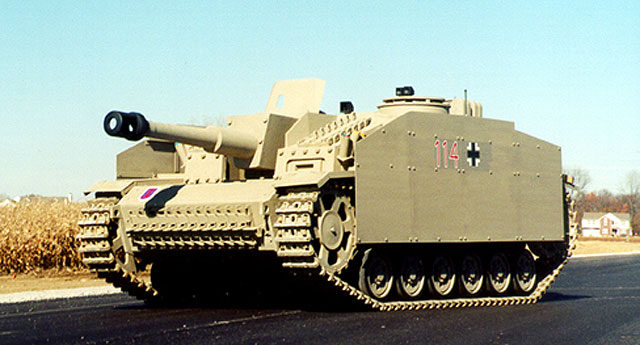 Sturmgeschutz IIIG
Horst is a scratchbuilt, fully operational, radio controlled, PVC (poly-vinyl-chloride), steel and plywood 1/2 scale reproduction of the German ďSturmgeschutzĒ, StuG III tank destroyer.

Horstís dimensions were developed and drawn using computer aided drafting and are retained in a computer-aided-design (CAD) model and was built using that information developed into a formal Manufacturing and Assembly Plan.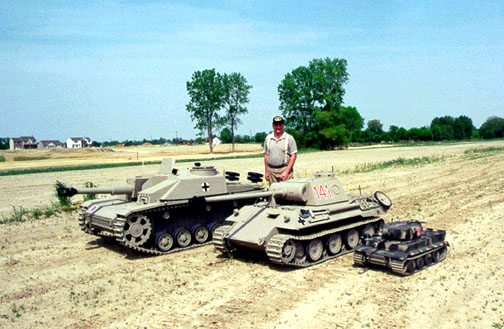 Horst was upscaled from a 1/35 plastic scale model and also developed from engineering drawings and photos taken of the real vehicle in the Ordnance Museum located at the U.S. Army proving grounds in Aberdeen, Maryland and the Patton Museum at Fort Knox, Kentucky.
Horst is being tested with a ten horsepower Tecumseh gasoline engine, his final power configuration will be to a 24 horse Honda or 25 horse Kohler gasoline engine that will be coupled to and drives a hydraulic double pump that powers two hydraulic motors through two proportional hydraulic valves.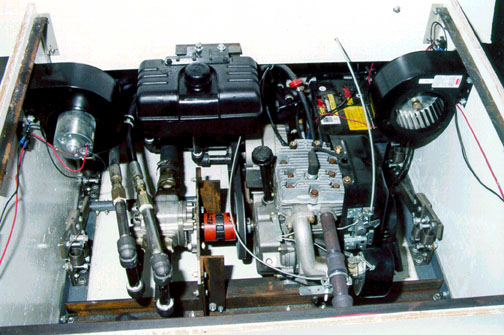 Horst is operated by two industrial 49Mhz radios. A ten-channel radio operates and controls his hydraulic system to make Horst go forward, reverse, left or right. It can also control his throttle. His second radio is used to operate and actuate his special features as well as operate his gun.
Two channels are used to raise and lower his gun and two channels are used to actuate his 37mm grenade launcher, which is capable of firing a variety of ammunition and fireworks, or fire his propane cannon, which will be the next added feature.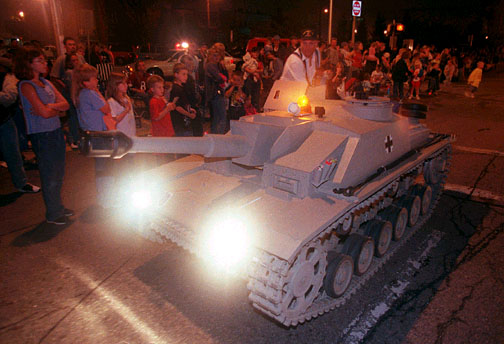 He also will have firework, smoke dischargers, a siren, flashing amber light, headlights and an engine compartment smoke generator.
Horstís body structure is made from reinforced plywood that represents the actual plate thickness of the real vehicle. His suspension and drive details and components, engine deck and drive system are housed with structural steel.


Main Armament

Horstís gun housing is made from PVC (poly-vinyl-chloride); his gun mantlet is made from plywood and held together with steel angles. StuGs or Sturmgeschutz were generally configured with a 75mm cannon for an antitank and infantry support role. However, a number were also armed with a 105mm howitzer, StuHaubitze 42. Horst can be configured with either the 75mm or the 105mm gun.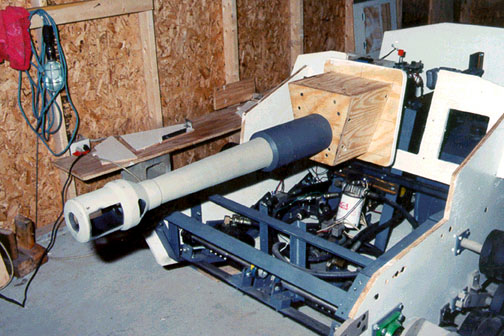 The firing mechanism is connected to a 2Ē diameter steel tube that houses the barrel. His gunís 2 1/16 diameter double baffle muzzle brake is made and machined from ductile iron and pinned together.


Running Gear

Horstís drive sprocket assemblies, road wheel axles and suspension details and components are made and machined from heat-treated steel for the required strength. Horstís exhaust manifold and pipes are made from steel pipe threaded together.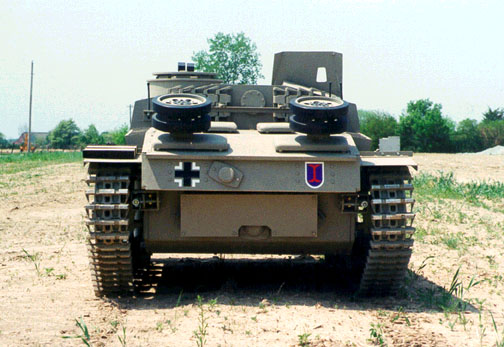 His exhaust pipe is protected by sheet aluminum and attached to the body structure. Horstís tracks (91) per side and spare tracks attached to his rear bulkhead are made and machined from cast heat treated aluminum and held together with steel pins and retaining rings.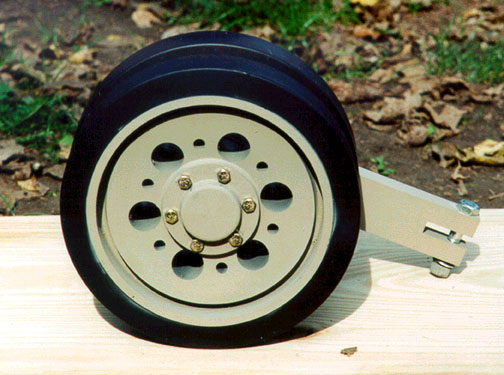 His road wheel assemblies and tires, (6) per side were made and machined completely from square 2 inch thick PVC plate and spray painted Khaki and his tire black. His return roller assemblies and tires are made and machined completely from 2-inch thick square excess PVC plate and also spray painted Khaki and his tire black.
His idler wheel is made and machined from heat-treated cast aluminum.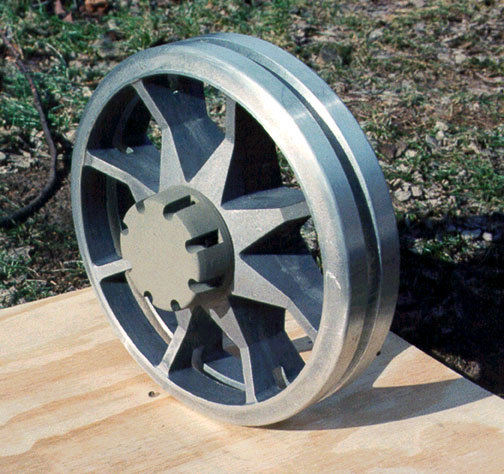 Body

Horstís sides, floor, rear bulkhead, pannier floors, front and rear glacial plates were made using router tools designed to rout each detail from different plywood thicknesses to simulate the real vehicle.

Horstís structural details were developed and made from dimensional drawings and held in place by adhesives and steel angles with fasteners. His other structural details, axle covers, ventilators and operational details were also machined from excess PVC. Horstís official weight is approximately 2,080 pounds.
Horstís color scheme is Khaki.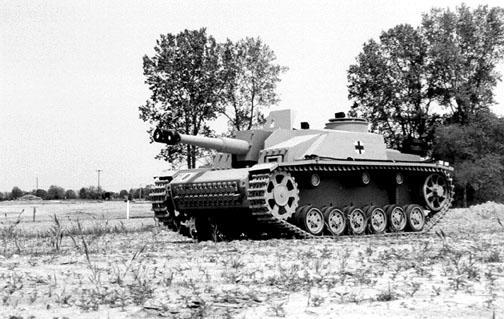 Horst is painted with conventional markings and is the 4th vehicle in the 1st platoon of the 1st company serving with the 303rd StuG Brigade, #(114).
This StuG III entered service in spring of 1943, for service in the north Russia campaign, without ďzimmeritĒ antimagnetic coating.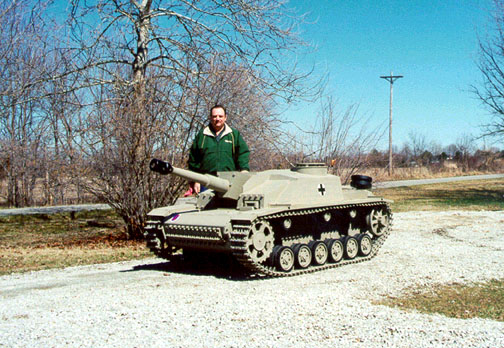 A d d i t i o n a l I m a g e s
Click on the thumbnail images below to view the image full sized.
Use the "Back" arrow on your browser to return to this page.
---
Model, Text and Images Copyright © 2001 by David M. Schultz
Page Created 07 September, 2001
Last Updated 04 June, 2007
Back to HyperScale Main Page
Back to Features Index