Cessna T-37C
by Boris Krotkov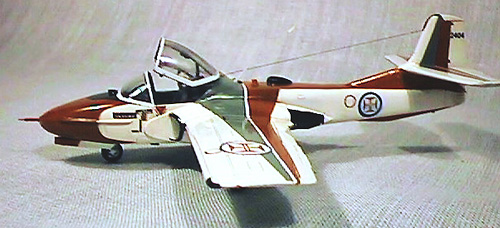 Cessna T-37C
Academy's 1/72 scale Cessna A-37B is available online at Squadron.com

When I got this kit from my Portuguese friend, it came with some Portuguese Air Force decals. I therefore decided to convert this kit to one of the most famous Portuguese T-37 belonging to the "Asas de Portugal" aerobatic team.
Sad to say there is no aerobatic team in Portugal now, after several crashes in the T-37's, in 1992 the entire T-37 fleet was grounded, and after some cracks which were found in the root wings area, the "Ases de Portugal" team was disbanded. There were rumors that a new team would be created and that they would use AlphaJet aircraft, but insufficient funding and availiable aircrafts canceled those dreams.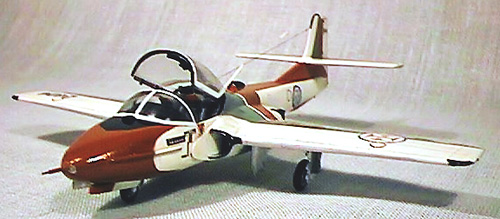 Another reason that forced me to convert the neat Academy kit (besides the challenge made by my Portuguese friend about making a PAF Model) is that I've never seen any Cessna T-37 models in the Internet modeling pages. T-37s in PAF service had two versions of color schemes and I preferred to make the "Asas de Portugal" scheme, that was common to all fleet of T-37s when the "Asas de Portugal" were created, which was more colorful, but a little more difficult.
Interior

The kit has a good detailed cockpit, so I've just removed the gunsight and added some scratchbuilt details and seat belts to the ejection seats. Some scratchbuilt details were added to the cockpit like a thrust control stick, etc.
The instrument panel was decorated with punched white MicroScale TrimFilm disks and with punched gauges Reheat Instrument Panel Decals.
Also some Reheat Control Data Placards were added to sides and central control panels of the cockpit tube. The windshield and canopy framing were made of TrimFilm stripes and sealed with two coats of Future
Exterior
The exterior needed many more conversions to de[pict an accurate T-37. Many things were removed - antenna aerials on the stabilizer wings and vertical tail, many antennas and air intake grids on the bottom of the fuselage and many others. And also many things were added - wing tips, air intake shields, nose Pitot tube, nose landing lights, navigation lights etc.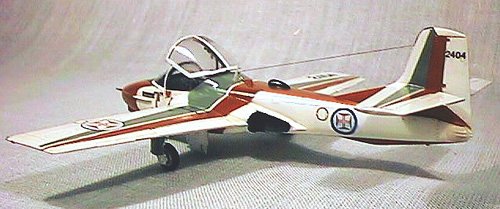 As the T-37 had different wheels and tires - I've scratchbuilt new wheels and made openings on the nose wheel disk. Also the antenna was added behind the canopy and an aerial made of smoke invisible thread to the tail
This was a most difficult task. First the model received several coats of gloss white. Then I prepared three masking pictures and painted the red-green arrows. As I had a lot of photos, that was not too complicated to work. For more neatness I added a narrow strip of MicroScale white TrimFilm along the wing's red-green stripes. After this the model got a coat of Future for decaling preparation.
The decaling was much harder work. As I had only old PAF decals (white round with "Cruz de Cristo" inside it), I needed to make the circles a bigger diameter, which I painted blue for imitation the blue circle around the PAF decal. The tail numbers were made using small decal numbering symbols from an Academy decal sheet. I've prepared the wing numbers with the computer graphic software and then printed them out (in proper scale) on the small piece of the same white Trim Film. After this I cut them carefully (just top paint coat) with the #11 blade and airbrushed the whole piece with Testors black enamel.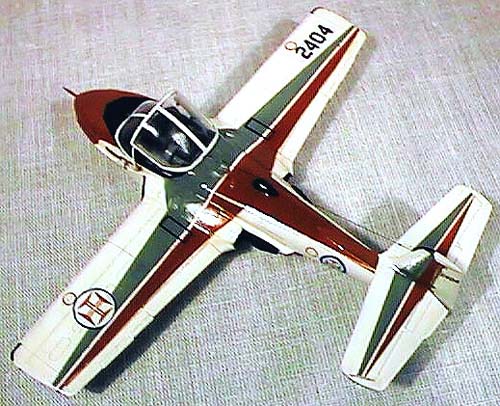 After the paint dried I applied those digits one by one as a plain decals. Some stencil texts were found on the kit's decal sheet and some old Italeri's decal pieces. After the entire model got another coat of Future for decal sealing, I "washed" the panel lines with a pencil. And finally - the last two coats of Future for the real gloss finish of an aerobatic plane
Special thanks to Jose Silva for the kit, PAF decals and LOT of photos and to Lew Goubanov for his digital camera and Caz Dalton for that unique multifunctional TrimFilm.

---
Click the thumbnails below to view the images full-sized.
Use the "Back" arrow on your browser to return to this page.
[../photogallery/photo31194/real.htm]
---
Model, Text and Images Copyright © 2001 by Boris Krotkov
Page Created 22 August, 2001
Last Updated 04 June, 2007
Back to HyperScale Main Page
Back to Features Index