North American X-15A-2
by Phil Brandt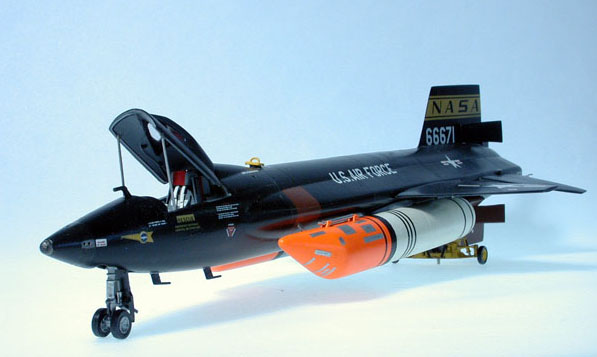 North American X-15A-2
images by Milton Bell


HyperScale is proudly sponsored by Squadron
I've had a particular attachment to this arguably most famous X-plane ever since 1969 when, during the return from a SEA chopper-hauling trip, our Dover-based C-133A was diverted down to Edwards AFB to carry the X-15A-2 to the USAF Museum. Fate smiled twice on Bondo when, on a later SEA mission that year, his Weenie Wagon was again diverted to Edwards, this time to carry the Number One ship--Number Three was destroyed in a crash--to the Smithsonian.
The X-15A-2 started life as a 'plain' X-15 and, after breaking its back during a heavyweight emergency landing on Mud Lake, was lengthened and took on external fuel tanks during the rebuild to become the definitive A-2 version which would go on to set still unbroken speed records.
The 1/48 Collect-Aire resin kit required moderate effort to accurize and detail, but it's the only A-2 version out there.
Using Jay Miller's outstanding Aerofax X-15 book and my own closeup pix taken at the USAF Museum, efforts were primarily directed to the XLR-99 rocket engine exhaust area which was incorrect and much too simplified. The "business end" is loaded with numerous drain tubes, the large hydrogen peroxide-powered turbopump exhaust and the jettison/dump masts.
Although Collect-Aire included the jettison/dump masts in resin, they were undersized and very delicate, so I redid them in metal tubing and wire. The combustion chamber outlet was also reshaped.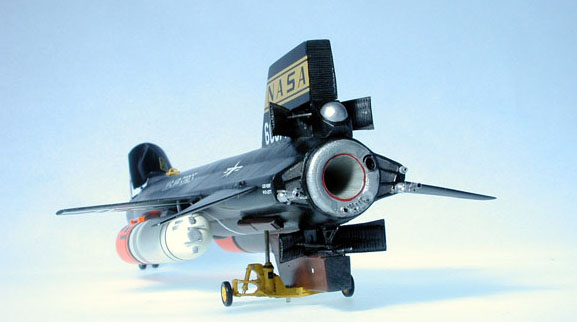 The external tanks were 1/2-inch too short. I lengthened them with plastic sections cut from scrap injected droptanks. External piping from the tanks, the apparatus on the aft tank ends and the separation rocket tubes were scratchbuilt.
Seatbelts and various handles were added to the opened cockpit, as well as details to the inside of the raised canopy.
Various shades of black and metallic were airbrushed to simulate the Inconel skin of the real thing which somewhat resembles gun blueing. The model represents the first heavyweight drop with external tanks, and the rust brown patches represent test ablative coatings in preparation for the later record-setting missions when the aircraft was completely coated with white ablative. The differing external tank color schemes are taken directly from the Aerofax reference and the multitude of silver stencils on the tank forward sections were handmade.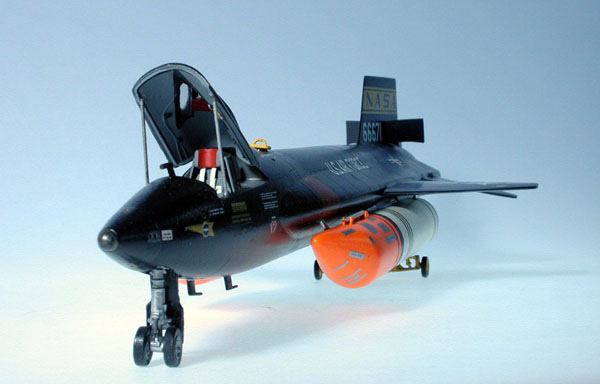 The yellow and white Collect-Aire decals were insufficiently opaque when applied over the black, so a second set was overlaid. I chose to do the aircraft transport dolly included in the kit because the yellow contrasts well with the black airframe and NASA logo.
Even with its shortcomings, I enjoyed the Collect-Aire kit so much that I bought a second, doing it in the all-white ablative scheme with a scratchbuilt scramjet and extended skids.
---
Model and Text Copyright © 2001 by Phil Brandt
Images Copyright © 2001 by Milton Bell
Page Created 23 May, 2001
Last Updated 04 June, 2007
Back to HyperScale Main Page
Back to Features Index