Yakovlev Yak-1
by John Trueblood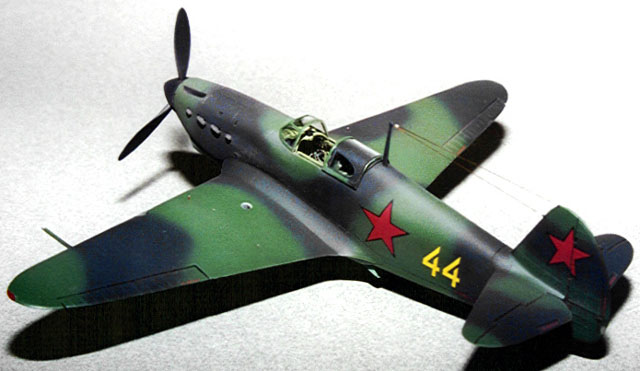 Yakovlev Yak-1

Accurate Miniatures' Yak-1 is available online from Squadron.com
I built Accurate Miniatures 1/48 Yak-1 in the markings of Russian Ace and "Hero of the Soviet Union", Lilya Litvyak. Thanks to some helpful "Hyperscalers" I was able to find a lot of good information about Lilya and her beloved, "Yellow 44".
Lilya was born in Moscow in 1921. She first flew with the all-woman 586 IAP (Fighter Squadron) in 1942. Due to her piloting skills she was transferred to the previously all-male 437 IAP where she scored her first 3 victories in the Lavotchkin La-5. In February of 1943 she was transferred to the 296 IAP and promoted to Senior Lieutenant. While with the 296 IAP she was assigned Yak-1, "Yellow 44". She scored 6 victories in this aircraft before being hit by an Me 109 and crash landing. After recovering from her injuries she flew a Yak-1b, "White 23". She continued with her aerial successes, scoring 4 more kills during the "Battle of Stalingrad".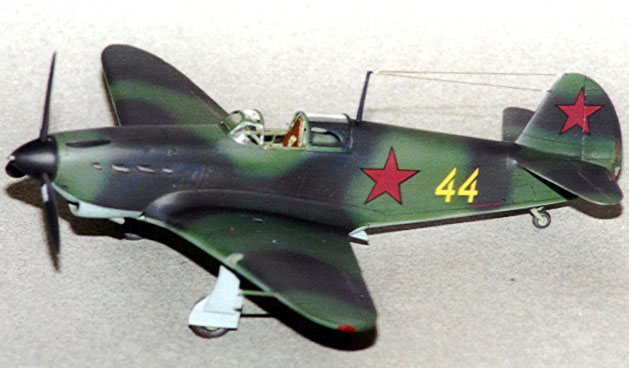 As legend has it; on August 1, 1943 she single handedly engaged 8 Me 109s while escorting a group of Stormoviks. Lilya was shot down and killed. Her body and aircraft were not found during the war. It was not until 1979 that her remains were discovered, buried under the wing of her crashed Yak fighter. Lilya was 22 years old when she died. She had flown 169 combat missions, and had 12 personal victories as well as 3 shared kills.
My 1/48 scale Accurate Miniatures' Yak 1 is a "semi" out of the box effort. No major surgery or resin parts were employed.
I corrected the upper deck profile, heat formed a new landing light cover, added "toothbrush handle" position lights and reworked the fabric areas, especially on the lower rear fuselage. I added a few details such as the ShKAS blast tubes, gear position rods, hydraulic/electric lines, canopy release, landing light bulb/housing, Waldron wing fuel gages, and seat belts.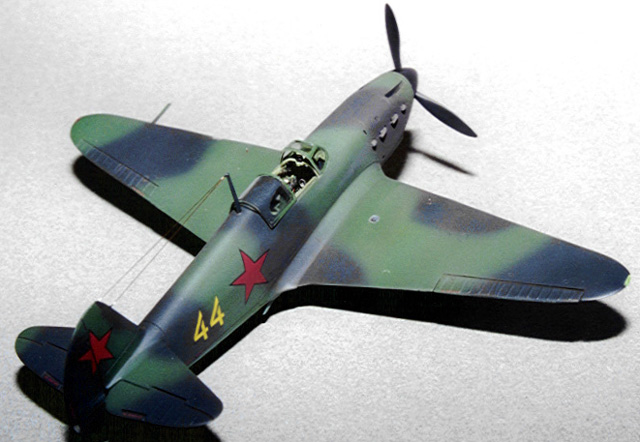 The camouflage colors are my tint mixes of Aero Master Russian Blue, Model Master Topside Green and Polly Scale gray/green/black. Using information from the VVS site and good photos of "Yellow 44", I freehanded the the camouflage with an Iwata B using the fine tip. The paint was polished with the wonderful Micro-Mesh abrasive cloths. A coat of Model Master Gloss lacquer was followed by the kit decals. This was followed by another thin coat of gloss over the decals and a misting of Polly Scale flat.
My photos show Lilya's aircraft to have a semi gloss sheen and very little wear and tear. I applied a light oil wash using Weber Turpenoid as the solvent. I finished up the weathering by using a soft lead drafting pencil to highlight some panels and applied a bit of chalk pastels.
---
Model, Images and Text Copyright © 2001 by John Trueblood
Page Created 21 June, 2001
Last Updated 04 June, 2007
Back to HyperScale Main Page
Back to Features Index