Zerstorer Rommel
by LTCDR Stefano Schembri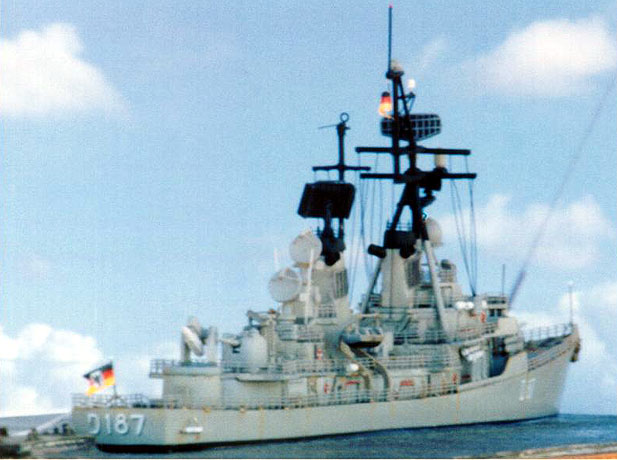 Zerstorer Rommel

HyperScale is proudly sponsored by Squadron.com


The ship, of the "Lütjens" class, has been in active service till 1998 in the Bundesmarine as a destroyer. The ships of this class are slightly modified Charles F.Adams class purchased by the Bundesmarine from the U.S. Navy before completion.


Specifications


Displacement
Dimensions
Propulsion
Standard
3,370 tons
Overall
133.9m
Boilers
4 Foster Wheeler "D" type watertube
Maximum
4,720 tons
Beam
14.29m
Turbines
2 GE geared system
Draft
6.3m
Shafts
2
Horsepower
70,000ho
Endurance
4,030NM @ 18kts
Maximum Speed
34 kts
Revell's 1/700 Scale "Rommel"
This Revell kit is very well moulded and detailed, apart from some minor warps and sink marks on the hull and main deck which will be very eye-catching once the model is built. With a careful filling and sanding job all these problems can be solved, and the kit is no doubt worth a couple of hours spent on its hull and deck. Take out those sanding sticks!

The hull is cut along the waterline, but you get also a complete hull with propellers, shafts, rudders and whatever you need to display it on a base, also supplied.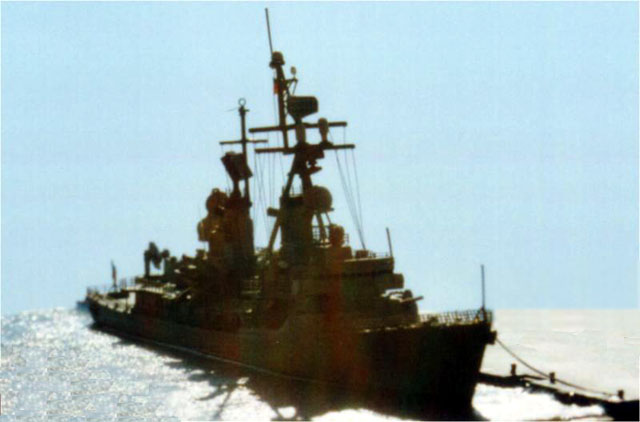 There are a lot of small parts, half of them are to be left on the sprues as they do not belong to the "Rommel" in its current configuration, if you wish to build an older version you only need to find some images of the sixties.
Among the extra parts you will find two helicopters (one SH-3D and a Lynx), ASROC launchers, HARPOON launchers, a SEA SPARROW turret, guns, antennas, Oerlikon anti aircraft system… a sparebox in a kit!
I started construction from the hull. Filler and sanding sticks are essential here. I glued the main deck to the hull and got a perfect join, no filler required. I sprayed a light coat of light grey Humbrol enamel as a primer and tin order to highlight scratches and other defects.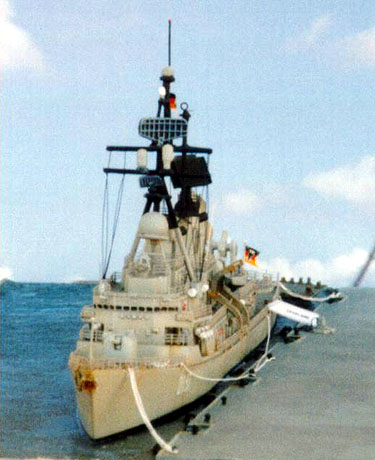 While that was drying I put my hands on the superstructures, assembling, priming, painting, drybrushing and weathering them as separate blocks: it's better to build and paint in blocks, as masking and painting an assembled ship would be very difficult.

All the antennas, TARTAR launchers, MK47 launchers, ASROC launchers, gun turrets and barrels were assembled, detailed, painted, drybrushed and weathered separately. Try to spend an evening on each separate weapon system and consider it a model in the model: this can really improve the overall quality of your work.

During construction I lost one of the two TERRIER antennas and this forced me to scratchbuild the couple, this resulting in a very time-consuming job, but the final result is much better than if I used the kit pieces. Four hours were spent to build the TERRIER masts and antennas, using styrene, copper and stretched sprue.

The SPS-52 3D search radar antenna (the square, black panel just above the TERRIER antennas) was detailed using styrene sheet and steel wire, then painted black and drybrushed with dark grey.

All the upper mast sections were scratchbuilt using steel wire glued with cianoacrylate, then painted as appropriate and further detailed using copper wire, stretched sprue and adhesive lead stripes. The INMARSAT radome (the big bowl above the bridge) was completely scratchbuilt as well as its platform and supports.

One thing I don't like in this kit are the navigation and 2D radar antennas, I used the kit pieces but if you want to do an excellent model you do need some etched brass replacements. I wish I will have the chance (and fancy) to cut them off one day and install brass parts, but an etched brass set is out of budget for me now. The only etched brass parts are the railings: these were painted light grey and glued with CA.

Before assembling the superstructures I sprayed the deck with Aeromaster gloss clear and put on the walkways and safety markings, supplied by Revell in the form of decals. These are glossy, well printed and thin, but careful trimming and a lot of setting solution are required in order to get them right.




I used Humbrol enamels overall, trying to get the right tones of gray mixing it on my own. I am satisfied with the results. Once painted, the sections were sprayed clear gloss and a very thin mixture of dark grey and white spirit was used to darken all the recesses.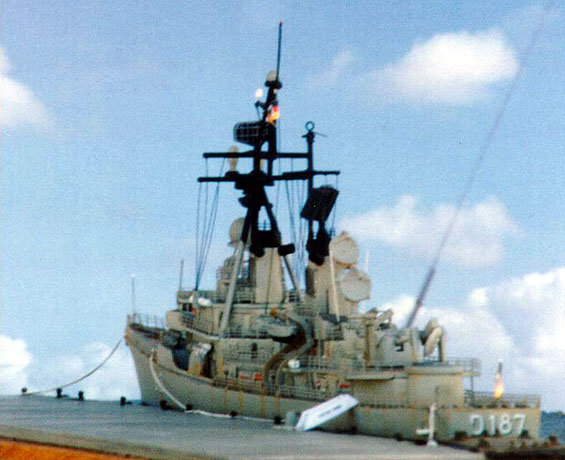 Then comes a light drybrushing and, once assembled, the model was "rusted" with enamels thinned with white spirit.
The diorama represents the ship moored on a dock, supposed to be in a naval base somewhere in the Mediterranean, so the water is very calm and rather greyish. I started with a base of sheet styrene, on which the dock was built sandwiching three layers of styrene cut using some computer made masks. The sea is painted with a mixture of blue, grey and green, sprayed in an uneven pattern, then covered with a layer of acrylic gel and textured with an old, big, flat, rough brush. The mooring ropes are copper wire carefully "weighted" and painted flat white.

I really enjoyed building this kit.

---
Click the thumbnails below to view the images full-sized.
Use the "Back" arrow on your browser to return to this page.
[../photogallery/photo22976/real.htm]
---
Model, Images and Text Copyright © 2001 by Stefano Schembri
Page Created 25 August, 2001
Last Updated 04 June, 2007
Back to HyperScale Main Page
Back to Features Index