---
Details
Cockpit basics include at least twelve finely cast white metal components, not counting the multipart seat. Instrument holes were drilled out, and furnished instrument decals were mounted behind on a plastic sheet. Seat harness were made from thin paper and Flightpath's excellent cockpit detail PE set. The Ted Taylor articles were invaluable with closeup color pix and isometric line drawings showing construction specifics of added black boxes, linkage, wiring and ducts that in a large, open canopy model give that all-important sense of "busy-ness." I also used Ted's suggestions in creating chemical air driers and associated tubing in the canopy roof.
To complement the open canopy, Flightpath's PE crew ladder plugs into two small slots on the fuselage.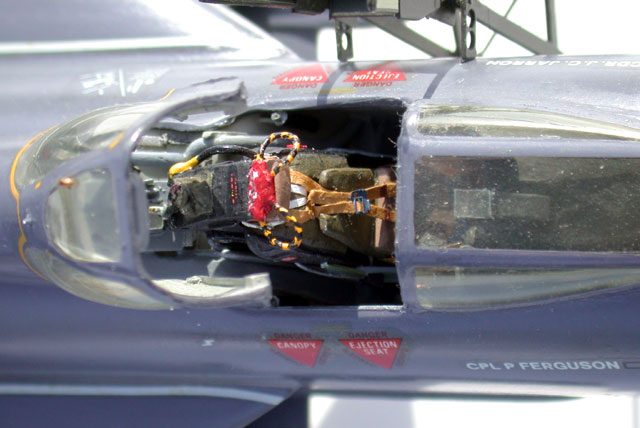 The main gear wells are integrated with a fluted inner wing structural piece that adds needed strength to this hefty model. I added bay structural braces, hydraulic tubing, control boxes and gear door hinges to complement Echelon's separately molded gear door interiors.

A long length of small diameter hard plastic tube was glued to the metal refuelling probe tip and was rigged to be removable from the underwing mount, as was the needle-like metal pitot under the intake. Refuelling lights were added per the Taylor article.
I chose Gunze semigloss Dark Sea Grey on all top surfaces, Medium Sea Grey interspersed with natural metal panels on the fuselage undersurface, and Barley grey on the wing and tailplane undersurfaces.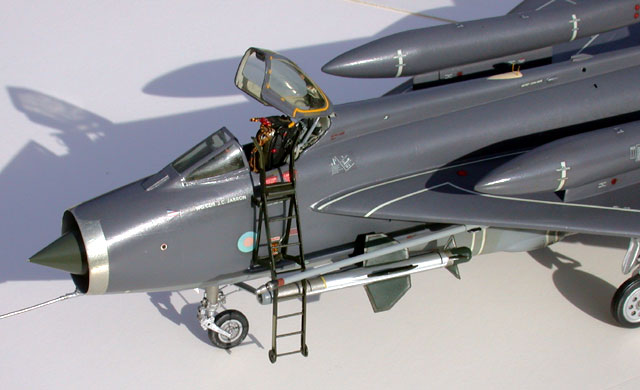 Masking of the Dark Sea Grey, even with low tack tape, left a noticeable 'disturbed' line everywhere it had touched the Dark Sea Gray, even after what I thought was adequate drying time. Apparently the grey Gunze line stands alone in this respect, because other modelers have had no corresponding problems masking other Gunze colors.
Weapons are Red Top missiles from the Flightpath weapons set, with cast metal bodies and multipart PE fins. Rather than using clear sprue for the IR seeker tips, I found clear plastic medicine capsule ends, with small interior details added. The heavy missile shafts add welcome forward weight bias to this big bird.
Echelon, along with Dynavector and Aeroclub have readily demonstrated how far the vacuform medium has come, and I was most pleased that this Lightning placed third at the Santa Clara Nats in 1998.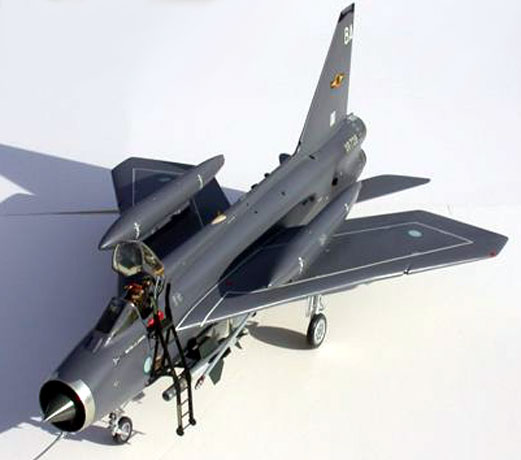 ---
Model, Images and Article Copyright © 2002 by Phil Brandt
Page Created 04 April, 2002
Last updated 04 June, 2007
Back to HyperScale Main Page
Back to Features Page