FGR.2 Phantom
by Chris McKee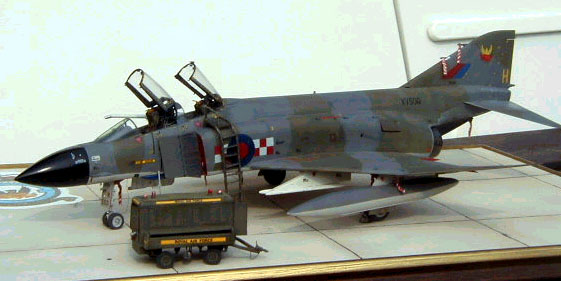 FGR.2 Phantom
I was a member of 56 Squadron for 18 months in the late 70's / early 80's. This was possibly the best time of my service life.
Working with the 'Tomb' was a great pleasure. Watching them take off and land never failed to leave me in awe. So in the late 1990's I thought it was about time I made a Tomb from that era, in the camouflage scheme that was the RAF before the greys got in!
The kit of course is the Hasegawa 1:48 FGR2, with the refuelling probe from a Hi-Tech kit and some resin wheels. All other bits were scratchbuilt.
The Auxiliary Power Unit (APU) is from PP Aeroparts, now Flightpath.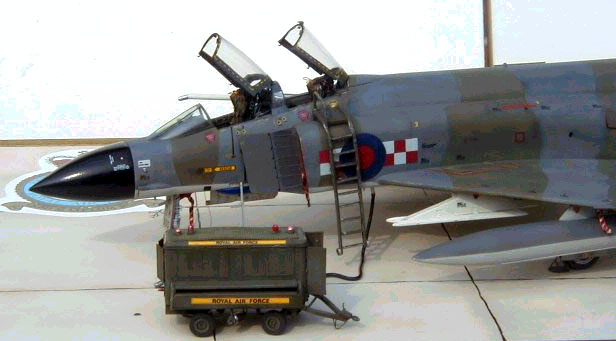 The cockpit was tackled first using my photo's and the excellent Verlinden book. The seat had extra detail from plastic card and seat belts from the Reheat set. I decided to open the APU feed door for the APU connection, add brake lines and have the parachute housing open. This configuration means she has just landed, the probe out indicated to the engineers that she was broken as well!
After construction was complete I sprayed a panel lines black, then after marking out the camouflage lines in pencil, I sprayed every panel individually. This is a time consuming task but well worth it for the final effect.
Decals were applied using my normal method of immersing the decals in Johnson's Kleer and placing them onto matt paint (see my Israeli F15I for further details). Everything was then oversprayed with Xtracolour Matt varnish.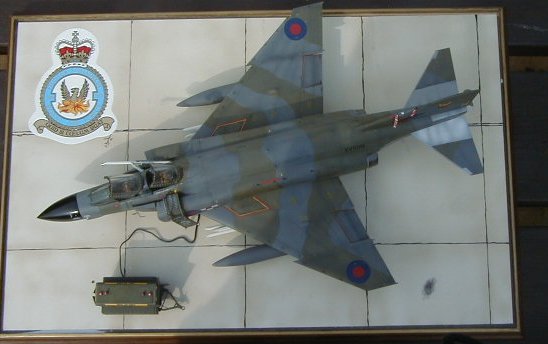 The APU took longer to build than the Tomb as there was lots of brass folding and small paints to handle. One of my old colleges sent down a 56 Squadron badge to add to the base, there was a fire extinguisher, but it didn't survive a resent move!
At the IPMS Nationals that year I won my class and the Phantom SIG trophy. Next is a II Squadron Aircraft with a recce pod from RAF Laarbruch in Germany, but that's another story!
---
Model, mages and Text Copyright © 2001 by Chris McKee
Page Created 17 June, 2001
Last Updated 18 July, 2001
Back to HyperScale Main Page
Back to Gallery Index