Paints are Xtracolour for the main scheme with Humbrol details.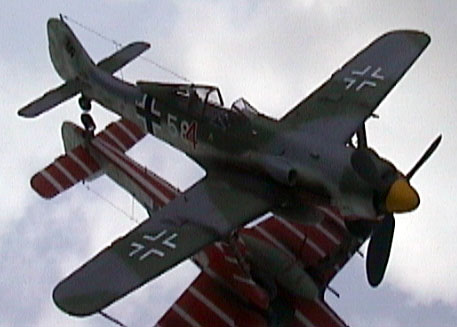 Xtracolour "Exhaust Colour" was lightly sprayed on for the exhaust & gunsmoke stains (I have ruined several models in the past by attempting to recreate some of the superb weathering effects seen on other models in HyperScale's Gallery so nowadays, I limit myself to this basic technique!
The undersides are in RLM23 Rot. I have never seen this particular shade quoted as having been used here but it seems logical.
Radio antenna is stretched sprue with blobs of PVA for the insulators.
Interestingly, an image on the back cover of "Luftwaffe Camouflage & Markings 1935/345 part 4", shows this machine with a "blown" canopy, however I chose to use the standard canopy as directed in the kit instructions. Someone may be able to confirm or refute my assumption! (The standard canopy is correct for this aircraft - Ed). In any case, the blown canopy was in quite short supply by this stage of the war.
I have in my possession a copy of the Eagle Cals sheet for other machines from this unit so watch this space for a few more Fw 190D-9s!