Republic P-47D Thunderbolt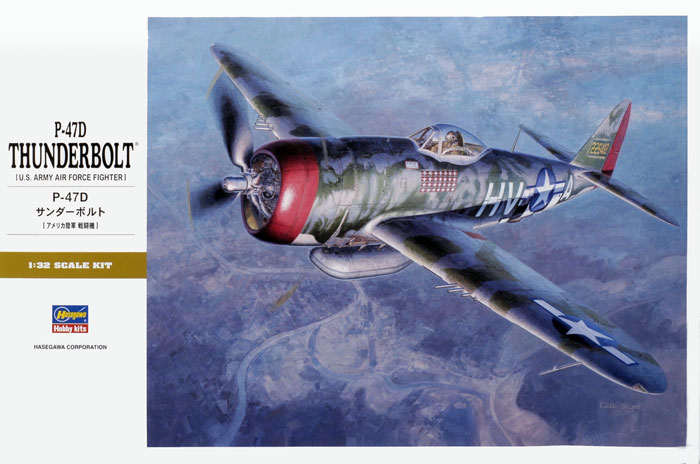 Hasegawa, 1/32
S u m m a r y

Catalogue Number and Description:
Hasegawa ST27 - P-47D Thunderbolt
Scale:
1/32
Price:
5200 yen
Review Type:
FirstLook
Advantages:
Excellent moulding; crisp surface detail; accurate outline; thoughtful and robust engineering; many options; generous allowance of stores.
Disadvantages:
Recommendation:
Highly Recommended

Reviewed by Brett Green


Hasegawa's 1/32 scale P-47D Thunderbolt is available online from
Squadron.com

Modellers have long anticipated a state-of-the-art mainstream 1/32 scale P-47 Thunderbolt. The wait has been worthwhile.
The first thing worth mentioning is that this kit is a brand new design. It is definitely not a scaled-up version of the old Hasegawa 1/48 scale P-47D kit. This Thunderbolt is superior to Hasegawa's 1/48 scale 1990s offering in every respect - detail is better, it is more accurate, additional ordnance is supplied and there are more options.
Tamiya's 1/48 scale P-47D Thunderbolts from 2003 are often (and rightly) touted as some of the best injection moulded kits ever released. Hasegawa's large-scale version has clearly been inspired by the engineering and parts breakdown of Tamiya's standard-setting kits.
Hasegawa's new 1/32 scale P-47D Bubbletop is presented in grey styrene and clear plastic plus 12 polythene caps. The quality of the kit parts is simply superb. Surface texture includes crisp but very restrained engraved panel lines, selected fasteners (with visible slots in the screw heads) and a few raised panels as appropriate.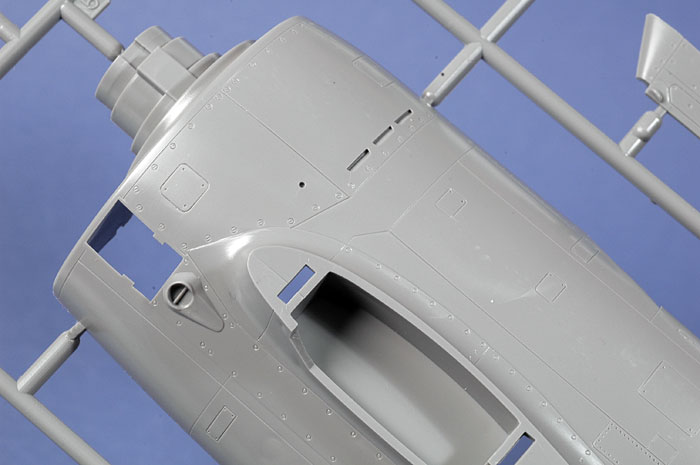 Click the thumbnails below to view larger images:
---
The only surface imperfections are shallow "sink lines" on the upper and lower surfaces of the wings. These are a result of the wing spars moulded onto the inside of the wings, and are similar to the same lines on the wings of Hasegawa's 1/32 scale Bf 109s.
One of the few problem areas on the Tamiya kit were ejector pin marks inside the gear doors. This is avoided on the Haseagwa 1/32 scale kit by providing separate parts for the inside and outside surfaces, banishing ejector holes to the mating surfaces - very clever.
The fuselage is simply split into port and starboard halves, with the separate engine cowl made up from four pieces plus the cowl flaps. The multi-part cowl is reinforced by an interior plastic ring. Tamiya's 1/48 scale kit featured an innovative wing spar trapped between the fuselage halves, and Hasegawa's 1/32 scale kit uses exactly the same method to add rigidity to the fuselage, to ensure dihedral and a to offer a secure bond for the wings.
Alternate cowl flaps (either open or closed) and positionable supercharger vents are also provided.
The engine is only six parts, but it is well detailed. Push rods are included, but you will have to make your own ignition harness from fine wire. Magnetos appear to the round style associated with the later sub-variants.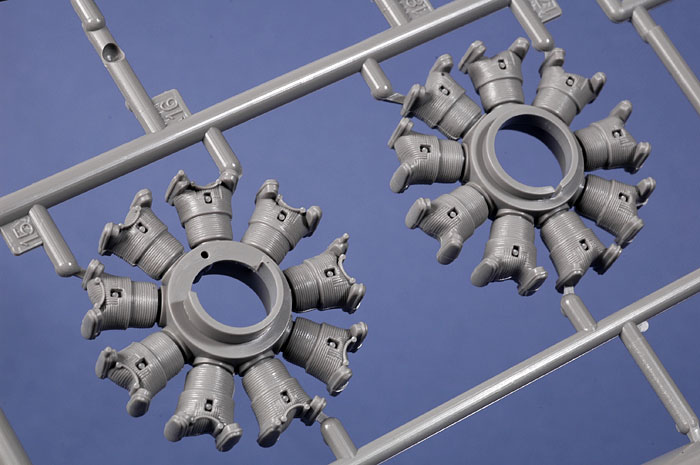 The cockpit is well detailed straight from the box. Although there are not many parts, the details on the sidewalls and floor are deep and crisp. A harness is all the cockpit really needs . The instrument panel has raised instruments for the dials with decal instruments supplied as an option.
The non-corrugated floor restricts the model to a P-47D-27 sub-variant or later.
An excellent pilot figure is supplied (almost as good as we have seen in the latest 21st Century kits), and he even has a separate oxygen mask and hose. His face bears more than a passing resemblance to Francis S. Gabby Gabreski - no coincidence, I am sure!
Similar to the Tamiya 1/48 scale kit, the lower wing features a couple of inserts. These accommodate the compressibility flaps for the P-47D-30 and later, and the relocated landing light. Insert plugs for both the early version (without flaps) and the late (with flaps) are provided in the kit. Flaps are separate, and may be displayed dropped or up by using different hinge parts.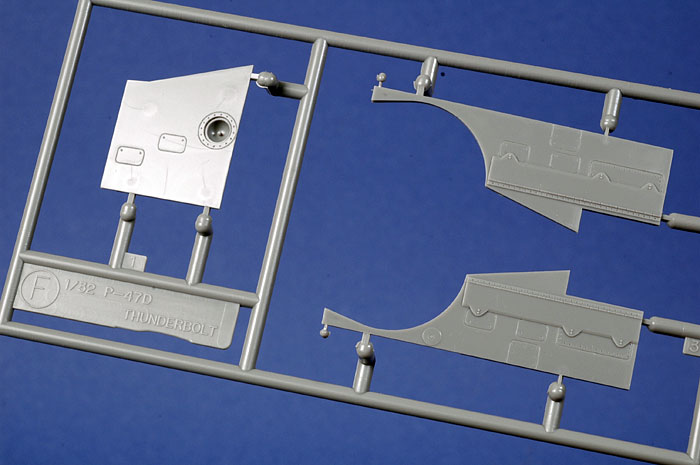 Undercarriage parts are nicely detailed, including separate hydraulic lines, oleo scissors and two styles of wheel hub - flat and spoked.
The clear parts are thin and free of distortion. Hasegawa has supplied two full canopies - one closed and one two-piece canopy for displaying open. Two styles of gunsight lenses are offered as clear parts too. I assume that these represent the Mk.VIII and N-3A gunsights. The grey plastic gunsight bodies are very well detailed.
Clear parts also include wingtip navigation and under-wing formation lights.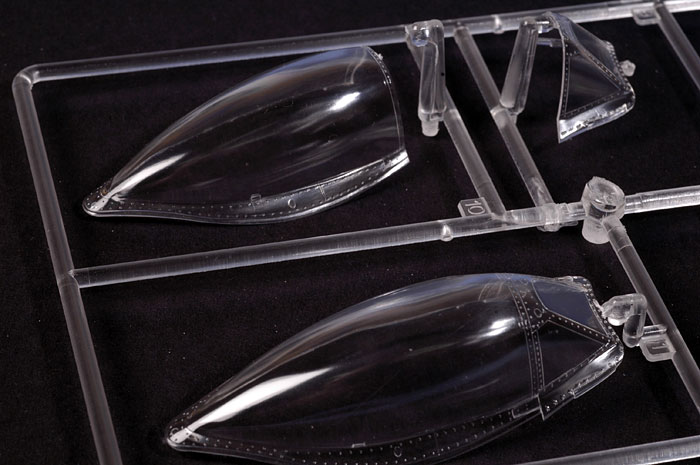 Kit ordnance comprises a 150 gallon flat centreline drop tank, two 150 gallon teardrop-shaped tanks, and two 500lb GP bombs. Wing racks are secured via poly caps, making painting easier.
13'1" Curtiss symmetrical paddle blade and the 13'1" Hamilton Standard paddle blade propeller assemblies are both supplied.
A small wedge-style dorsal fin is included but marked "not for use" on the instructions. These were fitted to P-47D-40s, but often retrofitted to D-30s.
Just about the only area that this kit is not to the same standard as Tamiya's 1/48 scale kit is the machine gun blast tubes. Tamiya's parts were hollowed at the ends, while Hasegawa's are solid. However, Hasegawa is offering hollow metal gun tubes as an after-market option.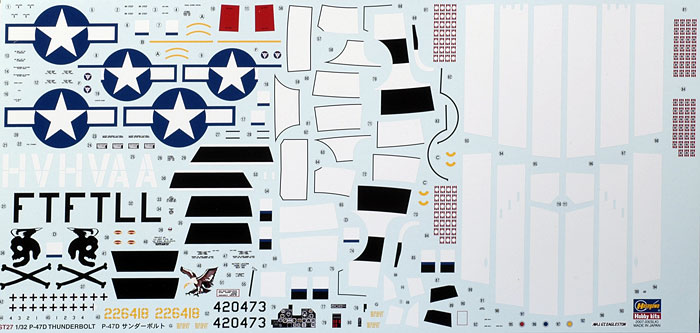 Markings are supplied for three machines - two P-47D-25-REs from 56th FG and Major Glenn Eagleston's bare metal P-47D-30-RE from early 1945. Strictly speaking, the cockpit is not correct for the D-25 sub-variant, as these early floors were corrugated, not flat.
---

The Variants - What is in the Box?
Overall accuracy of the kit looks very good, but what variant does this kit actually represent?
The propellers varied widely, as different styles were often retrofitted in the field. In addition to the two styles supplied in the kit, the 13'1" Curtiss Electric asymmetrical propeller assembly was also seen fitted to the P-47D, especially later sub-types. J. Rutman Productions offers this style of propeller as a resin after market item.
The table below lists the typical propellers fitted, but you should check your references for specific examples
Here is the typical fit for variants that can be built from this kit:
| | | | |
| --- | --- | --- | --- |
| Variant | Propeller | Inserts | Extra Work |
| P-47D-25 | L1, L2, L3 | G1, G2, G3 | Fine plastic strip should be added to the floor to represent corrugations |
| P-47D-26 | M1, M2, D16 | G1, G2, G3 | Fine plastic strip should be added to the floor to represent corrugations |
| P-47D-27/28 | M1, M2, D16 | G1, G2, G3 | Dorsal fin (D34) may be used - check references. Check propeller fitted. |
| P-47D-30 | M1, M2, D16 | F1, F2, F3 | Dorsal fin (D34) may be used - check references. Check propeller fitted. |
| P-47D-40 | M1, M2, D16 | F1, F2, F3 | Dorsal fin (D34) should be used. Provision for five zero-length rocket stubs under each wing. Check propeller fitted. |
Hasegawa's 1/32 scale P-47D Thunderbolt "Bubbletop" is magnificent kit. It is well detailed, cleverly engineered and offers plenty of options. This will be a hard act to follow for any other manufacturer planning to release a Jug in 1/32 scale.
P-47D Bubbletops wore some of the most colourful nose art and markings in the USAAF, so this model offers a terrific range of finishing options. We can be confident that there will be plenty of new decal releases in the coming months.
Life is good for Thunderbolt fans!
Highly Recommended.
Review sample purchased with HyperScale funds
---
Review Copyright © 2007 by Brett Green
Page Created 26 April, 2007
Last updated 04 June, 2007
Back to HyperScale Main Page
Back to Reviews Page