Tamiya's 1/48 scale
F4U-1A Corsair
by Bruce Salmon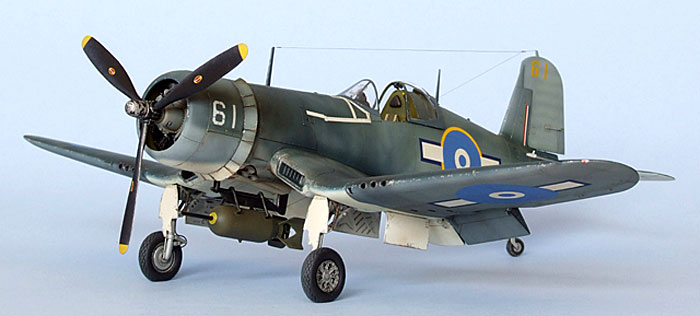 Chance-Vought F4U-1A Corsair
NZ5261, 30 SU, Royal New Zealand Air Force, Green Island


Hasegawa's 1/48 scale A6M2a Zero Type 21 is available online from
Squadron

When I finally got around to building a Corsair there was only one kit and one aircraft that would do.

The aircraft I chose to model, NZ5261, was flown by an RNZAF fighter pilot named Bryan Cox who taught me navigation for my commercial pilots' licence. During class he would often drift off topic into one war story or another. This story in particular grabbed my attention.

The incident takes place on 15th January 1945 on Nissan Island in the Green Islands group (usually just called Green Island). At the time NZ5261 belonged to 30 SU (Servicing Unit) and operated by 16 Squadron. Individual pilots did not have their "own" aircraft but flew whatever was available from the pool.

Rostered off flying for the day after 8 consecutive days of operational flying and on his 20th birthday, Bryan Cox spent the morning lying on a raft in the lagoon at Green Island, watching clouds drift by.

Meanwhile, Lieutenant F.G. Keefe of 14 Squadron bailed out of his burning Corsair having been shot down by Japanese ack ack while on a morning strike to Toboi Wharf in Simpson Harbour, Rabaul. The strike involved 36 RNZAF Corsairs from 14 & 16 Squadrons (Green Island) and 24 Squadron (Bougainville).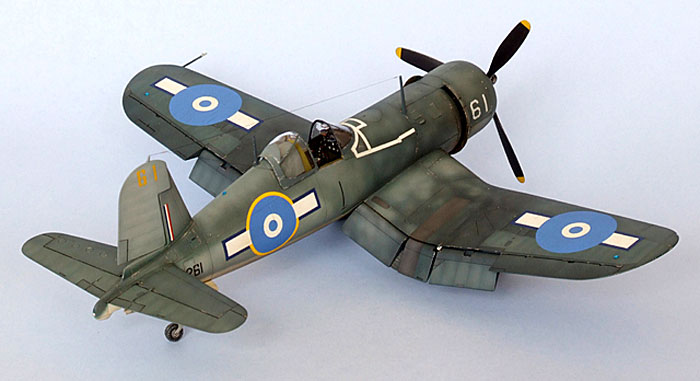 After lunch there was a briefing for a rescue mission which involved dropping to him a native bamboo raft by Ventura (Bryan Cox flew NZ5261 on this mission). While Keefe was swimming towards the harbour entrance sections of Corsairs overhead kept watch to prevent his capture and an American Catalina stood by for when he was out of range of the coastal guns.

Unfortunately the tide turned carrying Keefe back into the harbour. Later, 12 more Corsairs arrived and kept the Japanese busy while the Ventura made a successful raft drop. Late in the afternoon the Corsairs turned for base and the approaching dusk.

Halfway back to Green Island a black tropical storm stretching across the horizon and down to sea level lay in their path. Low on fuel and with no alternative airfields the Corsairs had to continue on. In tight formations of 4 they entered the cloud at low level and it rapidly became pitch dark. With scant navigational aids and suffering the effects of spatial disorientation the formations inevitably broke up, including the aircraft flown by Bryan Cox. He was saved only by chance when a flash of lightning illuminated the Green Island coastline. 8 Corsairs failed to return, 3 from 16 Squadron and 5 from 14 Squadron. Keefe was captured by the Japanese and died 2 weeks later.

For the full story read "Too Young to Die – The Story of a New Zealand Fighter Pilot in the Pacific War" by Bryan Cox, Century Hutchinson 1987

NZ5261 survived the war and returned to New Zealand only to be sent to the Rukuhia graveyard along with most other RNZAF Corsairs and later scrapped.
Aftermarket Products Used:
Eduard PE set (49 215) F4U-1D Corsair
Eduard PE set (FE224) F4U-1 Corsair placards
True Details (48045) diamond-tread wheels
True Details (48504) 1000lb bomb
Ventura decal set (V4880) RNZAF F4U-1 Corsairs, Pacific Theatre
---

Construction began where it always should – good references! Unfortunately these are hard to come by. Photos are often grainy, under/over exposed or don't fully show the thing you are interested in. For the most part you can't really go by what others have modelled and internet walkarounds of museum aircraft are generally rubbish let alone the fact that many of said aircraft are incomplete or the wrong colours or a mix of types… the list goes on.

Well I thought I'd just get cracking and glue together as much as I could. I started out with the -1D kit (which was already in my stash) then realized later that the aircraft I wanted to model is a -1A. Meantime I continued on with the -1D until later on when I would need to buy a -1A for the bomb rack & propeller.
---

Wings
Originally I was going to have the wings folded so cut and glued the parts to that effect. Then I changed my mind and decided to have only one wing folded… then I changed my mind again to have no wings folded… a lot of unnecessary extra work. This is pretty much how the whole build went!

Next I tackled the main gear wells. These needed the sidewall edges built up as Tamiya has not moulded them deep enough. Next I added lead wiring to the gear door rams and other bits and pieces. With that finished the outer wing halves were attached. Now that the model is complete I wish I had dremelled off the moulded on kit rams and scratch built new ones. The wells were then painted Humbrol 226 interior green, the details picked out then given a wash & drybrushing. Soon after I discovered that the wells were actually painted white so had to do it all over again.

The zero length rocket launchers were left off as RNZAF Corsairs didn't use them. Only the FG-1Ds sent to Japan at the end of hostilities had them attached.


I then built the flaps and drilled out the lightening holes (which you can't really see) filled & sanded the join lines, starboard inner step hole etc. The flaps were left off until final assembly. The wingtip nav lights were cut out and new ones made from clear sprue. I even put bulbs in them by drilling a small hole and painting the hole either clear red or blue. I glued these on, positioning them accurately with the aid of a 10X hand lens, and sanded them to shape. Luckily it all went perfectly first time round. I also drilled out the formation and IFF lights by using a drill of the same diameter and drilling only as deep as the tip of the bit.

The Landing light under the port wing was filled as they were deleted from this position early in production and moved to the leading edge of the outer wing section right next to the fold. The same position on the starboard wing is where the gun camera goes (if fitted). A new pitot tube was made from brass tube and wire. The wing fuel tanks were deleted in the -1A so their filler caps and drains were also bogged and sanded, so too were the depressions in the wing tips. On the tailplane the rudder and elevator trim tab actuating rods were removed to be replaced with PE ones during final assembly.
---

Engine & Cowling
I used the kit engine adding the Eduard PE harness and a bit of scratchbuilt detail such as the propeller governor and oil scavenge pump. The engine was painted Tamiya XF1 Flat Black and drybrushed with Humbrol 11 silver & raw umber oils.
The cowl flaps would be open so I detailed the inside with appropriate actuating wires. These and the inside of the cowl was painted interior green, weathered and the whole sh-bang glued together (The exterior camouflage was painted at the same time as the rest of the model but attached during final assembly). Interestingly the cowl assembly doesn't line up properly with the fuselage and points a bit too skywards so too does the engine itself. I'll make sure next time to push the prop into its housing to line up the engine properly while it is glueing.
The exhaust openings in the fuselage were then dremelled out and new pipes made from evergreen tube.
---

Cockpit / Fuselage
This is where the Eduard colour photoetch comes into its own. The instrument panel is primo, a new seat and seatbelts and a plethora of tiny levers to add… making sure of course that I was using only the same bits as for a -1A. I also added a bit of wiring and the big hose of the cockpit heater. Note: The under-floor window was an early design used to aim aerial bombs (housed inside the outer wing panels) against the perceived threat of massive bomber formations. In production aircraft it was often replaced by an aluminium panel (as I have done). The cockpit was painted interior green and given a wash and some drybrushing.

Next I attacked the tailwheel well – it's a big hole so it was going to need some detail. The references again let me down here and I had to "invent" some bulkheads etc. Once painted (interior green) and with the fuselage now sealed up I found the info I needed. Luckily the hole was big enough to do some un-modelling and by this time had the second kit to use as a template - it's now mostly accurate.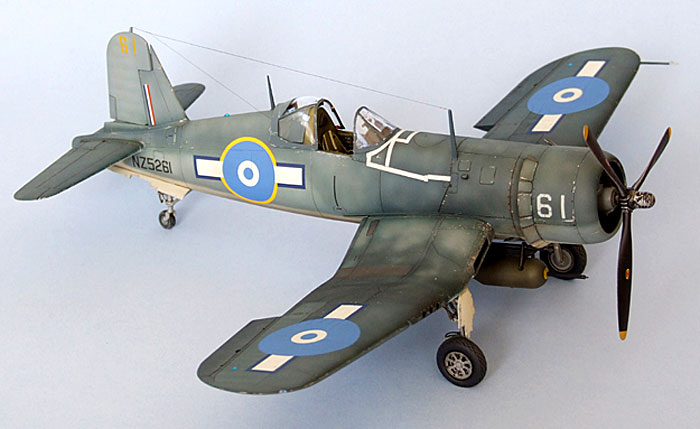 The fuselage fuel tank cover plate, just ahead of the cockpit, had the outer ring of "screw heads" filled as this is actually flush riveted and the rudder was removed and repositioned (makes the aircraft seem more "alive").
---

Little Bits
The main landing gear was given brake lines and springs made by winding fine wire around a long piece of strong stiff wire. The Eduard "springs" were just flat PE and totally useless and the kit didn't have any.
Tail wheel-well doors had their actuating wires added from stretched sprue.
The kit's Brewster bomb rack was savaged with a knife and given brass tube sway bars and wire bracing.
The tailwheel was given the PE treatment, and a bit of dremelling for good measure. The arrester hook was not attached as ground-based aircraft did not use them.
The True Details wheels had their horrible "flat tyre" bulges sanded off.
The kit canopy (once painted) had its opening levers scratchbuilt and mirror attached
The True Details 1000lb bomb was assembled and sanded. I made mine into a cookie cutter by adding a 2ft pole (12.5mm in 1/48) to the front with evergreen rod. The arming propellers came from my Eduard P-40N PE set.

Painting
Once the model was fully assembled, sanded and rescribed where necessary, it was time to paint. This is where the real fun 'n' games began and I seemed to be operating outside the learning curve for a while…

I use only enamels and I never pre-shade my models (post-shade only) so it was straight into a coat of Tamiya XF2 white toned down with a tad of Humbrol 28 camouflage grey for the undersides. Then I masked the lower outer wings and sprayed Humbrol 144 intermediate blue. For the sides I lightened this with white so that the border with the underside white would not be too dark for p-shade weathering effects. Then I went back to straight int. blue for the higher bits. From here on I started to lose the plot.

After p-shading the panels of the int. blue with progressively lighter shades I decided that I didn't really like the colour – it seemed a bit too grey. So I mixed my own colour using various paints I had available, sprayed and p-shaded them for a couple of hours then decided that the int. blue was alright after all and sprayed that again. Next came the top colour - sea blue. Initially I used Tamiya XF17 sea blue but after spraying and p-shading that a bit it was just way too green. Next to be tried was a mix of Humbrol 77 navy blue with a tad of Tamiya X3 royal blue… Ugh, much too blue.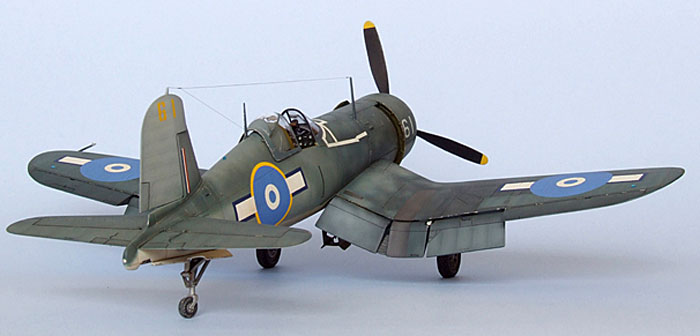 Eventually I bit the bullet and bought the correct colour - Xtracolor X121 gloss sea blue. I resisted the Xtracolor to begin with because it was a gloss paint and on a previous model took ages to dry. Nobody here stocks Model Master Enamels anymore, which is a crime if you ask me. I found out quite by accident that if you add 1 part Tamiya X21 flat base to 5 parts Xtracolor gloss you will get a mostly matt finish and a fast drying paint. That little problem solved the painting continued.

The upper surface was very weathered by p-shading. In some places I darkened the mix again, lightened it some more in others and then tied it all together with a heavily thinned coat in about the mid tone range. All fabric areas were masked separately and painted in lighter hues. The most realistic weathering is achieved by having many subtle layers.

Once dry I sprayed Humbrol Gloss Cote on the places where the decals would go. Well this crap wouldn't dry and after several days resembled a cracking lakebed during a drought. Not wanting to sand it and risk damaging my paint job I decided to spray straight over it with commercial grade Wattyl Estapol polyurethane high performance interior clear house varnish (gloss). I applied several coats to fill in the cracks from the Humbrol mess and within 24hrs it was as hard as nails. Local modelling legend Andy Hosking has used this product for at least 15 years without any signs of yellowing.
---

Decals
I used the new decal set from Ventura (V4880) RNZAF F4U-1 Corsairs, Pacific Theatre. All I really wanted was the national insignia and the tail code numbers. These decals are tricky to apply and their glue is very strong. As soon as they touch the model they stick instantly and you cannot slide them around at all. I must've been away in la la land at the time because I put them all in the wrong places – they would have to come off! I used the "sellotape on top ripping off the decals" method. Man they were stuck on strong! So strong in fact that they only came away, in small pieces, by actually ripping up the varnish layer too. Lucky I had that initial rubbish coat of Humbrol underneath I guess (nope it still hadn't dried).

Back to painting again to fix the damage! More Estapol went on and another set of the same decals. This time I cut close to the decal edges so I could slide them off the backing paper into their exact positions and sliding it back underneath to make minor corrections. You need two hands to wrangle the decals while holding your model delicately between your knees. I noticed on both sets that the white from the bars stuck out beyond the blue edges – Gad! More masking and painting! Local modeller Craig Sargent supplied me with the 61 decals for the cowl. I used 2-3 applications of Gunze Mr. Mark Softer to get the decals to suck down and they still seemed to be settling after 3 days!
---

Weathering
Once I was satisfied with the work I sprayed the entire model with Estapol satin ready for an oil wash. I use satin because I like some of the wash to stick to the surface which makes the paintwork look a bit more discoloured. I use Winsor & Newton Artisan water mixable oil colours. I mix mine in "BAR'S BUGS" car window washer concentrate, straight out of the bottle (no dilution). First up is a light general overall wash for the entire model using raw umber. I apply this to one section at a time (e.g. port wing then starboard wing etc.) using a soft 1cm wide brush in the direction of the airflow. I use the brush to soak up excess so it doesn't pool and leave those dreaded tide marks. If I want to take more off I wash the brush in water to clean it first. Once that is dry-ish (overnight) I then apply darker washes, by adding some black to the original mix, to places that are usually grubbier.

Note: tide marks (especially when you are trying to simulate an oil spillage) are caused by applying your oils onto a gloss surface - it repels the oil into a droplet shape which dries leaving circular marks. To avoid tide marks you need to apply your oils to a matt surface which breaks the surface tension of the droplet and allows it to spread.

Gun and Exhaust stains are then sprayed using Tamiya X19 smoke in successive layers until I get the right shade. This is a gloss and dries slowly so be careful you don't get too close with your airbrush and blow a hole through to the paint underneath. This is unsightly and not so easy to fix. Sometimes I add a tad of Tamiya XF64 red brown when I am doing exhaust stains and also use Tamiya XF57 buff closer to the engine end to simulate the lead oxide from the burnt fuel.

Paint chipping comes next and for that I just use Tamiya XF16 flat aluminium applied with a tiny brush (yep it takes a fair while). A matt coat of Estapol follows and then some drybrushing of raw umber around the engine and other areas such as aileron hinges, where grease and oil would leak from. A mix of Humbrol 11 silver and raw umber is applied to high traffic areas (the oil paint makes it easier to brush). Now we are ready to add the final bits and bobs that were also weathered.
---

Final Assembly
First on was the cowl assembly, then the undercarriage and doors which went together without a hitch. The flaps were a bit of a mission to install and necessitated further sanding and painting. Once on its feet I made all the various lights by first painting the drilled-out areas silver and when dry adding a drop or so of epoxy glue. I let the epoxy dry for a couple of days then painted over it with clear red, blue, etc.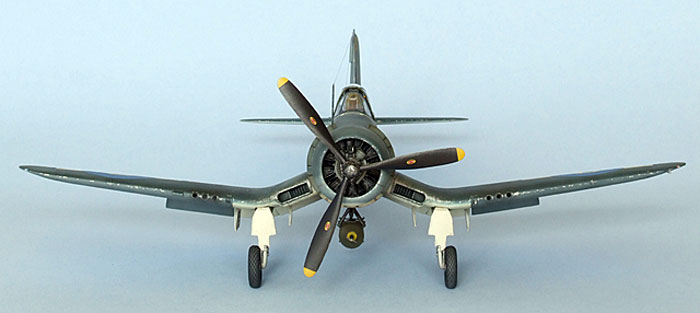 Next came the armoured cockpit glass which is a bit "gappy" where it fits the fuselage and needed some filling and painting over at the base to hide any messy stuff. I attached the rest of the canopy with industrial strength white glue then used said glue to fill any cracks. The join line was then painted with a thin coat of sea blue.

I made the aerial wire with stretched sprue and attached it with white glue and the insulators made from drops of white glue dabbed on with a pin. The aerial was then painted black with a brush and the insulators aluminium. Things got tricky again as I attached the daisycutter bomb in the wrong position and had to remove it and repaint the damn thing. I then found another photo of NZ5261 and discovered it also had 61 on the rudder so this had to be masked up and, using a PE stencil, painted all while trying to avoid "pinging" the aerial wire (whew!).
This model certainly wore me out and I was glad to finally see the back of it. Most of the problems were my own fault and I should have had it done in half the time. The end result was worth all the agony.

I would like to thank Pete Mossong our resident Corsair expert for his timely and sometimes not-so-timely help with all the hard to get references.


---
Model, Images and Text Copyright © 2007 by Bruce Salmon
Page Created 06 August, 2007
Last Updated 24 December, 2007
Back to HyperScale Main Page