Fujimi's 1/48 scale
Pakistani F-86F-40 Sabre
by Dr. Steven Corvi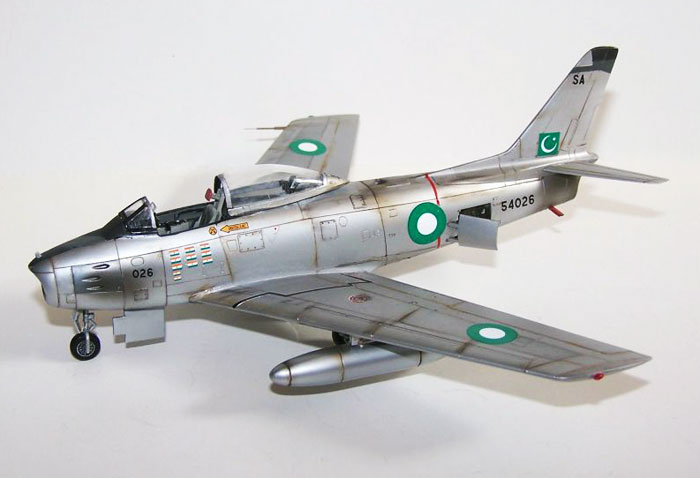 North American F-86F-40

Fujimi's 1/72 scale F-86F Sabre is available online from Squadron
The F-86F-40 depicted was flown by Squadron leader Mohammed Mahmood Alam with 11 IAF (Indian Air Force) Hunter kills. According to my sources these figures seem to be in conflict.
According to Syed Shabbir Hussainís, History of the Pakistan Air Force 1947-1982. on September 6th Alam shot down 2 IAF Hunters and damaged another 3. On September 7th Alam shot down 4 more IAF Hunters making this a total of 6 and 3 damaged IAF hunters. This would bring his total to nine NOT eleven kills if you count the damaged Hunters.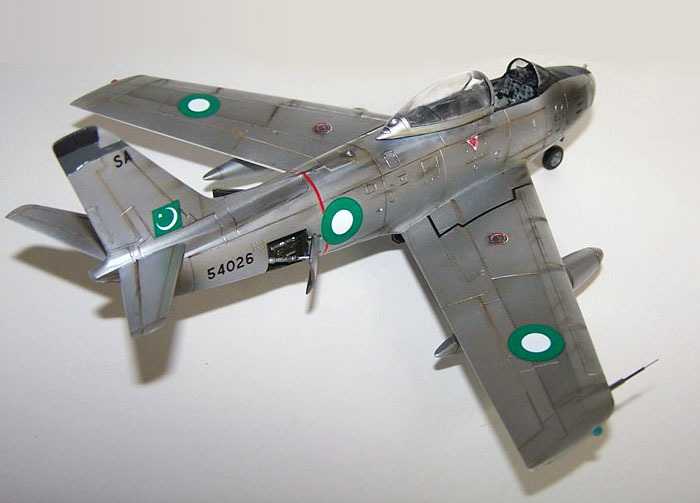 Alam can be awarded with 4 confirmed kills from Indian sources. Conversely the Indian Air Force claims were also exaggerated and this further clouds the issue. Alam did NOT however fly in the 1971 war that erupted six years later. The total aerial kills cannot be confirmed and accurately counted from either side. Nevertheless Alam performed well and was accounted by both sides as being an excellent fighter pilot in the F-86.
These missions were flown over a series of sorties from September 5-7th 1965.
Construction, Painting and Markings
The kit is the 1/72 scale Fujimi F-86F40. I used Cutting Edge Decals, 72-025. I also used the Eduard detail set and some scratchbuilt lights and pitot tube.
It is painted in Alclad Aluminum.
The F-86 has moderate weathering since this airframe saw a lot of action in the 1965 war.
I decided to go with the Cutting Edge interpretation of Alamís kills even though they are not confirmed. The PAF flew both the F-86F-40 and the shorter winged Sabre 6, which were purchased from Germany. The Sabre served well for the PAF through 1970-and early 1980ís.
I suggest the following books for further reading on the subject:
Syed Shabbir Hussain, History of the Pakistan Air Force 1947-1982. 1983.
This is one of the only English language sources on the PAF (Pakistan Air Force) and provides a nice survey of the PAF and its engagement in the series of conflict with India. It is well written if a little on the nationalistic side of Pakistan. The information is accurate and the narrative is an easy read, however some of the aerial claims are NOT confirmed and can not be considered reliable. The work does not provide either a bibliography or notes so documentation can be considered subjective.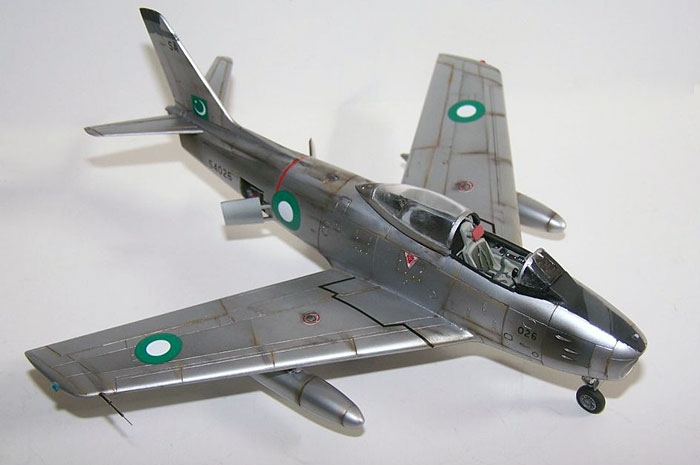 P.V.S. Jagow Mohan & Samir Chopra. The India-Pakistan Air War of 1965, Manohar 2006 (ISBN 81-7304-641-7)
This is a well written Indian interpretation of the 1965 air war. It is well written account and seems to have some balance in relying aerial combat kills. The work provide endnotes and some documentation which offer some modicum of objectivity.

Click the thumbnails below to view larger images:
[../../photogallery/photo00026837/real.htm]
---
Text, Images and Model Copyright 2007 by Dr. Steven Corvi
Page Created 14 November, 2007
Last Updated 24 December, 2007
Back to HyperScale Main Page