F-4B/N Airframe Conversion
1/32 scale for Tamiya F-4J or F-4C/D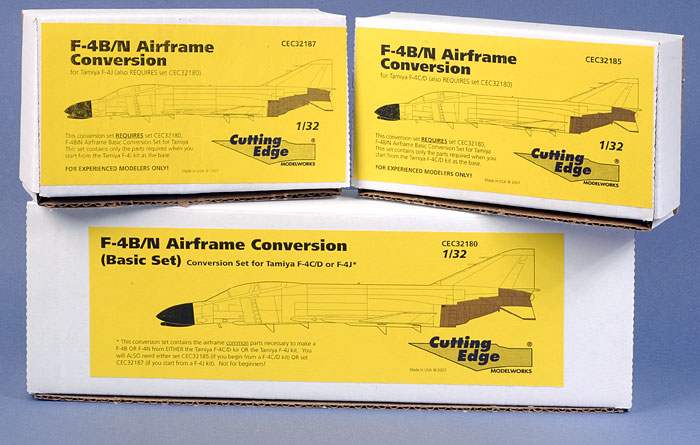 Cutting Edge Modelworks
Reviewed by Brett Green



HyperScale is proudly sponsored by Meteor Productions
Tamiya has released both the US Navy F-4J and USAF F-4C/D kits in 1/32 scale. However, they have not, and probably never will (due to the major retooling required) offer the early "thin wing" versions of the famous Phantom II.
Cutting Edge Modelworks has now released a definitive and comprehensive conversion for these early Phantoms which also offers the option of modelling the upgraded F-4N Phantom II.
In recognition that modellers may already have either of the two Tamiya Phantoms in their collection, Cutting Edge has thoughtfully broken the conversion down into a basic airframe set, plus two alternate finishing sets depending on which Tamiya kit the modeller will be working on. This is a logical breakdown, as if all the required parts for both models were included in a single super-set, there would be many left-over resin parts and a much higher price.
Each set is supplied with highly detailed instructions with both text and colour photographs.
The instructions advise in several places that this is a complicated conversion, and actually advises that the sets may be returned for a refund if it appears beyond the modeller's skill levels. Even so, although this is undoubtedly a large and comprehensive conversion, I think that most modellers who have tackled a few resin conversion projects will have little trouble with this one.
Details of the three sets are as follows:
CEC32180 - F-4B/N Airframe Conversion
(Basic Set)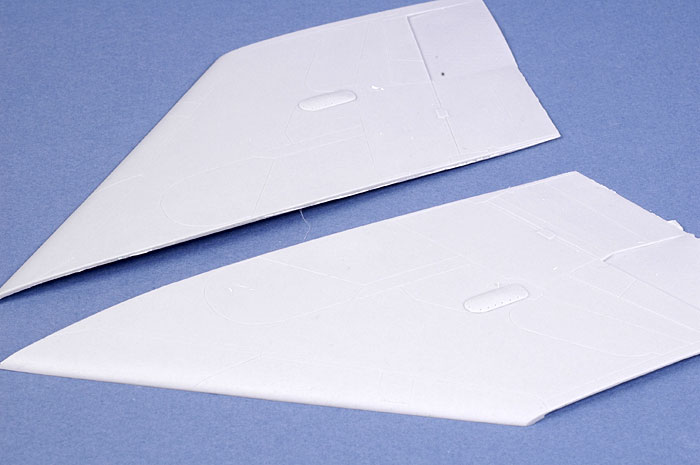 The centrepiece of this large conversion is the thin upper wing parts. These are very impressive and perfectly cast on my sample. These wings include the small bulges over the main landing gear attachment points that were fitted to F-4Bs from 1966, and to all F-4Ns. If you are building a very early F-4B, you will want to sand these off - a straightforward task.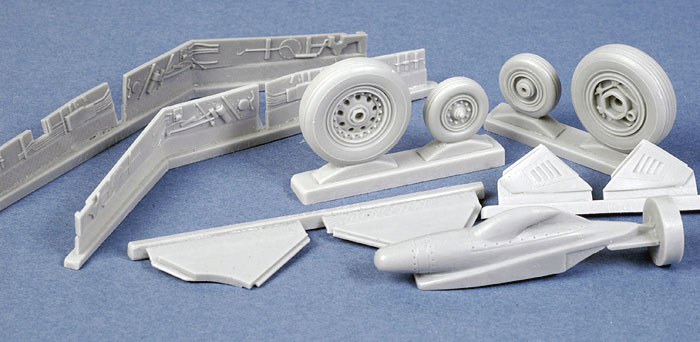 The F-4B and N requires many more modifications than just the thin wings, and these are also supplied by Cutting Edge. In this set, you are supplied with new landing gear bulkheads, narrow wheels, alternate ECM fairing with "horn", and resin parts to modify the lower wing.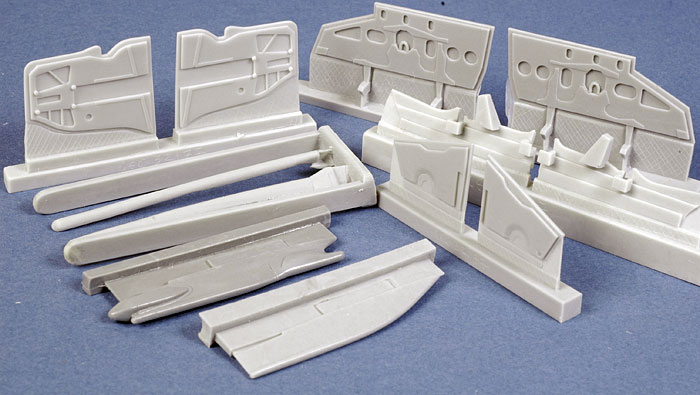 Without doubt, the most complex aspect of this set is the lower wing modifications, which does require some precise cutting of kit parts.
Bonus parts are also supplied for corrected rear fuselage vents above the nozzles. The replacements are more accurate than Tamiya's incorrectly sized parts.
---
CEC32185 - F-4B/N Airframe Conversion
(for Tamiya F-4C/D)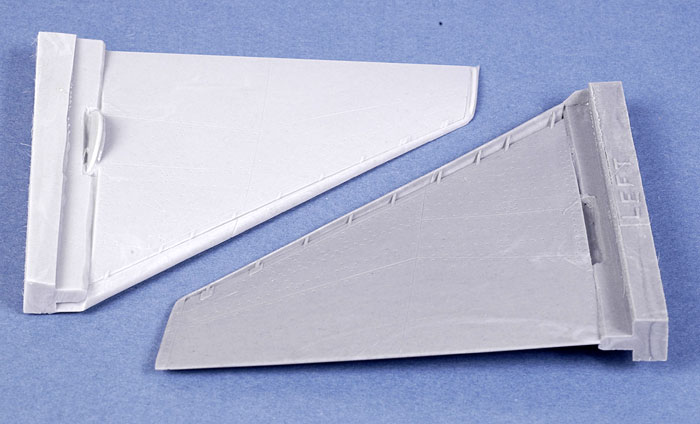 If you already own the Tamiya 1/32 scale F-4C/D, you will need this set to complete your F-4B/N Conversion.
Cutting Edge supplies a new set of resin slotted stabs. These were used on late F-4Bs and all F-4Ns. Tamiya's F-4C/D supplies the early unslotted stabs, so you have all your bases covered.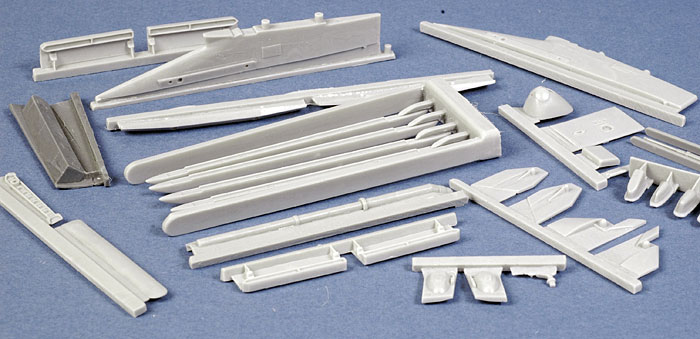 The balance of parts are mostly to "navalise" the USAF Tamiya kit. Parts include nose gear and parapack doors, catapult hooks and ECM fairings, refuelling probe and probe bay plus US Navy-style ordnance pylons.
In common with all the other parts, the resin is perfectly cast and casting blocks are minimal.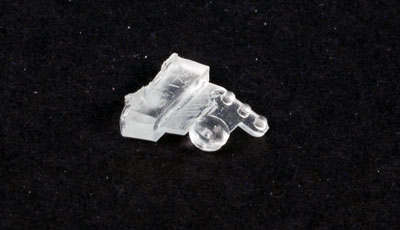 Clear resin parts are supplied for the nose wheel door lights.
---

CEC32187 - F-4B/N Airframe Conversion
(for Tamiya F-4J)
If you already own the Tamiya 1/32 scale F-4J Phantom II kit, this is the additional set you will need to complete your conversion.
Also, with less changes required, I would suggest that Tamiya's F-4J will be the best choice if you have not purchased a 1/32 scale Phantom kit yet. Note that these conversions are not compatible with any of Revell's 1/32 scale Phantoms.
This set supplies a replacement early radome. No cutting is required to install this large part.
The rear fuselage extension is also supplied as two resin parts. Two additional resin parts are provided for the lower wing extension. Some minor cutting of the kit is needed before installing the resin parts.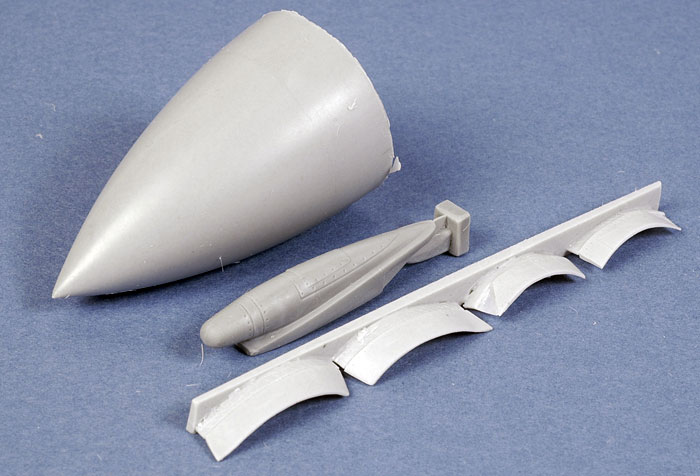 Unslotted stabilisers complete this conversion. These will be used if you are building an early F-4B, up to Block 25.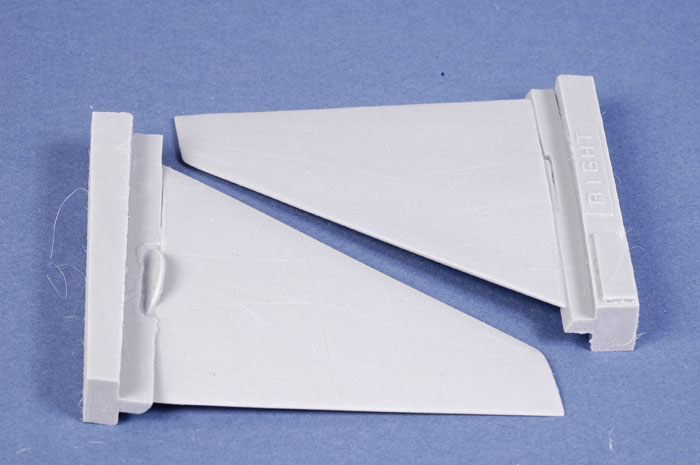 Cutting Edge intend to compliment these conversion with additional accessories in the coming months. These include:
F-4B/C/D/N J79-GU-8 Detailed Nozzles (COMING VERY SOON!)

F-4B/N Super Detailed Cockpit

Early drop tanks

Wing folds

Centerline fuel tank (included only in the Tamiya F-4J kit; needed only for the F-4C/D base kit)

Additional F-4 ordnance
For more details about these sets, you can read Dave Klaus' Preview by following this link.
Cutting Edge's 1/32 scale resin F-4B/N Conversion Sets are comprehensive, well detailed and beautifully cast. They will add character and uniqueness to your Tamiya Phantom.
Think of all those great 1960s US Navy markings!
Highly Recommended.
Thanks to Cutting Edge Modelworks for the review sample
---
Cutting Edge Modelworks products are available online from Meteor Productions website
---
Images and Text Copyright © 2007 by Brett Green
This Page Created on 04 June, 2007
Last updated 24 December, 2007
Back to HyperScale Main Page
Back to Reviews Page