Schatton-Modellbau produces a range of metal gun barrels and accessories in various scales for armour and aircraft models. Their latest effort is designed to replace the cannon barrel for Dragon's recent 1/48 scale Junkers Ju 88 P-1 tank buster. This cannon was also used on some variants of the Henschel Hs 129.
The big BK 7.5cm cannon is the focal point of the Junkers Ju 88 P-1. Schatton-Modellbau's 1/48 scale cannon barrel is supplied as a single part in machined brass. The shape of the hollow muzzle brake is faithfully reproduced. The many varied and delicate holes in the muzzle brake are precisely drilled.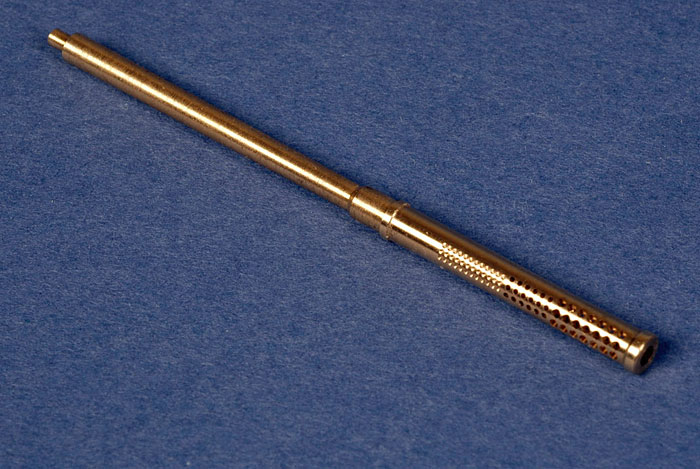 The effect is equally impressive when viewed from the outside of the barrel, or when looking straight into the muzzle brake from the front.
No preparation is required for the barrel - it is ready to install.
Schatton-Modellbau's 1/48 scale Ju 88 P-1 7.5cm cannon barrel is beautifully produced, and will have an obvious impact on the profile of your Dragon kit.
Highly Recommended.
Thanks to Schatton-Modellbau for the review sample
---
A full price list of this and their other products is available on Schatton's website http://www.modellbau-schatton.privat.t-online.de. Orders may be placed via email.