S u m m a r y

Publisher and Catalogue Details:
Osprey Combat Aircraft No. 69
US Navy and Marine Corps A-4 Skyhawk Units of the Vietnam War
by Peter Mersky
ISBN:

9781846031816

Media and Contents:
Soft cover, 112 pages
Price:
GB£13.99 online from Osprey Publishing

Review Type:
FirstRead
Advantages:

Good coverage of the type in these theatres; logically and chronologically laid out

Disadvantages:
Recommendation:
Recommended

Reviewed by Rodger Kelly

Osprey's C-47/R4D A-4 Skyhawk Units is available online from Sq
uadron.com
US Navy and United States Marine Corps A-4 Skyhawk Units of the Vietnam War is the latest release from Osprey Publishing and is number 69 in their Combat Aircraft Series.
A paragraph on page 103 of this book goes a long way towards telling the story of the little A-4 and of the bitter, long, and hard fought Vietnam conflict. I quote:
"More than 380 Skyhawks were lost in Vietnam – 12 percent of the total production run. Navy losses were 196 in combat and 77 operationally. The Marines lost 70 single seat A-4s in combat and another 31 operationally. There were three fatalities in TA-4Fs, ten of which were lost in combat. Of Navy fixed-wing aircraft lost in combat, 36 percent were A-4s. Marine Corps A-4 losses also amounted to 36 percent of all Marine Corps fixed-wing aircraft lost. Of all US fixed-wing aircraft lost in combat during the war, A-4s accounted for 11 percent. Navy A-4 crew losses were 98 killed in action and 48 PoW, whilst Marine Corps losses were 29 killed in action and one PoW"
Sobering facts indeed.
This book is the fourth authored by Peter Mersky for Osprey Publications. His other contributions to the Osprey Combat Aircraft Series also deal with the Vietnam conflict and the US Navy and Marine Corps aviation's involvement in it. His other titles - US Navy A-7 Corsair II Units of the Vietnam War (co-authored by Norm Birzer), RF-8 Crusader Units over Cuba and Vietnam , and F-8 Crusader Units of the Vietnam War were all well researched, well written and provided the reader with more than just the "big picture" summary.
I am pleased to advise that this latest title is equally as good as its predecessors. It faithfully covers the unit's flying the A-4 in this conflict from the initial sorties in August of 1964 right through to the final missions in January of 1973 and everything in between.
The book comprises eight chapters, four appendices and an index. The chapters are:
Chapter 1 - The War Heats Up
Chapter 2 - Steep Learning Curve
Chapter 3 - The War Escalates
The POL Campaign Begins

Saints and Ghostriders

Fire on the 'O Boat'

'Rosie's' War
Chapter 4 – Heaviest Action and Greatest Losses
The War Heats Up

'Tico's' Time

One Busy Day for the 'Dragons'

Medal of Honor from Turtle Creek

Tough Little 'Scooter'

Intense Action Continues

More Losses
Chapter 5 – A long Year
A long Summer

The Forrestal Fire

The Bridge Campaign
Chapter 6 – Battles and Bombing Halts
Chapter Seven – The Marines
1966

1967 to 1970

The Siege of Khe Sanh

Break for the 'Playboys'

Back to Khe Sanh
Chapter Eight – A Doubtful Ending
Invasion of Laos

NVA Invades the South

TA-4s in Combat from the Flight Deck

The Marines Return

Final Missions for Navy A-4s

Letting the Numbers Speak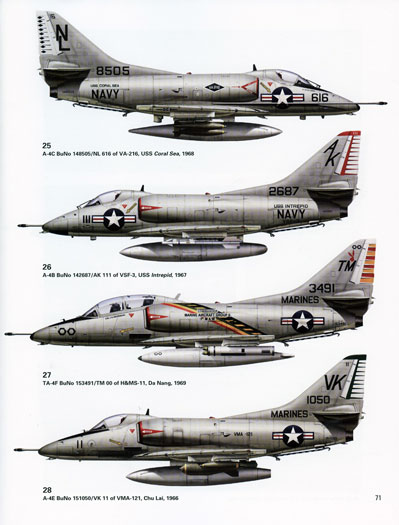 The Appendices are:
US Navy A-4 Skyhawk Deployments to South East Asia from 1963 to 1975. A handy reference, its laid out by squadron, by model, on what ship and the dates on station

United States Marine Corps A-4 Skyhawk Deployments to South East Asia from 1963 to 1975. In the same format as above.

Scale drawings by Mark Styling (in 1/96 scale) of an A-4E 'humped and non- humped'.

A description of the 27 colour plates.

Captions to the 13 colour photographs.
The book also contains twelve pages that hold 33 colour profiles. These profiles have been beautifully painted by Jim Laurier. Further artwork appears on the front cover, this time by Mark Postlethwaite.
The book is also very well illustrated with both colour (13) and black and white (94) photographs. Hard bitten fans of US Naval aviation will recognise some of the photographs but there are also a large number that have not been seen in print before (at least by me).
The book itself has 112 pages printed on glossy paper between thin cardboard covers and is the same size as the Aircraft of the Aces and Combat Aircraft series produced by Osprey.
As a fan of US Naval aviation and of the A-4, I found this to be an excellent book. It provides a blow by blow account illustrated throughout with first person narratives of pilot's experiences of the 'Attack Communities air war in Vietnam.
Thoroughly recommended and well and truly worth the price being asked of it!
---
Postscript
Whilst this book is more aimed at the enthusiast than the modeller I did find it helpful with its explanations of what configurations the A-4 carried in offensive armament against the different targets it flew against.
Thanks to Osprey Publishing for the review sample
C-47/R4D Skytrain Units of the Pacific and CBI




(Combat Aircraft 69)

Author: Peter Mersky
Illustrator: Jim Laurier
US Price: $21.95
UK Price: £13.99
Publisher: Osprey Publishing
Publish Date: May, 2007
Details: 112 pages; ISBN: 9781846031816
Review Copyright © 2007 by Rodger Kelly
Page Created 05 June, 2007
Last updated 24 December, 2007
Back to HyperScale Main Page