S u m m a r y

Catalog Number:

Famous Russian Aircraft Series Sukhoi Su-27

ISBN:

1857802474

Media:

hard cover, 591 pages

Price:
GBP35.00 from Ian Allan Publishing
Review Type:
First Read
Advantages:
The new standard reference on the Su-27
Disadvantages:
Recommendation:

Highly Recommended
Reviewed by Ken Bowes


Red Star's "Lavochkin's Last Jets" will be available online from Squadron

In an unusual move given the lack of potential market in the Australian Pacific Region, the Russians appeared in force at the 1995 Avalon Airshow. Amongst the many Russian aircraft types on display was Su-27PD Flanker "598" white. At that time the Flanker was still a novelty in the west, although 388 and 389 Blue had appeared at a Paris and Singapore (where they had been involved in a widely publicised air to air photo shoot with a 75SQN RAAF F/A-18 Hornet).
Now in 1995 here was one of the latest generation Russian fighters, considered the equivalent of the F-15 Eagle, being thrown around the skies of Victoria in its vivid Lyotchiki-ispytahteli (Test Pilots) aerobatic team scheme of red and blue. All the trade mark moves were made including the "Cobra", then a move which startled Western analysts with the manoeuvrability of the Flanker.
Also displayed for the first time was the refuelling capability fitted for the first time on a land-based Su-27, with a pass made with an Il-78 Midas tanker.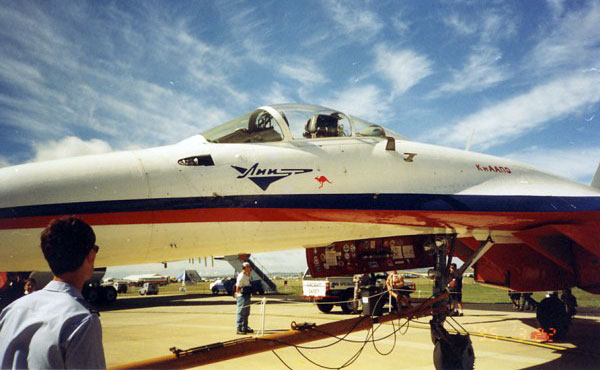 Images from Ken Bowes personal collection of the Su-27 visit to the 1995 Avalon Airshow. Click the thumbnails below to view larger images:
[../../../photogallery/photo00018658/real.htm]
---
Whilst the significance of some of this was lost on me at the time, twelve years passing and Yefim Gordon's new book in the Famous Russian Fighter Series have sheeted it home. Until the publication of this book, the bible on Su-27s was Andrei Fomin's "Su-27 Flanker Story". Gordon's volume, which greatly expands on his previous Red Star and Warbird Tech books, renders Fomin's work somewhat obsolete. This book is a real treat, a 600 pages hard-cover volume with almost 1000 colour photographs which makes this book a must have for those with an interest in modern fighter aircraft. Having just been published it of course benefits from new information on foreign users as well as new generation developments in the Su-30 family. The Flanker, both new build and refurbished, has been widely exported in recent years with countries as diverse as Angola, China, Ethiopia, India and Indonesia depicted in text and photographs giving modellers a variety of inspiration.

This book covers all the ground one would expect of it. Genesis as the USSR's new fourth generation heavy weight fighter and counter to the F-15, leads to a description of the design and development of the Flanker. An examination of the Flanker family tree, both first and second generation an extended look at the naval variant follows. Sections of the book are also devoted to the Su-30 and Su-32/34 families. The service history of the Flanker and its now many operators as well as a whole chapter devoted to display flying of the Su-27 round out the history side. The Russian Knights are but one of several teams and individual display aircraft covered in this chapter.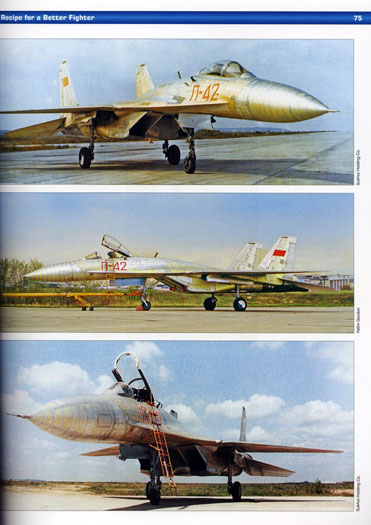 Click the thumbnails below to view larger images:
[../../../photogallery/photo00007620/real.htm]
---
Concluding this book and of great use to modellers, is a section on structural design, systems and armament grouped under an "In Detail" chapter. This is the section where the reader will find the large clear detailed shots of such areas as the cockpit and airframe that will be of immense use in creating a detailed model. Add line drawings of all variants, almost 100 colour side profiles and a detailed list of serial numbers by user nation and yet again Yefim Gordon and Ian Allan Publishing have provided the ultimate reference on a significant Russian fighter.

The book will serve both fans of Russian aviation and modellers well. With good models (all with some flaws mind you) in all popular scales, and a new Su-30MK kit due in 1/32 some time soon from Trumpeter it will I suspect prove both popular and valuable as a reference.

Highly recommended.
Thanks to Simon of DLS Australia for the review sample
---
The Red Star series may be purchased from www.midlandcountiessuperstore.com
---
Review Copyright © 2007 by Ken Bowes
This Page Created on 27 July, 2007
Last updated 24 December, 2007
Back to HyperScale Main Page
Back to Reviews Page