Reviewed by Ken Bowes


AirDOC Decals and books are available online from Meteor Productions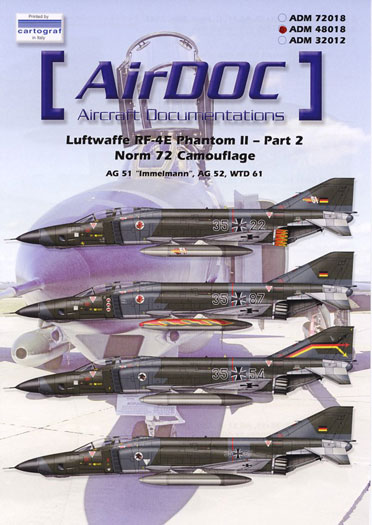 Neatly tying in with the release of ADPS 007 Bildband Luftwaffe Phantoms in Norm 72 Camouflage are three new AirDOC Decal sheets. 48017 covers Luftwaffe F-4Es in Norm 72, 48018 covers the same for RF-4Es and 149002 is a comprehensive sheet of maintenance stenciling for Phantoms in this scheme. All are printed by Cartograph Decals and a very clear, sharp and in in register, even some of the more complex designs.
Looking at the subjects on each we get 17 options on 48017 including aircraft from JG 71, JG 74, JaboG 35, JaboG 36 and WTD 61. Mixed in with anonymous line aircraft are special commemorative schemes, zaps, test schemes and a shark mouth. This sheet is nothing if not comprehensive and provides enough standard markings for at least two options be completed from it.
48018 quite naturally covers the RF-4Es of AG 51 AG 52 and WTD 61. This time there are 15 options with a similar range of colourful schemes, line jets and special zaps as offered in 48017. Again at least two complete subjects can be made from this sheet.
Finally as can be expected 149002 gives one very complete set of stencils for the Norm 72 F-4 or RF-4 along with helpful notes to accurize the Hasegawa 1/48 offering of this subject. Comprehensive instructions accompany this set, which is critical on such a complex sheet.
Click the thumbnails below to view larger images:
[../../../photogallery/photo00030695/real.htm]
---
With these three releases (also available in 1/72 and 1/32), AirDOC has closed the book on Norm 72 Phantoms. Combined with the excellent reference book, the modeller should not require anything else to produce an outstanding Luftwaffe F-4F or RF-4E. The level of detail is superb, instructions clear and unambiguous and the overall quality top notch, all things I have come to expect from this company.
Highly Recommended.
Thanks to AirDOC for the review sample
---
Review Copyright © 2007 by Ken Bowes
Page Created 1 November, 2007
Last updated 24 December, 2007
Back to HyperScale Main Page