Reviewed by Rodger Kelly


AirDOC Decals and books are available online from Meteor Productions
ADM 72014 is the second the three sheets covering the Ling-Temco-Vought A-7 Corsair II in U.S. Navy service.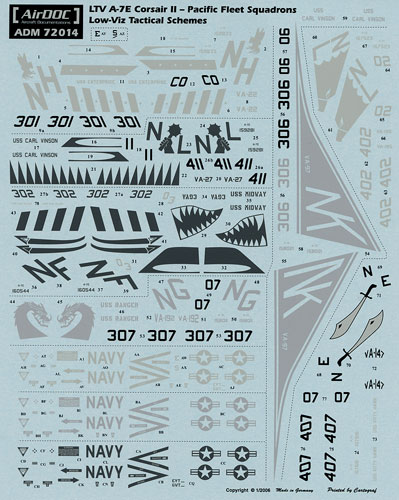 This sheet provides markings for seven different A-7Es of the U.S. Navy's Pacific Fleet, all finished in the lo-viz FS36320 Dark Compass Grey over FS36375 Light Compass Grey camouflage finish that was applied to the A-7 from the early '80s and worn until the machine's retirement in the early '90s. Details of the individual options as follows:
Bureau number 159833, modex 301 the squadron's Commanding Officer's machine of VA-22 'Fighting Redcocks'. The markings depict her as she appeared aboard the USS Enterprise during the Strait of Hormuz mining incident in 1988.

Bureau number 159281, modex 411 of VA-27 'Royal Maces' embarked aboard the USS Carl Vinson during 1988.

Bureau number 160544, modex 302, of VA-93 'Ravens'. The markings depict the machine during VA-93's final cruise aboard the USS Midway during prior to their disestablishment 1986.

Bureau number 158021, modex 306 of VA-97 'Warhawks' as she appeared at Naval Air Station Fallon at Fallon, Nevada in the United States – the aircraft carrier in the desert - in November 1985.

Bureau number 157615, modex 407 assigned to VA-147 'Argonauts'. The markings depict her as she appeared circa 1983 whilst aboard the USS Kitty Hawk.

Bureau number 158011, modex 307 of VA-192 'Golden Dragons' embarked aboard the USS Ranger in 1993.

Bureau number 157523, modex 402 of VA-195 ''Dambusters' as she appeared whilst shore based at Naval Air Facility Atsugi in Japan during 1983.
Support material is quite comprehensive. It consists of two A-4 sized sheets printed on good quality glossy paper that show full colour, clear and well drawn side profiles of each option as well as a generic upper and lower plan view. Also included is a list of suggested kits, references (including their own - LTV A-7 Corsair II Part 1 - The SLUF (Short Little Ugly Fellow) in US Navy Service –reviewed here on Hyperscale at http://www.hyperscale.com/reviews/books/airdocpostwar12reviewrk_1.htm and after market accessories available to enhance your scale A-7.
Click the thumbnails below to view larger images:
[../../../photogallery/photo00007980/real.htm]
---
The decals themselves have been printed by the well known European company Cartograf. Everything on my sample sheet was in register and the greys used look to be a faithful reproduction. Three sets of reasonably comprehensive stencil data and, national insignia markings in three different shades of grey are provided as well.
The support sheets/placement guide and decal sheet come packed in a clear plastic zip-loc bag.
A well produced and value for money sheet from the guys at AirDOC as far as I am concerned.
The sheet is also available in 1/48 scale as ADM 48014.
Recommended.
Thanks to AirDOC for the review sample
---
Review Copyright © 2007 by Rodger Kelly
Page Created 28 October, 2007
Last updated 24 December, 2007
Back to HyperScale Main Page