Summary

Catalogue Number:

FTD 48001 - VF-24 Renegades Last Rage Part 1
Fightertown Decals

Scale:

1/48

Contents and Media:

Waterslide decals plus instructions and notes

Price:

USD$15.00 available online from Fightertown Decals
Shipping is free for US customers; USD$5.00 for international orders

Review Type:

FirstLook

Advantages:

Comprehensive sheet covering two Tomcats; complete markings including major stencils; comprehensive instructions including photos, diagrams and text; high standard of decal printing and presentation.

Disadvantages:

Recommendation:

Recommended
Reviewed by Rodger Kelly


HyperScale is proudly supported by Squadron
Fightertown Decals is yet another newcomer to the already well populated decal world.
So what, you say?
Well if you are a fan of U.S. Naval aviation you will want to become very familiar with them if their first foray is indicative of the standard they have set for themselves!
Fightertown Decals are out of Sherman Oaks, California in the USA and its staff is made up of just two guys, Brian Plesica and Mike Pister. Their website describes them as passionate, slightly obsessed with modern Naval Aviation and with the F-14 Tomcat. These are good things if you also are into modelling aircraft flown by the U.S. Navy.
Their first two sheets cover the F-14A Tomcats flown by VF-24 Fighting Renegades.
First some background. VF-24 first flew the F-14 in December 1975 and quickly became an extremely proficient operator of the Tomcat winning the highly coveted "Mutha" Trophy, awarded annually to the most spirited fighter squadron in the Pacific Fleet on multiple occasions as well as other esteemed awards including the Admiral Joseph Clifton Award for operational excellence, the Battle 'E' Award and the CNO Aviation Safety Award. The Fighting Renegades flew the Tomcat until the squadron was dis-established in the August of 1996.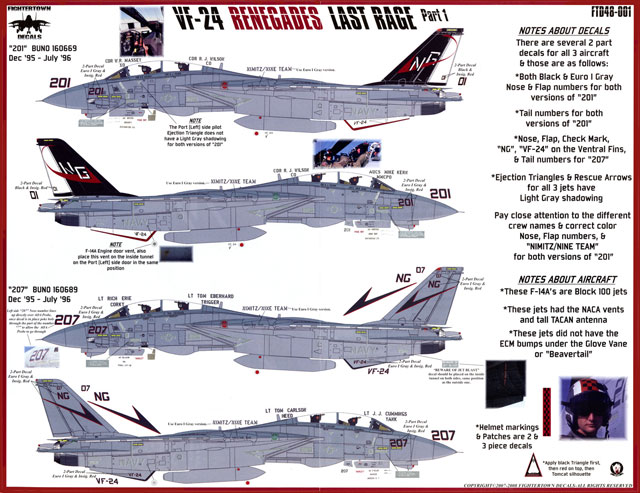 But enough of history and on to the decals!
Fightertown Decals has craftily incorporated VF-24's call sign of "Rage" into the title of these two sheets. Last Rage Parts 1 and 2 provide markings for the Tomcats of VF-24 between December 1995, when they deployed aboard the USS NIMITZ for their last WestPac cruise, until they were dis-established in August of 1996.
Markings are provided for two machines on the sheet.
The individual aircraft are:
Bureau number 160669, modex 201. In U.S. Naval aviation, Modex 201 is generally assigned to the Commanding Officer of the squadron. Being the Commanding Officer's machine, it usually sports some colour in its markings, not as much as that worn by the CAG bird, but a fair amount none the less. 160669 is no exception. It wears gloss black paint to both sides of its vertical stabilisers as well as gloss white rudders and ventral fins over its basic tactical paint scheme (TPS) finish of FS35237 dark blue/grey over FS36375 light compass grey. The squadron "check" insignia is also in full colour as are the outlines to the modex numbers and the edging to the ventral fin. The NG Air Wing indicator also wears white "shadowing". There are two sets of crew names are provided for this option as well enabling you to model it from two different time periods - December '95 to July '96 and Jul to Aug '96.

Bureau number 160689, modex 207. This option is in basic TPS. Nevertheless, it still shows a little colour to its markings in the form of red outlines to the "check" insignia and modex.
Complete markings are provided for each of the two machines. Stencil data on these aircraft was restricted to the larger and more visible items and these are all supplied; including the data placards that were affixed to the landing gear struts and catapult launch bar, something I don't remember seeing on any other Tomcat aftermarket decal sheet. The out of ordinary items also include red and black checkerboard markings for the crew's helmets, shoulder patches, and squadron insignia, all of which are two-part decals. A red squadron "check" mark is also provided for the intake covers should you choose to craft the covers from scratch. The detail that these guys have gone to even extends to supplying both black and dark grey modex for both options to reflect the changes made when 201 was partially painted.
Click the thumbnails below to view larger images:
[../../../photogallery/photo00014023/real.htm]
---
The placement guide is more of a support document than a simple diagram showing you were to put the decals. It is A-4 in size and printed on good quality glossy paper. It shows both left and right hand side for each option as well as a generic plan view of the topside. Small colour photographs show you a crew helmet and landing gear to assist with the correct placement to the scale counterparts of these items. Full and comprehensive notes are also included and tell you about weapons load outs, weapon rail configuration and the fact that they were heavily weathered at the completion of their deployment. Other facts include that the options are all block 100 F-14As, did not have the ECM bumps under the glove vane or beavertail and had the NACA vents and tall TACAN antenna.
The decals themselves have been printed by Microscale and are well and truly up to the high standards set by this pioneering company. Everything is in perfect register, is sharply printed and looks to be the right shades of colour to my eye.
The decal sheet and support guide come packed in a clear plastic zip-loc bag.
This is a brilliant debut into the decal world for Fightertown Decals. Well researched, well presented and definitely a must-have if you are a Tomcat fan.
Highly Recommended.
Thanks to Fightertown Decals for the review sample.
---

Postscript
Additional support information on the aircraft featured on this and the other sheet covering VF-24's F-14s feature on the Fightertown Decals website at http://www.fightertowndecals.com/
---
Review Copyright © 2007 by Rodger Kelly
This Page Created on 19 June, 2007
Last updated 24 December, 2007
Back to HyperScale Main Page
Back to Reviews Page