Summary

Catalogue Number:

FTD 48004 - VX-9 Vampires
Fightertown Decals

Scale:

1/48

Contents and Media:

Waterslide decals plus instructions and notes

Price:

USD$18.00 available online from Fightertown Decals
Shipping is free for US customers; USD$5.00 for international orders

Review Type:

FirstLook

Advantages:

Complete markings including major stencils; comprehensive instructions including photos, diagrams and text; high standard of decal printing and presentation.

Disadvantages:

Recommendation:

Highly Recommended
Reviewed by Rodger Kelly


HyperScale is proudly supported by Squadron
This is but one of the three new decal sheets from Brian Plesica and Mike Pister, the guys who make up Fightertown Decals.
Fans of U.S. naval aviation will have understanding of VX-9 and its role but for those of you don't a short history lesson. Point Mugu's VX-4 and China Lake's VX-5 were combined in 1994, to form the current VX-9 'Vampires' at Naval Air Station Point Mugu (located at Point Mugu, Ventura County, California, in the United States) and its reason for being was to test and evaluate weapons and their related systems for the U.S. naval aviation fleet. Whilst VX-9 still exists at China Lake the Point Mugu detachment was ceased on the phasing out of the F-14 Tomcat from fleet service. During its time, VX-9 tested every weapon in fired and dropped by the Tomcat.
This new sheet provides markings for four of the Vampires machines from 1999 through to 2005. The individual machines are:
"Vandy 1" F-14D Bureau number 164604 from circa 2004. Apart for being famous as Vandy 1, she is also significant as being the very last F-14D built. A unique and striking aircraft to say the least, Vandy 1 was painted overall gloss black with a flat black anti-glare panel. The notes on the placement guide advise that she was a workhorse and not a show bird exhibiting a somewhat weathered appearance with some panels being "less glossy" than others and she had her Phoenix missile pallets, BOL rails, lantrin pylon and the lower portions of her AIM-7 pylons finished in light ghost grey (FS36375). Her markings are all in full colour including the chord wise bands across her vertical stabilisers (supplied as two-part decals), national insignia and stencil data. Rather than the squadron's standard XF airwing designator and vampire marking on her vertical stabilizers she wears the famous white "playboy bunny" marking. These are supplied of course but also included is a two-part NAWCWD squadron insignia "zap" that was placed over the right hand bunny's eye prior to her final flight from Pt Mugu.

"Vandy 254" F-14D Bureau number 164599 as she appeared in 2004. This machine was finished in the basic Tactical Paint Scheme (TPS) finish of FS35237 dark blue/grey over FS36375 light compass grey. As with the other two lo-viz bird on this sheet she features flat black vertical stabilisers and ventral strakes and carries flat black external fuel tanks. The notes on the placement guide advise that she had a very weathered and patchy appearance to her TPS as well as her vertical stabilisers.

"Vandy 241" F-14B Bureau number 163226 as she appeared in 2003. This option is in the same TPS finish as the previous one with minor differences to stencilling as notated on the placement guide.

F-14B Bureau number 161862 "Vandy 240" or The White Whale as she was dubbed by VX-9's air and maintenance crews. The provided markings depict her as she appeared in 1999. This option is finished in overall FS16440 glossy light gull grey with her Phoenix missile pallets in light ghost grey (FS36375). Her vertical stabilisers and ventral strakes are in gloss black and she carried flat black external fuel tanks. All of her markings bar her full colour national insignia are in black.
Previous Fightertown Decals sheets included much welcomed tiny data placards for the landing gear struts, catapult launch bar as well as squadron markings for the crew's helmets, and squadron insignia shoulder patches. The same appropriate decals appear on this sheet too but the Fightertown Decals guys have gone a little further with these tiny decals by including the warning data placards for the ejector seats as well as a complete set of formation keeping "slime lights" and a set of black "petal" decals to add detail and an appearance of depth to the jet nozzles. The Lantrin pod carried by "Vandy 1" is not forgotten either and it receives a complete set of stencil data and placard markings as well.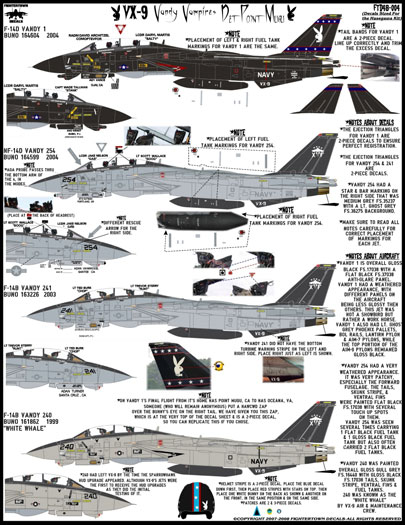 Click the thumbnails below to view larger images:
[../../../photogallery/photo00013285/real.htm]
---
The same attention to detail seen on previous Fightertown Decals placement guides is continued with this sheet. The Guide is A-4 in size and printed on good quality glossy paper. It shows both left and right hand side for each option as well as plan views of the topsides. Full and comprehensive notes are also included and guide you on weapons load outs and weapon rail configuration.
The decals themselves have been printed by Microscale. Everything on the three sheets of my sample is in perfect register, sharply printed and looks to be the right shades of colour to my eye. There are three tightly printed sheets altogether and there is very little spare space on any of them! You also get a small thick piece of paper with the sheet. This is a paper mask to assist you with the application of the walkways. You can use them as either a positive or a negative mask and full instructions are included on their use.
The decal sheets and support guide and walkway mask come packed in a clear plastic zip-loc bag.
Fightertown Decals continue with their first rate coverage of the F-14 Tomcat. This is a well researched, well presented and expertly printed product.
Recommended.
Thanks to Fightertown Decals for the review sample.
---

Postscript
Additional support in the form of clear sharp colour shots of the one-to-one-scale VX-9 jets feature on The Fightertown Decals website at: http://s106.photobucket.com/albums/m244/renegades24/VX-9/?start=all
---
Review Copyright © 2007 by Rodger Kelly
This Page Created on 12 October, 2007
Last updated 24 December, 2007
Back to HyperScale Main Page
Back to Reviews Page