Summary

Catalogue Number:

FTD 48007 - VF-154 Black Knights Final Combat Cruise
Fightertown Decals

Scale:

1/48

Contents and Media:

Waterslide decals plus instructions and notes

Price:

USD$18.00 available online from Fightertown Decals
Shipping is free for US customers; USD$5.00 for international orders

Review Type:

FirstLook

Advantages:

Complete markings including major stencils; comprehensive instructions including photos, diagrams and text; high standard of decal printing and presentation.

Disadvantages:

Recommendation:

Highly Recommended
Reviewed by Rodger Kelly


HyperScale is proudly supported by Squadron
More new decals from Brian Plesica and Mike Pister at Fightertown Decals
We have Pacific Fleet this time with markings for CVW-5's VF-154 Black Knights' final combat cruise in the F-14 Tomcat in 2003.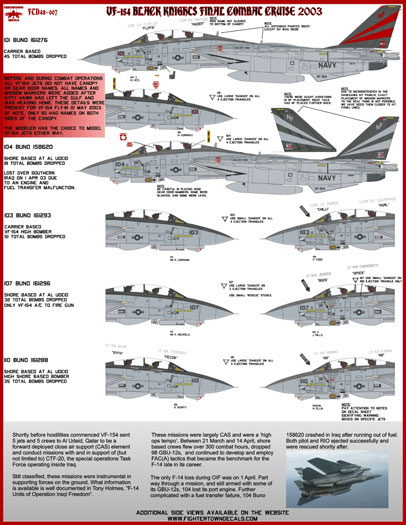 Markings are provided for five aircraft as follows:
F-14A Bureau number 161276 Nite 101 the Commanding Officer's bird. The aircraft is in the basic Tactical Paint Scheme (TPS) finish of FS35237 dark blue/grey over FS36375 light compass grey worn by the F-14. She also wears the Black Knights distinctive FS36081 dark grey vertical stabilisers and spine. Being the CO's bird she wears a little colour too. In this case it is red and it is used for the two chevrons on her vertical stabilisers, the "shadowing" to her nose modex, and the words Black Knights on the base of her vertical stabilisers. The placement guide shows red shadowing to the modex on her flaps too but I could not find these on the sheet. She also wears a full colour U.S. flag on the base of her vertical stabilisers. This marking is supplied as a three-part decal and it is worn by all options on the sheet. This machine operated from their home, the USS Kitty Hawk and dropped 45 bombs during the cruise.

F-14A Bureau number 158620, Nite 104, a line bird. This option is in the same basic TPS scheme and squadron markings of the CO's bird without the red shadowing. The chevrons and airwing indicators are in light compass grey. This machine was shore based at Al Udeid during the conflict and dropped a total of 18 bombs. She also had the unfortunate distinction of being the only bird the Black Knights lost when she crashed in southern Iraq due to a combination of engine malfunction and fuel transfer problems.

F-14A Bureau number 161293, Nite 103 in the same TPS scheme and squadron markings as Nite 104 above. Carrier based during the conflict and a dropped a total of 32 bombs.

F-14A Bureau number 161296, Nite 107 in the same TPS scheme and squadron markings as Nite 104. Shore based at Al Udeid and had the distinction of the only Black Knights jet to use its gun during the conflict.

F-14A Bureau number 161288, Nite 110 in the same TPS scheme and squadron markings as Nite 104. Shore based at Al Udeid and the squadron's record holder with a total of 32 bombs dropped.
Post the conflict and during long cruise home, all options (bar the unfortunate Nite 104 of course) had their score cards painted on the left hand side of the nose. Similarly, crew names were also painted onto the canopy rails on the left hand side of the aircraft (Nite 110 had them painted on both sides). All score cards and names are provided.
The much welcomed tiny data placards for the landing gear struts, catapult launch bar, warning data placards for the ejector seats as well as a complete set of formation keeping "slime lights" are included on the sheet as well as squadron markings for the crew's helmets, and squadron insignia shoulder patches. A single set of Lantrin pod stencil data and placard markings is also provided.
The placement guide is A-4 in size and printed on good quality glossy paper. It shows both left and right hand side profiles for each option as well as a single generic plan view of the topsides. Full and comprehensive notes are also included and guide you on weapons load outs and weapon rail configuration as is a comprehensive list of aftermarket products available for the 1/48 scale F-14.
Click the thumbnails below to view larger images:
[../../../photogallery/photo00012540/real.htm]
---
The decals themselves have been printed by Microscale. Two sheets are provided, a very crowded main one and a smaller one that carries two sets of "slime lights". Everything on my sample is in perfect register, sharply printed and looks to be the right shades of colour to my eye. A paper mask is also provided to assist you with the application of the walkways. You can use them as either a positive or a negative mask and full instructions are included on their use.
The decal sheets, support guide and walkway mask come packed in a clear plastic zip-loc bag.
An excellent product fro the guys at Fightertown Decals. It provides you with first rate research and top quality decals.
Recommended.
Thanks to Fightertown Decals for the review sample.
---

Postscript
Whilst the placement guide gives you a thumbnail sketch of the Black Knights involvement in operation IRAQI FREEDOM, it can not hope to give you the full picture. If you want to know more get a hold of the Osprey Publishing's Combat Aircraft number 52, U.S. Navy F-14 Tomcat Units of Operation IRAQI FREEDOM by Tony Holmes. It's a good read!
---
Review Copyright © 2007 by Rodger Kelly
This Page Created on 22 October, 2007
Last updated 24 December, 2007
Back to HyperScale Main Page
Back to Reviews Page