Freightdog Models, previously responsible for a very nice resin kit of the Saunders-Roe P177 jet/rocket fighter in various what if schemes has entered the decal market.
As with their kit, Freightdog's debut sheet provides excellent options for some both obscure and important RAF types. This sheet provides markings for two variations of the Neptune MR MK 1 (P2V-5) and eight distinct variations of the Avro Vulcan B Mk 2 and K Mk 2 V Bomber (actually six airframes but two are in different stages of their RAF careers).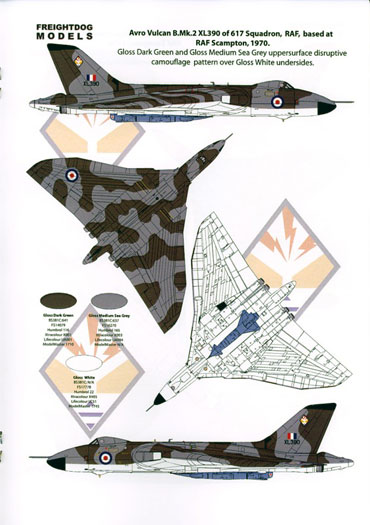 The subjects of this sheet are:
Neptune MR Mk 1 of 1453 EW Flight in 1953

Neptune MR Mk 1 of 36SQN in 1957;

Vulcan B Mk 2 XH560 of 27SQN in 1981;

Vulcan K Mk 2 Tanker XH560 of 50SQN in late 1982;

Vulcan B Mk 2 XL320 of 230OCU in 1974;

Vulcan B Mk 2 XL390 of 617SQN "Dambusters" in 1970;

Vulcan B Mk 2 XM595 of 27SQN in 1970;

Vulcan B Mk 2 XM595 of 35SQN in 1975;

Vulcan XM607 of 44SQN 1982. This aircraft is the famous Vulcan "607" which carried out the first Black Buck Raid on Port Stanley Airfield during the Falklands War in 1982; and

Vulcan XM607 of 44SQN in an earlier guise in 1977 when attending Exercise RED FLAG at Nellis AFB. Unusually this Vulcan received a tan and brown disruptive scheme on its underside for this deployment.
The Neptune options being early P2V-5s, including one with the original nose and tail turrets, will require a level of conversion from the only available kit, the Hasegawa P2V-7. The best option for this is probably the old Falcon Triple Vac Set which provides a new forward fuselage and larger tip tanks. The Vulcan K Mk 2 will also need modification from the Airfix kit but I am sure the UK cottage industry has taken care of that already.
The decals on this sheet are spread across one standard size A5 sheet plus a small insert that corrects the size of some of the Squadron markings and replaces the red 36SQN codes with green ones for one of the Neptune options. This sheet is very well printed, being very thin with minimal carrier film. Indications are that they have been printed by Fantasy Printshop in the UK which is usually an indicator of a high quality. The complex designs themselves are in perfect register. The decals are easy to use and respond well to the usual solutions without damage. Being thin they conform well to details over which they are laid.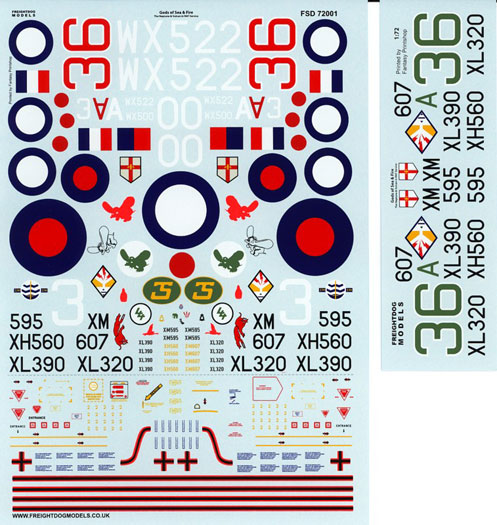 From a production values perspective it is worth noting that the clear and concise instructions are included in a 10 page plain paper booklet with each subject displayed in a four view with the major colour callouts. Jon Freeman is the decal designer. Knowledge of the subject will however be required for finer details. Full stenciling is provided but no placement guide for these decals is included. Aside from this shortcoming there is little more that a modeler could wish for from these decals.
Highly Recommended.
Thanks to Freightdog Models for the review sample.
---
Freightdog Models kits and decals are available online from their website at http://www.freightdogmodels.co.uk