Swiss Harvard and Venom
Decals for 1/48 & 1/72 Kits

Matterhorn Circle
S u m m a r y

Stock Number and Description

MC48004 and MC48005 - Swiss Harvard and Venom

Media and Contents:

1 solid decal sheet – Alps printed

Price:

Approximately CHF 16.- / 11 Euros available from MC-ONE http://www.mc-one.ch/ (may be ordered by e-mail)

Scale:

available in either 1/48 and 1/72 scales

Review Type:

First Look

Advantages:

Beautifully printed decal sheets with very clear and precise instructions.

Disadvantages:

Will require skill in working with Alps decals.

Recommendation:

Highly Recommended

Reviewed by Sinuhe Hahn

HyperScale is proudly supported by Squadron.com
I have just received two new decals sheets from Robert Schneider (MC-ONE : www.mc-one.ch ) from the "Matterhorn Circle"( www.matterhorncircle.ch.vu ) which I think will go down well with fellow Hyperscalers. The first of these deals with the AT-16 Harvard, the second with the DH112 Venom in Swiss Air Force service.
Following cessation of hostilities it became clear to the Swiss that they would require a series of new aircraft. On the one hand the jet age had dawned spelling the end of propeller driver aircraft, on the other hand there was an urgent need for new training aircraft.
In the latter case the choice fell on the AT-16 Harvard IIB, the Canadian derivative of the T-6 Texan, a family of aircraft which had served the allies well in the training of numerous pilots in Europe, North America, South Africa and elsewhere. In this instance 48 surplus aircraft were obtained from Canada in 1948. Following an extensive overhaul of the airframes by Fokker and Aviolanda these aircraft were accepted into service in 1949 where they laboured on for a further 20 years until fatigue and lack of spares forced their withdrawal and replacement by the indigenous Pilatus P-3. Of these aircraft U-328 is exhibited at the Air Force Museum in Dübendorf, close to Zürich.
Swiss Harvard's were initially left in a natural metal finish with standard roundel placements – not very inspiring for modellers who prefer more colourful schemes. Thankfully Robi comes to the rescue and provides details of two aircraft which were painted in a temporary orange scheme when they served as "Aggressors" in the "Gotthard" military exercise on 1966.
Click the thumbnails below to view larger images:
[../../../photogallery/photo00006645/real.htm]
---
Modellers should be aware that are quite a few differences between the Canadian Harvard and the standard North American T-6 Texan. These include the exhaust system of the Harvard and the rear canopy. These are clearly documented in the accompanying instruction sheet, complete with scale drawing illustrating the exhaust modification. Robi has also gone to great lengths to provide a very precise extensive set of stencils, including all those in German and French, a feature so prominent on Swiss aircraft.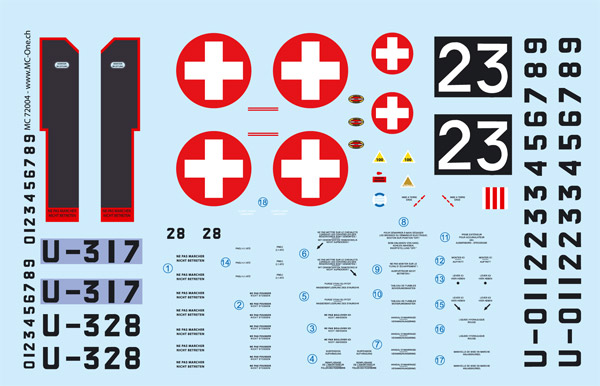 As indicated the second sheet covers the use of the de Havilland DH112 Venom is Swiss service. The first jet, other than Mutge's famous Me 262 which is now housed in the Deutsche Museum in Munich, which flew over Swiss airspace was the DH 100 Mk1 Vampire, of which the Swiss Military ordered 3 in 1946. The first of these, J-1001, only had a service life of 7 days before it was written off in an accident. Not to be discouraged by this minor setback, the Swiss ordered another 75 Vampire Mk6 in 1948, with another 100 being built under license in Switzerland.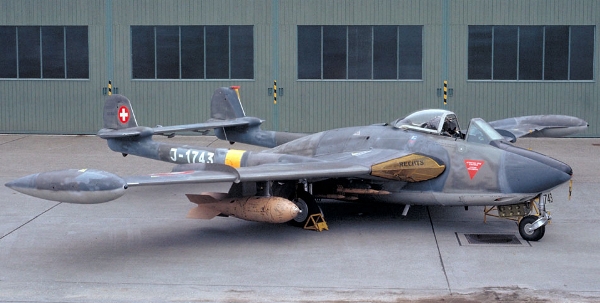 Due to the rapid pace of development in those early days of jet aviation the Swiss soon found that they needed to order an additional upgraded jet and here the choice fell on the DH 112 Venom Mk1 and a license to built 150 aircraft as well as the Ghost 48 jet engine, a very novel condition in those days. A further 150 of the much improved Venom Mk4 followed. The use of the Venom was unique as it served both as a fighter/bomber but also as a recce aircraft using a specially equipped pod. The Venoms were initially painted in high speed silver finish prior to their final blue-grey, blue-green camouflage scheme with ivory undersides. The paints sued in this scheme faded very quickly and most Venom's had a rather mottled or blotchy appearance, as is very clear from the enclosed photos. The aircraft were further modified by a modified nose to accommodate an IFF transponder and other avionic gadgets. This nose modification was then retrofitted to the ageing Vampire fleet as well. With typical Swiss fastidiousness and prudence the Venoms and Vampires carried on the stalwart service until they were finally withdrawn in the late 1980's. Indeed the author of this review can still remember being startled by these aircraft as they whistled close-by while he was hiking in the Swiss Alps.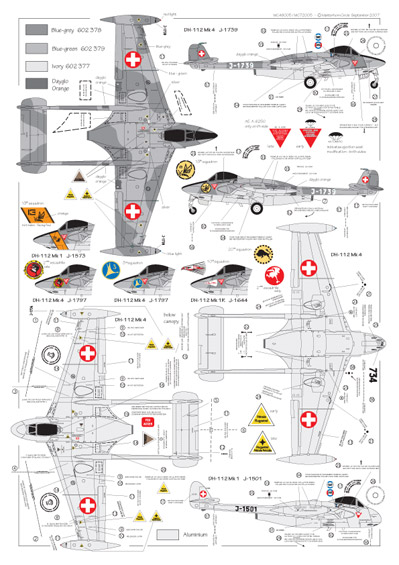 Once again the decals are incredibly well printed with amazing detail being paid to the myriad of stencils. A number of colour schemes and markings are offered, including a selection of special badges.
With the advent of the Classic Airframes' Venom kits, Swiss modellers have been crying out for an accurate set of decals. Robert Schneider has now addressed this plea more than adequately. Not only are these decals superb but he has created a superb resource for all Venom affectionados on his website www.mc-one.ch. It is really worth a visit.
The orange Harvard may just tempt me to dig out one of my old Monogram kits from my stash.
Highly Recommended.
---
A full price list of this and their other products is available on MC-ONE's website http://www.mc-one.ch . Orders may be placed via email.
---
Review Text Copyright © 2007 by Sinuhe Hahn
Page Created 18 November, 2007
Last updated 24 December, 2007
Back to HyperScale Main Page
Back to Reviews Page