With the 65th anniversary of the Battle of the Coral Sea here, it is fittihg that Yellowhammer Decals releases a trilogy of sheets to commemorate the aircraft that performed such a vital role in what was arguably a pivotal action of the Pacific War. The sheets have been designed for the 1/32 scale Trumpeter kit of the Douglas SBD "Dauntless" and provide markings that span it career.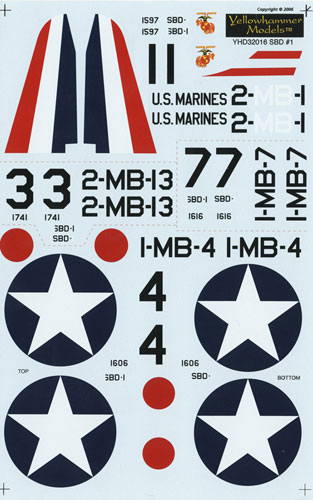 This first sheet provides markings for four United States Marine Corps SBD-1s of the early "yellow wing era".
The individual machines are:
You get two decal sheets with this issue - a standard sized one that contain the individual markings for each machine as well as a single set of national insignia, rudder stripes and United States Marine Corps insignia. The second and smaller sheet carries a single comprehensive set of stencil data including those pesky red, blue and yellow propeller stripes that are a real pain to mask and paint!
The decals themselves are produced to a very high standard. Every design on the sheet is thin, sharply printed and in perfect register.
You also get a set of Black Magic vinyl masks to accompany the decal sheets. The masks are provided to allow you to paint the fuselage and wing bands that denoted what squadron/section each machine belonged to as well as a mask for the white centre part of the red white and blue rudder makings. The sheet is very large and there is sufficient mask material between the intended stencil-cut designs to allow you to cut your own masks for smaller scale cockpit canopies.
Click the thumbnails below to view larger images:
[../../../photogallery/photo00023739/real.htm]
---
The support material is in the form of two A-4 sized pages that are printed on both sides. The first sheet has upper surface plan views of each option as well as a single generic plan view of the undersides of the wings on one side whilst the reverse shows side profiles of each option and an illustration to show the colouring of the propeller blades. The second sheets hold information particular to each option as well as instructions for masking and painting the rudder stripes using the masks on the front whilst the back has a placement guide for the stencil data.
The decal sheets, masking sheet and the two pages of support material come packed in a clear plastic zip-loc bag.
A nice effort from Yellowhammer Decals. It provides well printed decals as well as complete support material to enable you to produce what will be a truly stunning model in 1/32 scale.
Recommended.