32017 is the second sheet in the Yellowhammer Models tribute to the Douglas Dauntless in large scale. This time, markings are provided for United States Navy machines as well as United Sates Marine Corps ones all in blue grey over light grey camouflage.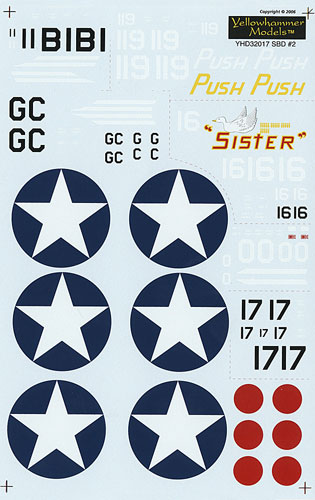 32017 provides you with markings for six different aircraft, a mixture of -3s and -4s. The individual machines are:
SBD-4 Bureau number 6783 "Sister" of VMSB-233 based on Guadalcanal in the Spring of 1943.

SBD-3 Bureau number 3213 as flown by Commander Harry "Don" Felt, the commander of the USS Saratoga's Air Group during the Guadalcanal campaign in the August of 1942.

SBD-3 Bureau number 4651 flown by Ensign Leif W. Larsen of VS-5 from the USS Yorktown during the battle of Midway, 4 to 7 June 1942.

SBD-3 Bureau number 4687 flown by Lieutenant Richard "Dick" H. Best of VS-6 aboard the USS Enterprise during the battle of Midway.

"Push Push" SBD-4 Bureau number 4691 flown by Major Frank E. Hollar, the Commanding Officer of VMSB-144, Munda, in the Solomon Islands, November of 1943.

SBD-3 Bureau number 4623 flown by Lieutenant Commander Wade McClusky, the Commander of the USS Enterprise's Air Group during the battle of Midway.
Two decal sheets make up this issue from Yellowhammer Decals. A standard sized sheet that holds the individual markings for each machine and a single set of national insignia to be shared by all options – read that you can only build a single model using the decals from this issue. The smaller second sheet provides you with a single albeit comprehensive set of stencil which I consider a must in this large scale.
Click the thumbnails below to view larger images:
[../../../photogallery/photo00003820/real.htm]
---
As with the other two issues in this series, the decals themselves are produced to a very high standard. Every design on the sheet is thin, sharply printed and in perfect register.
The support material is in the form of two A-4 sized pages that are printed on both sides. The first sheet has upper surface plan views of each option as well as a single generic plan view of the undersides of the wings on one side whilst the reverse shows larger side profiles of each option. It is worth pausing here to take a close look at the artwork on the support material. It is extremely well executed indeed and my guess is that it is the work of Tom Tullis. The second sheets hold information particular to each option on the front whilst the back has a placement guide for the stencil data.
The decal sheets and the support material come packed in a clear plastic zip-loc bag.
Another nice product from Yellowhammer Decals. It provides you with well printed decals as well as comprehensive support material that will do justice to Trumpeter's large scale Dauntless.
Recommended.