YHD48035 Tomcat Sunset Part 1 is the final sheet in the Yellowhammer Models Tomcat Sunset trilogy.
The sheet provides markings worn by three of the VF-31 F-14Ds that were involved in the final ever traps by Tomcats aboard the USS Theodore Roosevelt on 28 July 2006.
All options on the sheet are plain line birds and are in the standard Tactical Paint Scheme finish of FS35237 dark blue/grey over FS36375 light compass grey.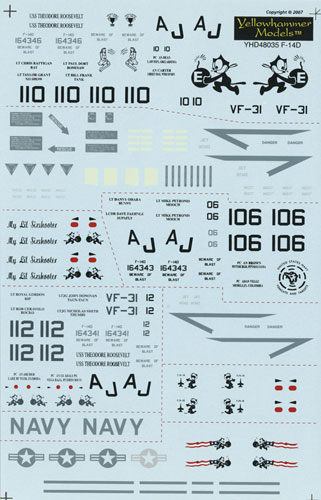 The individual machines are:
Bureau number 164346, "Sweet Little Miss" modex of 110 flown on the day by Lieutenant Taylor "No Show" Grant (no mention is made of his RIO's name is made and try as I might, I could not find out either!). Whilst the aircraft is named "Sweet Little Miss", it carries the name "My Little Sixshooter" on her drop tanks.

Bureau number 164341, Modex 112. An historic bird to say the least as she made the final ever Tomcat trap. She was flown by Lieutenant Chris Rattigan and Lieutenant Paul Dort, his RIO on that day and surprisingly, she wore no special markings to record the achievement and is just a plain looking line bird.

The final option is Bureau number164343, modex 106. The placement guide advises that she was flown by Lieutenant Commander Dave Faehnle and again, no mention is made of his RIO's name. The aircraft wear standard squadron markings but has a "Top Gun" style symbol on the nose with the words United States Navy Tomcats and Targets surrounding it.
The sheet also has various other VF-31 specific zaps for drop tanks including a laughing Felix next to a silhouette of an F/A-18. A single complete set of stencil data and national insignia is provided. In essence, you can model just one of the options on the sheet only.
The decal sheet is accompanied by an A-4 sized placement guide. One side of the page shows left hand side profiles for both options whilst the rear shows an upper surface plan view.
The decals themselves are thin, sharply printed and in perfect register.
The decal sheet and the placement guide come packed in a clear plastic zip-loc bag.
Get in while you can and grab one of these sheets before they disappear.
A nice sheet and a nice trilogy of "final Tomcat markings" from Yellowhammer Models.
Recommended.