Although this sheet is titled 48036 Tomcat Sunset #2 it is really the first of two sheets in the Yellowhammer Models Tomcat Sunset series.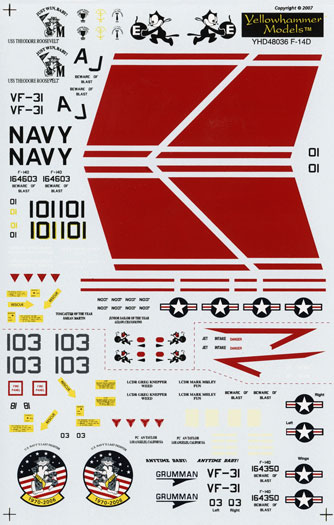 The sheet provides markings worn by two of the F-14Ds belonging to VF-31 Tomcatters which were displayed by them during the Tomcat Sunset ceremonies conducted at Naval Air Station Oceana over the period 20 to 23 September 2006.
VF-31 and the F-14 have a long history. The Tomcatters received their first F-14 in January 1981 and flew them until September 2006. The markings worn by the Tomcatters birds during the Tomcat Sunset ceremonies were certainly far from the normal and represented those worn by their F-14s during the twenty six odd years they flew with the squadron. The markings provided in these two new Yellowhammer sheets faithfully reproduce them in 1/48 scale.
The individual machines are:
Bureau number 164603, wearing, the modex of 101 and belonging to the Commanding Officer. 101 is finished in the tactical paint scheme finish of FS35237 dark blue/grey over FS36375 light compass grey. Her markings echo the original red striped rudders, ventral fins and black nose that VF-31 applied to the F-14 when they transitioned to them back in 1981. The rudder stripes themselves are supplied as decals but you will have to paint the ventral fins yourself.

Modex 103, Bureau number 164350. In overall FS16440 light gull grey over FS17875 white wearing the traditional leaning twin-tailed tomcat logo associated with the F-14 and the Grumman logo on the vertical stabilisers.
Complete markings are provided for both options with the exception of a single set of red intake warning markings.
The decal sheet is accompanied by an A-4 sized placement guide. One side of the page shows left hand side profiles for both options whilst the rear shows upper surface views of both options.