F4U-1A/D Corsair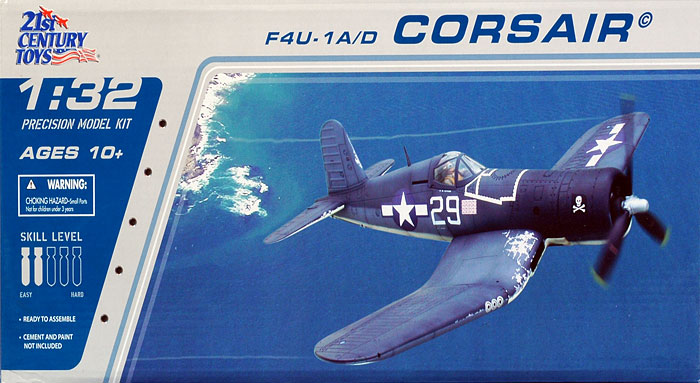 21st Century Toys, 1/32 scale
S u m m a r y

Catalogue Number:
21st Century Toys kit number 22104 - Chance-Vought F4U-1A/D Corsair
Scale:
1/32
Contents and Media:
117 parts in grey styrene; 6 parts in clear styrene; markings for three aircraft.
Price:
around USD$10.00
Review Type:
FirstLook
Advantages:
Accurate outline; relatively small parts count and simple construction for new modellers; nice details and options; superb pilot; excellent decal sheet; much improved clear parts; outstanding value
Disadvantages:
Some small details missing in cockpit; some ambiguity regarding identity; construction method will leave large circles to be filled and sanded
Recommendation:
Recommended for anyone wanting an easy 1/32 scale Corsair build, plus new modellers and those on a budget.

Reviewed by Brett Green

21st Century Toys has been making a name for itself in the collector's market with their large-scale, pre-assembled and painted aircraft and military models. Now, 21st Century Toys has expanded into plastic construction kits.
One of their latest 1/32 scale kit releases is an F4U-1A/D Corsair.
This is not the first time that we have seen a Corsair in large scale. Revell's 1970s-vintage F4U-1D was superseded in 2003 by Trumpeter's F4U-1D and F4U-4 kits. These were generally accurate and well detailed offerings, but they were burdened with overly complex engineering and workable control surfaces, including moveable flaps and folding wings, resulting in challenging construction (to put it mildly). These kits also suffered from numerous minor inaccuracies and omissions - disappointing for a $100+ kit.
21st Century Toys has chosen a very different path. Control surfaces are moulded in place, wings are not designed to be folded, and the approach seems to focus on delivering a reasonably detailed kit with the minimum number of parts.
21st Century Toys' 1/32 scale F4U-1A/D comprises 117 parts in grey plastic and 6 parts in clear, plus a bag of metal screws. The grey plastic appears to be regular hard polystyrene, and responds normally to model cements. Parts are not attached to sprues. Instead, they are packed in small groups of loose parts in separate plastic bags.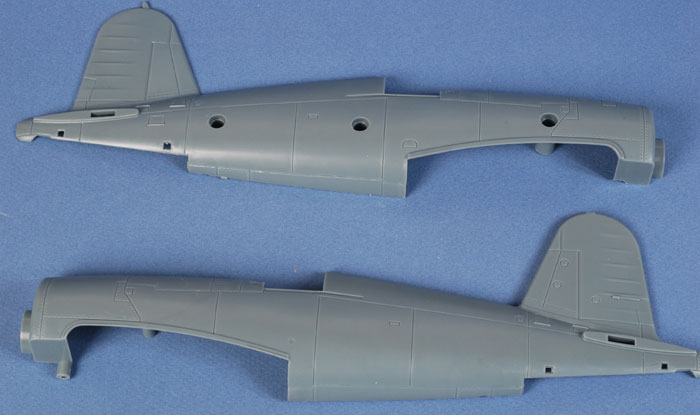 Click the thumbnails below to view larger images:
[photogallery/photo00000432/real.htm]
---
Surface detail is by way of recessed panel lines and a small number of rivet lines. The panel lines are very slightly heavier than Trumpeter's Corsairs, but not as exaggerated as some mainstream releases of late. In addition, the surface of this kit is not peppered with rows of recessed rivets. Fabric detail varies across the model, but it ranges from very good (as on the rudder) to okay (on the more uniformly raised fabric wing panels).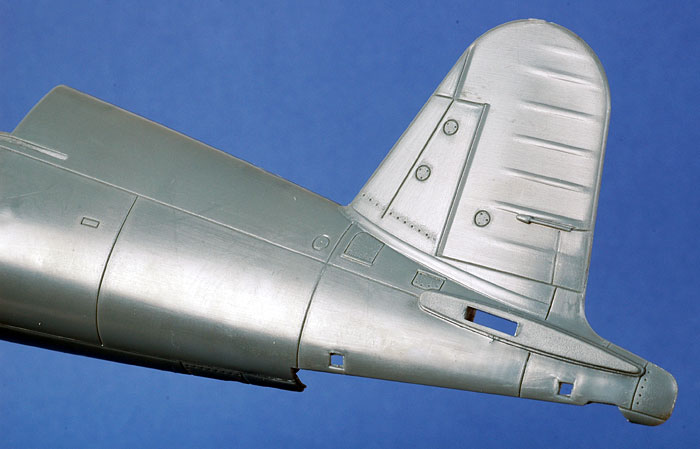 The outline of the kit conforms to scale drawings.
The canopy parts are clear and noticeably thinner than those supplied in either the 21st Century Stuka or the Bf 109 kits. There is some distortion at the bottom port side of the sliding section, but this may be a moulding peculiarity on my sample. Clear parts include inserts for wing top lights and the clear window in the bottom of the fuselage, although this should be painted over for the -1A and -1D variants.
Also, the "clear vision" style of canopy supplied is typical of the F4U-1D. The -1A canopy featured an additional diagonal frame near the top of each side of the sliding section. This will be relatively easy to add either by painting alone or by plastic strip.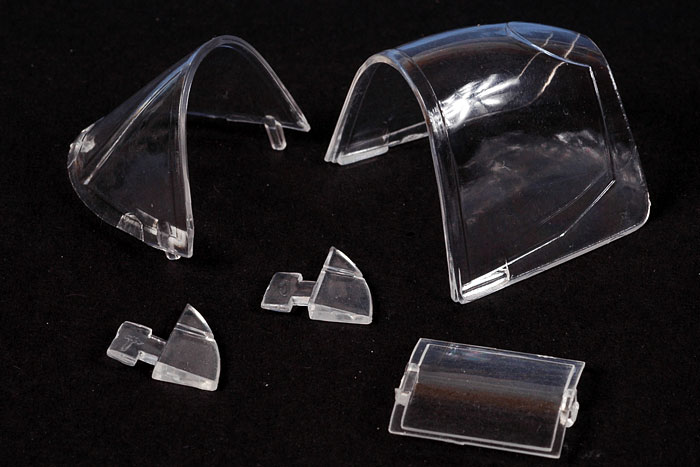 Most details are very nicely done, including the cockpit side consoles, bulkheads and engine. The cockpit in general is quite good, accurately depicting the floorless aspect of the real thing (much more effectively than the Trumpeter kit), but there are a couple of details missing.
I added a map case to the starboard side console from plastic and lead foil, plus a handle to the quadrant on the port side console.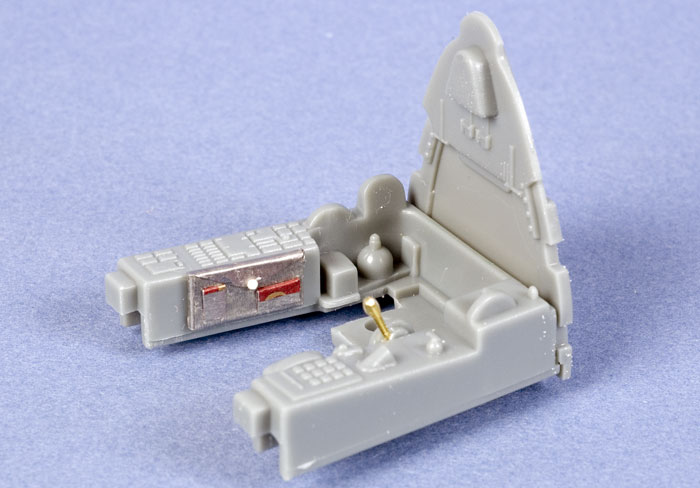 The prominent throttle quadrant is missing from the port sidewall too. I cut and sanded a block of white styrene to the approximate shape, and added throttle and mixture levers from brass wire topped with knobs from super glue (you might not be able to see the knobs now, but you will after they have been painted).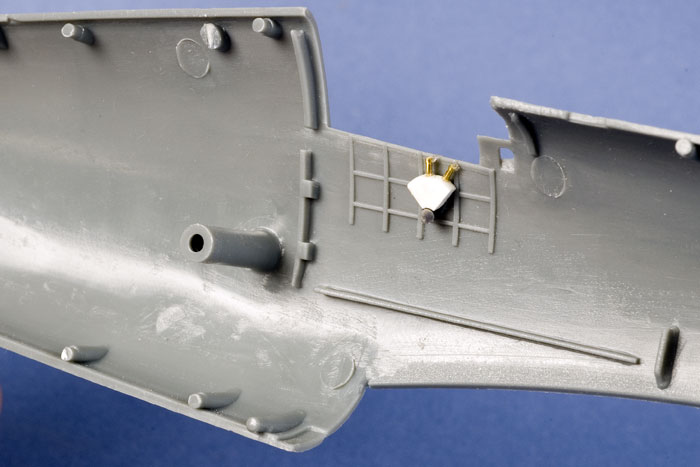 The seated pilot is up to the same superb standard as those supplied in the 21st Century Bf 109 and Stuka kits . This one is made up of a body, two poseable arms, two legs and a separate head.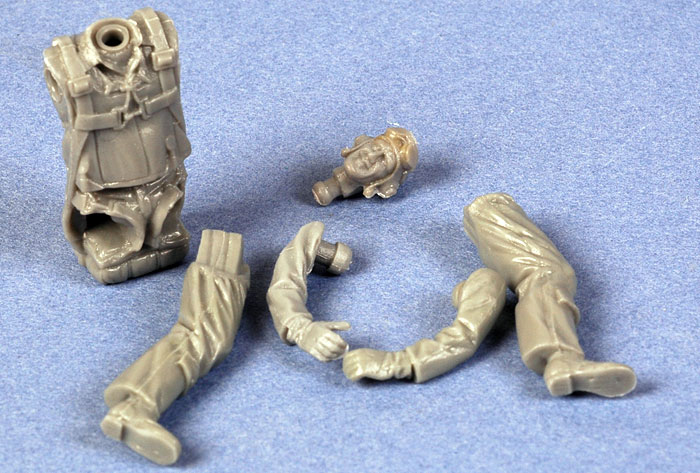 Options include inner wing pylons, drop tanks, rockets and bombs. In fact, the relatively high parts count is largely due to the inclusion of these 28 optional parts.
With these options and the style of canopy supplied, it would appear that this kit best represents an F4U-1D variant. However, the propeller seems closer to the 13' 4" Hamilton Standard fitted to the -1A, but the base of each blade is too quickly tapered and narrow to my eye. If you leave off the ordnance (or fit only a single centreline tank) and add the frames to the canopy, you will have something close to a -1A.
Markings are supplied for three aircraft:
Lt.Jg. "Ike" Kepford's famous F4U-1A attached to VF-17, the Jolly Rogers, on Bougainville, mid 1944, finished in three colour camouflage

an overall Glossy Sea Blue aircraft, 167, of VF-84 on Bunker Hill, February 1945

an F4U-1D of VMF-441, 1945.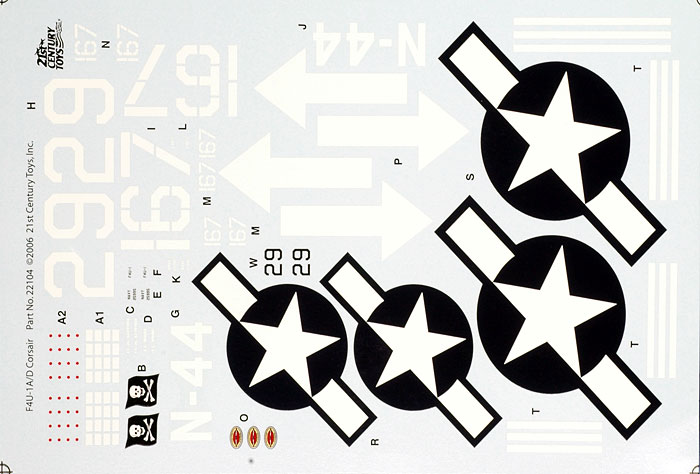 The decals are a real highlight - thinly printed, crisp and plenty of detail.
---
Kit Engineering
I assume that, in addition to its current guise as a construction kit, this mould will also be used as the basis for a pre-built and painted static display model. That being the case, kit engineering has been optimised for ease of mass production by unskilled labour. The good news is that it should be easy for new modellers to build too.
The first thing you will notice when you open the box are a number of large holes in one fuselage side and on the bottom of the wings. These are holes for the screws that hold the main fuselage and wing assemblies together. Plastic plugs are supplied to fill these holes, but these vary in the standard of fit and, in any case, many modellers will also want to fill and sand the circles.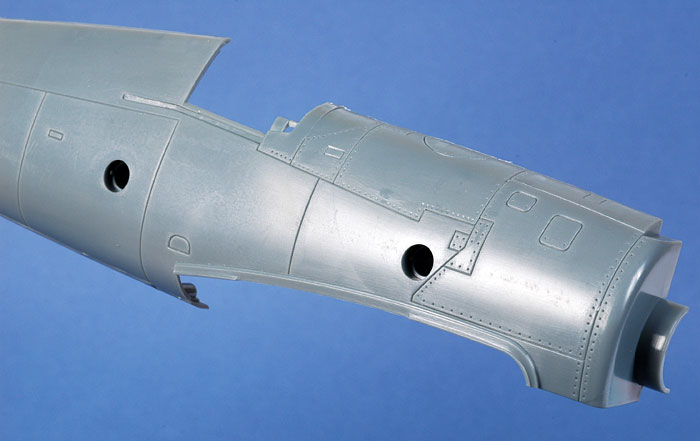 While building the Bf 109 kit I found the screws to be hard going in the styrene, and a combination of the positive locating pins and plastic glue seemed to do a fine job at holding the parts together. I won't bother using the screws this time around.
I do not see any reason that the Corsair should not be as fast and easy to build as the 21st Century Bf 109 F.
21st Century Toys' 1/32 scale Corsair is accurate in outline, nicely detailed, will be quite a fast build and can be had for a pocket-money price.
This kit presents a stark contrast to the Trumpeter Corsair F4U-1D in the same scale. I built one of these kits back in 2004, and I still shudder at the memory of fitting those workable control surfaces. The cockpit also required serious rebuilding due to the inaccurate solid floor. There is no question that detail was superior (the engine was a work of art), but this was offset by the pain of construction.
On the other hand, 21st Century Toys' new offering is quite acceptably detailed, yet still presents the modeller with the opportunity to add a few bits and pieces to lift the standard. More importantly, it is not at all intimidating, being perfectly suitable for beginner modellers straight from the box.
We modellers do live in fortunate times. We now have the option of 1/32 scale Corsairs, complex and simple. Both have their place. I know that I will be happy to put 21st Century's F4U-1A/D kit together. It might prove to be effective therapy to recover from my earlier Corsair experience, and it will look nice sitting next to my 1/32 scale Trumpeter Birdcage conversion!
Highly Recommended.
Thanks to 21st Century Toys for the sample.
---
Review and Text Copyright © 2007 by Brett Green
Page Created 26 March, 2007
Last updated 31 December, 2007
Back to HyperScale Main Page