Messerschmitt Bf 109 G-14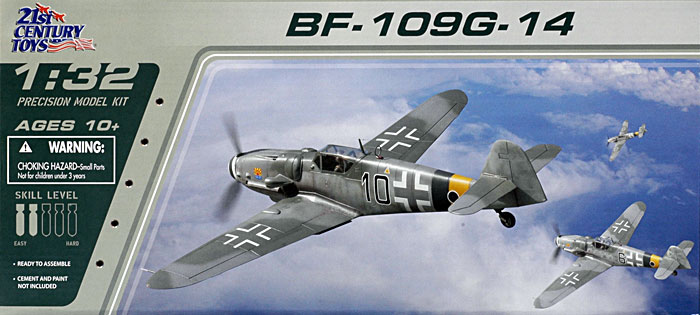 21st Century Toys, 1/32 scale
S u m m a r y

Catalogue Number:
21st Century Toys kit number 22106 - Messerschmitt Bf 109 G-14
Scale:
1/32
Contents and Media:
67 parts in grey styrene; 6 parts in clear styrene; markings for three aircraft on two decal sheets.
Price:
around USD$10.99
Review Type:
FirstLook
Advantages:
New tooling; accurate outline; small number of parts and simple construction for new modellers; nice details and options; superb pilot figure; excellent decal sheet; low price; will accept most after-market accessories for 1/32 scale Bf 109s; bonus markings for 1/72 scale Me 262 B night fighter.
Disadvantages:
Some soft or missing detail (e.g. no radiator faces, mass balance horns); construction method will leave large circles to be filled and sanded.
Recommendation:
Recommended for new modellers and those on a budget.

Reviewed by Brett Green

21st Century Toys has been making a name for itself in the collector's market with their large-scale, pre-assembled and painted aircraft and military models. More recently, 21st Century Toys has expanded into plastic construction kits.
Early this year, 21st Century Toys released their 1/32 scale Messerschmitt Bf 109 F-2/4 kit. This has now been joined by a 1/32 scale Messerschmitt Bf 109 G-14
Underneath the striking box art, 21st Century Toys' 1/32 scale Bf 109 comprises 67 parts in grey plastic and six parts in clear, plus eight metal screws. The grey plastic is regular hard polystyrene, and responds normally to model cements. Parts are not attached to sprues. Instead, they are packed in small groups of loose parts in separate plastic bags.
Most of the parts are common to the earlier Bf 109 F kit. New parts include a tall fin and rudder, new gun cowl deck and separate cowl bulges, DF loop, short antenna mast, plus new wheels with plain hubs and wing bulges to accommodate the wider wheels of the G series. A clear-vision Erla canopy is also included.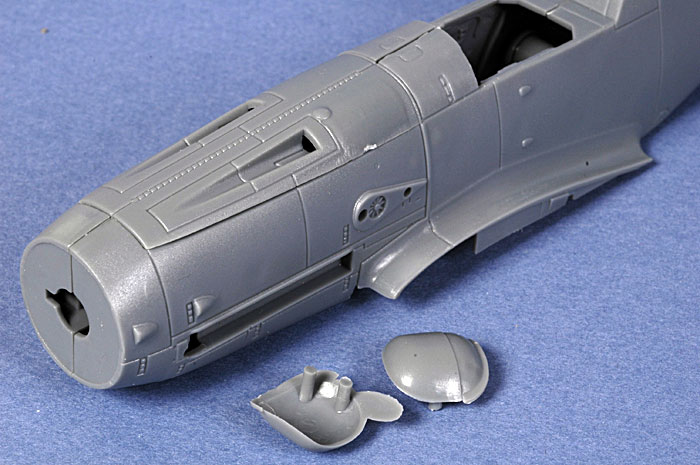 Click the thumbnails below to view larger images:
[../../../photogallery/photo00003310/real.htm]
---
Surface detail is by way of recessed panel lines and a small number of rivet lines (on the lower wings only), plus raised fabric detail. The surface detail - both recessed and fabric - is noticeably heavier than Hasegawa's 109s, but not as exaggerated as some mainstream releases of late. Surface texture is very much a matter of taste, but I will at least be sanding down the raised detail on the control surfaces.
The outline of the kit is accurate. I compared the wings and fuselage to Hasegawa's Bf 109 G-14 kit, and they conformed extremely closely in terms of size and profile. The wing chord and span is between 1 and 2mm shorter on the 21st Century kit. The fin and rudder, which was not quite right in the F-2/F-4 kit, looks very good for this tall tail version.
The clear parts are an improvement compared to the Bf 109 F kit. An all new Erla hood is provided. In particular, the tabs on the lower edges do not protrude as far beyond the Erla canopy frame as the earlier release. Clear wing tip navigation lights are included, as is a clear plastic gunsight.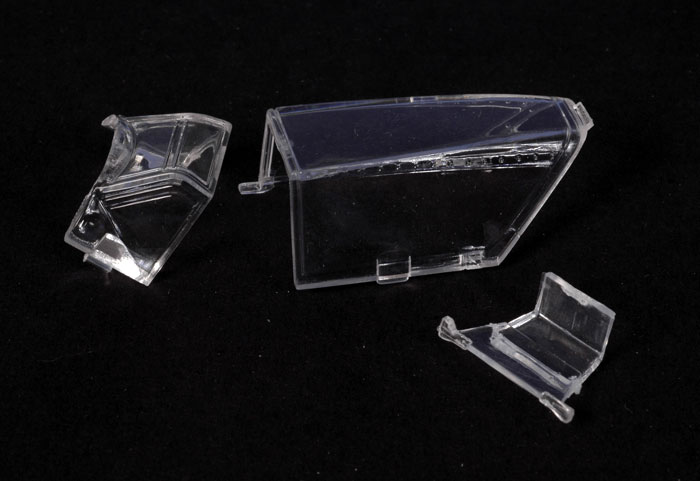 In common with the earlier Bf 109 F kit, the seated pilot is one of the finest figures I have ever seen supplied with a aircraft model kit. He is made up of a body, two poseable arms and a separate head.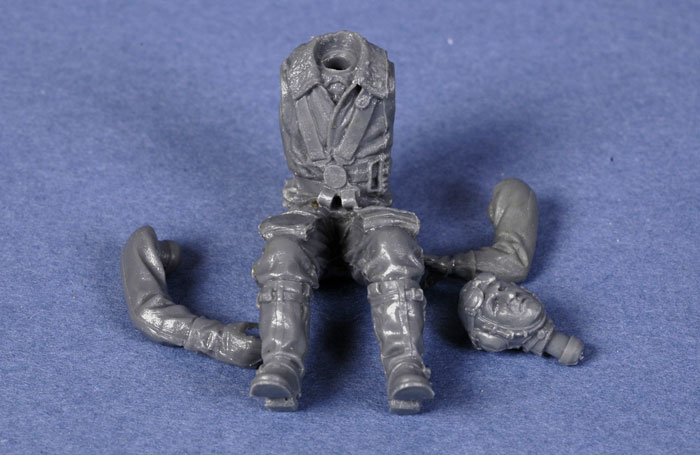 On the other hand, a number of items have been simplified or omitted. These include missing radiator and oil cooler faces, no separate balance horns for the ailerons and solid fuselage intake scoops.
The cockpit looks a bit basic in the box, but looks great after careful painting. The photo below shows the cockpit from my Bf 109 F kit painted and ready for assembly. This is identical to the cockpit supplied with the new Bf 109 G-14. The only additions to the cockpit are a flexible resin harness, a length of fuse wire to complete the fuel line on the starboard sidewall (the front part in front of the inspection tube is not moulded to the sidewall), and lead foil for the rudder toe straps. I also used a few placard decals from MDC and Reheat.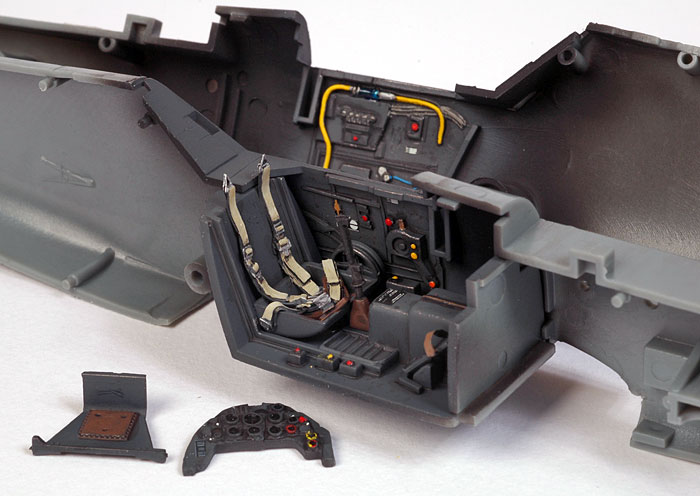 Options and features include movable leading edge slats, retractable landing gear and opening canopy; ETC rack; 300 litre drop tank; 250kg bomb; underwing 20mm cannon gondolas and a DF loop.
Markings are supplied for three aircraft:
Bf 109 G-14, White 1 of 13./JG 4 with Black / White / Black RV band

Bf 109 G-14, Black 10 of 11./JG 5 "Eismeer" based in Norway, May 1945, and

Bf 109 G-14, Yellow 25 of III./KG(J) 55 in December 1944.
The decals are a real highlight - thinly printed, crisp and plenty of tiny detail extending to the smallest stencils.
Also included on the decal sheet, but unexplained in the instructions, are markings for "Red 12". These are 1/72 scale decals for a two-seater Me 262 B night fighter. Nice bonus - someone at 21C must like Me 262s!
Click the thumbnails below to view larger images:
[../../../photogallery/photo00001987/real.htm]
---
Kit Engineering & Construction Notes
I assume that, in addition to its current guise as a construction kit, this mould will also be used as the basis for a pre-built and painted static display model. That being the case, kit engineering has been optimised for ease of mass production by unskilled labour. The good news is that it should be easy for new modellers to build too.
The first thing you will notice when you open the box are a number of large holes in one fuselage side and on the bottom of the wing. These are holes for the screws that hold the main fuselage and wing assemblies together. Plastic plugs are supplied to fill these holes, but many modellers will also want to fill and sand the circles.
The workable slats are simply designed to be trapped between the top and bottom wing halves. - no complications there. The retracting landing gear is just as simple. It is secured by a single part screwed into place.
Straight from the box, the wheel well openings are round per the F series however, you can easily square off the outboard edges of the wheel well openings. The size and shape of the supercharger intake is reasonable, but the opening is squared off and too small due to the thickness of the plastic. If you are not planning to install the tropical filter, I recommend thinning the opening from inside.
The upper wing panel arrangement is typical of the Bf 109 F series. The purists will want to fill the second chordwise panel line (which starts around the middle of the slats) for an accurate "G" wing. A few filler and access hatches on the fuselage will need to be filled and/or rescribed too (for example, the fuel filler hatch on the port side is located too low and too far aft). Check your references.
There are lots and lots of locating pins - some big and some small. Even without the screws the fuselage stays quite snugly in place without glue.
The cockpit floor, rear bulkhead and instrument panel will slip into the assembled fuselage halves from below.
After that, the wing is offered up to the fuselage, screwed in place and the final details fitted.
This will be a very fast build.
In common with the other recent kit releases from 21st Century Toys, I believe that this model will be appreciated by an assortment of people for different reasons.
My seven year old son loves the recent series of 1/72 scale Hobby Boss aircraft kits. We have sat down and built a few together. It won't be long before he is building these simple kits himself. I can see a time in a few years where he would be delighted to be able to buy 21st Centurys' 1/32 scale Bf 109 with his own pocket money, and build it in one afternoon. Thinking back 36 years to myself at 10 years old, that scenario sounds kind of familiar.
Similarly, for modellers coming back into the hobby after college and family, these kits will represent a way to create a nice model with basic skills, and encourage our new recruit to try something more ambitious next time.
Even the more experienced modeller might feel jaded sometimes. This kit could represent a refreshing sorbet between heavier courses. Or if someone prefers painting to construction, this artist might use 21st Century's Bf 109 as a plastic palette for their penchant.
There is no doubt that, in a side-by-side comparison to Hasegawa's 1/32 scale Bf 109 G-14, the Hasegawa kit is clearly superior in terms of surface finesse, detail and finish. Despite this, there is an important place for the 21st Century kit for less experienced modellers and, with a sticker price of around USD$11.00, modellers on a budget.
This release contains a number of improvements compared to the earlier Bf 109 F kit, including a more refined canopy, an accurately shaped fin/rudder, better instructions and less confusion as to the variant depicted - this is most certainly a Bf 109 G-14. I suspect that we might see even more improvement in all-new tool kits to follow from this manufacturer in the coming months and years.
21st Century Toys' 1/32 scale Messerschmitt Bf 109 G-14 will be ideal as an entry-level large-scale kit, or a "slammer" to test your painting skills, or a low-cost alternative if finances are tight.
It is nice to have the option.
Thanks to 21st Century Toys for the sample.
---
Review Text and Images Copyright © 2007 by Brett Green
Page Created 24 July, 2007
Last updated 24 December, 2007
Back to HyperScale Main Page