Focke-Wulf Fw 190 A-8/R2
Royal Class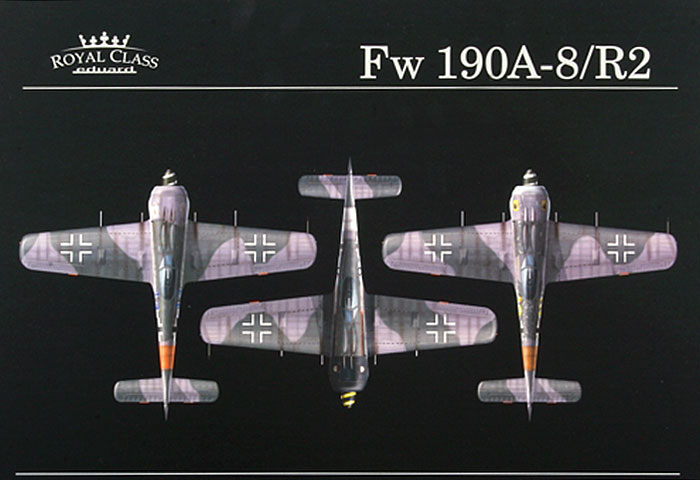 Eduard, 1/48 scale
S u m m a r y

Catalogue Number:
Eduard Kit No. R0004 - Focke-Wulf Fw 190 A-8/R2 Royal Class
Scale:
1/48
Contents and Media:
More than 330 parts in olive coloured plastic; 16 parts in clear; nine photo-etched frets including two in colour; masking sheets; markings for nine aircraft; replica Iron Cross with Oak Leaves and ribbon; actual relic from Fw 190 A-8/R2 "Yellow 8"; booklet "Bloody Encounter Over a Forgotten Mountain".
Price:
USD$160.00 plus shipping, available online from Eduard
Review Type:
FirstLook
Advantages:
Luxurious limited edition presentation; two full kits which may be built as standard A-8 and A-8/R2; beautifully detailed including engine and gun bays; superbly restrained surface featuring crisp panel lines and very fine lines of recessed rivets where appropriate; engineered without plugs/inserts; wing cannon access hatch not split along wing root join; plenty of ordnance options including drop tank, bomb, W.Gr.21 mortars (rockets); long centreline rack for A-7 and later; includes colour photo-etched parts for harness and instrument panel, regular photo-etched parts for flaps, engine bay details, exterior features and tools; masks supplied for wheels and canopies; clever design of clear parts with separate sliding sections for open and closed canopies; attractive marking options; very high quality plastic; narrow sprue attachments; excellent instructions and packaging; evocative extras including a real fragment of one of the subjects and replica Iron Cross; plenty of spare parts!
Disadvantages:
Modelling experience is required
Recommendation:
Highly Recommended to experienced modellers or Luftwaffe afficiandos

Reviewed by Brett Green

Eduard's 1/48 scale Focke-Wulf Fw 190 A-8/R2 Royal Class will be available online from
Squadron.com

By 1943, American B-17 bombers had effectively penetrated the Third Reich's air defences.
Even without a fighter escort, a single "Flying Fortress" could direct fire from 12 x .50 calibre heavy machine guns at an attacking aircraft. A new method was therefore devised that would offer a better chance of survival and success for Luftwaffe fighters. By attacking in a group from the rear at close quarters, a formation of fighters could dilute the defensive capabilities of a "vierbomber" by spreading fire across several aircraft. Furthermore, greater firepower would be brought to bear on the vulnerable wings and engines of the B-17 by this group of attacking fighters.
There seems little argument about the logic of this tactic proposed by Hauptman von Kornatzi. However, he also proposed that fighters should ram the bombers when they ran out of ammunition. This was not rhetoric - the pilots of the new unit were volunteers who understood the requirement and had to sign a pledge to fulfill it.
The Focke-Wulf Fw 190A-8/R2 and R8 variants were designed as the ultimate heavily armed and armoured anti-bomber aircraft to execute this dangerous but vital duty. The heavy cowl ring and air-cooled engine already suited the Fw 190 to the task. Typical additional equipment included 30mm cannon fitted to the wings; with supplementary steel plates on the fuselage and thick armoured glass secured to the canopy. Some R2s had their cowl machine guns removed and the troughs faired over, while others were fitted with air-to-air rockets.
There were a number of variations in armour and armament to this basic configuration. Also, many Fw 190A-8/R2s and Fw 190A-7/R2s were fitted with similar equipment. Eduard's new model will be suitable for these variants with minimal modifications, so check your references carefully!
(Eric Mombeek has written an excellent book on the formation and operation of Sturmstaffel 1 until April 1944. Check the review of this Classic Publications title elsewhere on HyperScale).
In October 2006, Eduard released their gorgeous 1/48 scale Focke-Wulf Fw 190 A-8. This was followed up in November with a Focke-Wulf Fw 190 A-5 kit. Both kits represented state of the art in terms of detail, quality and value. For a detailed look at these specific kits, you can follow this link to see my review of the Fw 190 A-8, and this link to see my review of the Fw 190 A-5.
My conclusions at the time of these kits' release was that they were the best Würgers available.
Eduard has now raised the bar even higher with the limited edition release of their Royal Class Focke-Wulf Fw 190 A-8/R2 package.
The Royal Class box contains two complete kits plus seven photo-etched frets, canopy and wheel masks, markings for nine aircraft, a genuine fragment from a Focke-Wulf Fw 190 A-8/R2 (markings for this specific aircraft are included on the decal sheet), a replica Iron Cross with Oak Leaves and ribbon, plus an eight page, all colour booklet entitled "Bloody Encounter Over a Forgotten Mountain".
This is not a simple reboxing of the earlier Fw 190 A-8 kit. It is the first time that Eduard has offered the popular Sturmbock A-8/R2 variant. Typical of Eduard's recent efforts, they have not taken any short cuts by providing inserts and add on parts. A completely new set of fuselage halves are supplied with the extra armour plates moulded in place.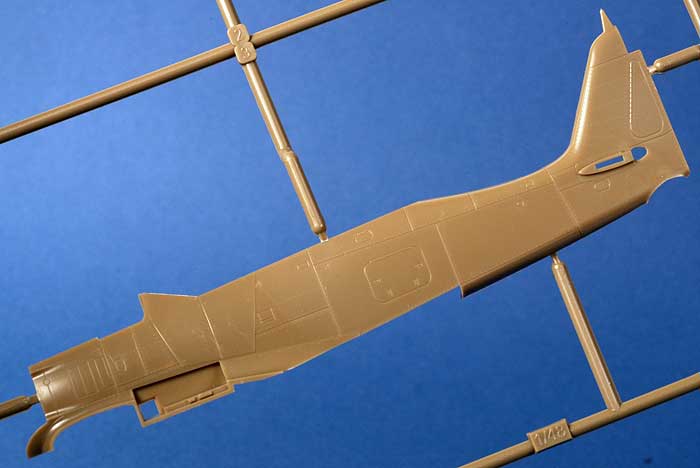 A new bottom wing with the shell ejectors for the big 30mm cannon is also included. Two sets of the standard Fw 190 A-8 fuselage and upper wings are also in the box.
In summary then, there are enough parts supplied to build one Fw 190 A-8/R2 with 30mm cannon, with or without fuselage armour; plus one standard Fw 190 A-8*. Decals reflect this mix, with four options for A-8/R2s, and five for regular A-8s.
Eduard's 1/48 scale Focke-Wulf Fw 190 A-8/R2 Royal Class comprises more than 330 parts in olive coloured plastic; 16 parts in clear; seven colour photo-etched frets; two masking sheets; and four colourful decal sheet with markings for four aircraft..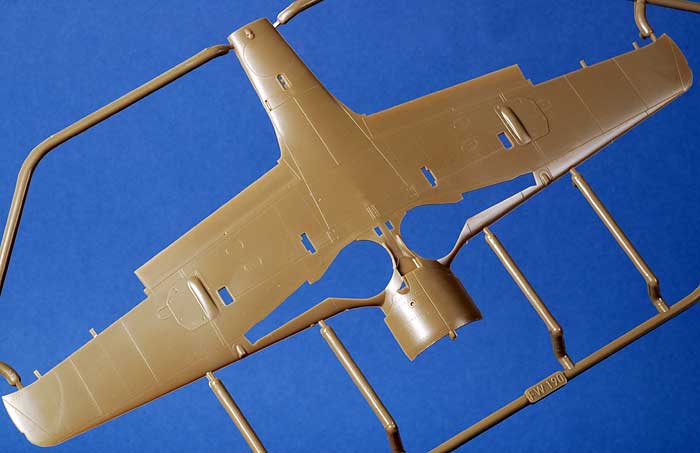 Click the thumbnails below to view larger images:
[../../../photogallery/photo00009084/real.htm]
---
Eduard has packed the fourteen sets of sprues into a sturdy black box with satin texture.
Apart from the new parts specific to the R2 Sturmbock variant, the plastic parts are the same as the earlier excellent A-8. Check the earlier reviews for specifics, but in summary these kits feature superb surface texture, a very high level of detail, particularly in the cockpit with colour photo-etched parts, worthwhile options including centreline bomb or drop tank, W.Gr.21 rockets, different styles of canopies, and the opportunity to superdetail the basic engine bay provided in the kit.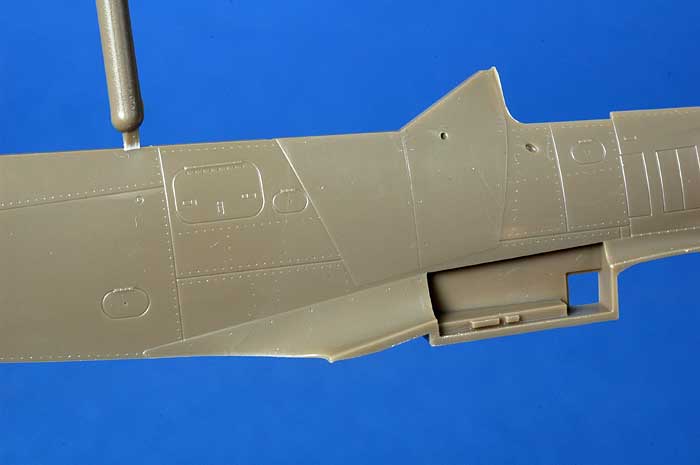 Click the thumbnails below to view larger images:
[../../../photogallery/photo00006999/real.htm]
---
You may easily backdate this kit to a Fw 190 A-7/R2 by taking the following steps:
Use the short centreline rack (Part K23)

Use cowling parts H10, H14 and H26 (these depict the earlier "two up, one down" top fastener arrangement)

Fill the oval hatch under the fuselage (actually on the trailing edge of the bottom wing, Part E1)

Fill one more hatch each on the port and starboard fuselage side

Relocate the fuel filler hatch

Relocate the pitot inboard to mid-wing
Check your references for exact locations of hatches and pitot.
Clear parts emphasize Eduard's innovation. Two styles of canopy are included - flat and blown - and two of each are attached to the clear sprue. On the real Würger, the canopy was somewhat flexible. This flexibility was further enhanced with a short hinge on the top. This was necessary because the canopy rails tapered inwards back along the fuselage, requiring the front bottom corners of the canopy to pinch inward when opening (ie, the width was narrower when the canopy was open). This attribute has been conveniently ignored by all Fw 190 models to date - an open canopy would simply overhang the sides of the canopy deck. Eduard, however, has supplied a closed (wide) and open (narrow) version for each canopy style. Clever stuff.
The two sets of canopies are packed in separate resealable bags, and both my samples are perfectly clear.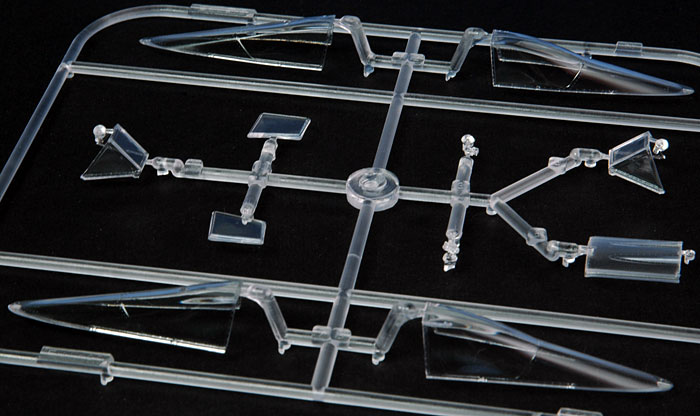 The colour photo-etched fret adds useful detail. In fact, it is impossible to imagine anyone being able to match the realism of these crisply printed parts with paint. This fret provides the harness, instrument panel and side consoles in full colour, plus supplementary metal detail parts for the cockpit and aircraft exterior. The instrument panel should look fantastic when assembled, incorporating all the tiny details of the dials and the characteristic coloured surrounds of the engine gauges. Two sets are supplied.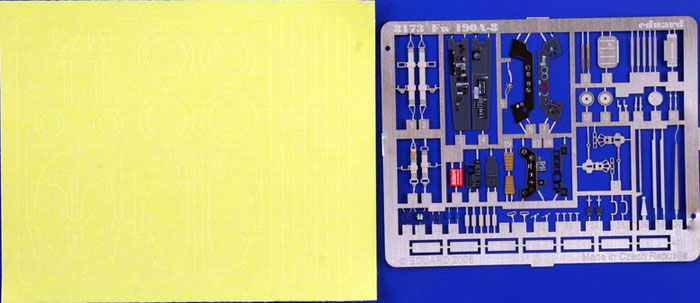 The two colour frets are supplemented with seven more photo-etched sheets. These are:
Eduard Set 48 551 (two sets) - landing flaps. This set completely replaces the plastic flaps moulded to the wings.

Eduard Set 48 556 (two sets) - Engine bay and exterior details. This supplementary photo-etched set will addresses missing or undertstated detail in the engine bay and cowl machine guns with a comprehensive workover, including interiors for the cowl hatches, ignition wiring and a myriad of details on two large photo-etched frets. All of this intricate work will highly visible if you decide to pose the engine bay open.

Eduard Set 48 555 (one set) - Fw 190 A/F Tools and Boxes. The focus of this set is a large toolbox with apparently working drawers (!), filled with various tools.
Another nice touch is the inclusion of canopy and wheel masks in Eduard's new, thin flexible yellow masking material.
Instructions are supplied in a 20 page A-4 size colour booklet, with a detailed history on the front page followed by a parts list and ten pages of construction steps and eight pages of full-colour marking guides, each with a four-view illustration.
Markings are provided for nine colourful aircraft. Two of the options are the same as contained in the earlier Fw 190 A-8 kit, but these have all been revised. Specifically:
Blue 13 of Stab/JG 300. The blue has been toned down and the background of the B-17 logo on the nose is now grey instead of blue.

Black 9 of JG 301 now includes an option for a red number in addition to the original black.
The other seven options are all new.
Decals look to be very thin and of high quality.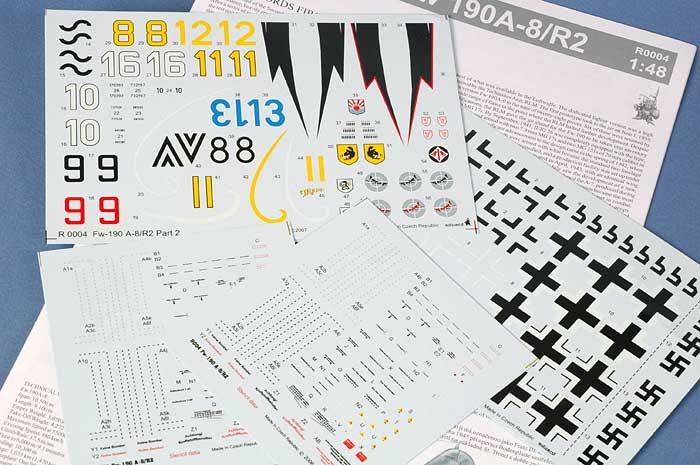 Click the thumbnails below to view larger images:
[../../../photogallery/photo00005031/real.htm]
---
Bonus Material
This premium box also contains some fascinating bonus material. I was delighted to see my genuine metal fragment from Fw 190 Yellow 8, a Fw 190 A-8/R2 shot down over the Ore Mountains on 11 September, 1944. The pilot survived the encounter after bailing out. Markings for this aircraft are included in the box.
My fragment is around 2cm x 3cm and appears to be painted on both sides. A 1:1 scale rivet is included on my piece of metal, so it is obvious which surface is the inside and which is outside, although the ravages of time and exposure makes it difficult to determine the colours.
A certificate of Authenticity from the Air Battle over the Ore Mountains Museum is is supplied with the fragment, along with a printed brushed metal plaque.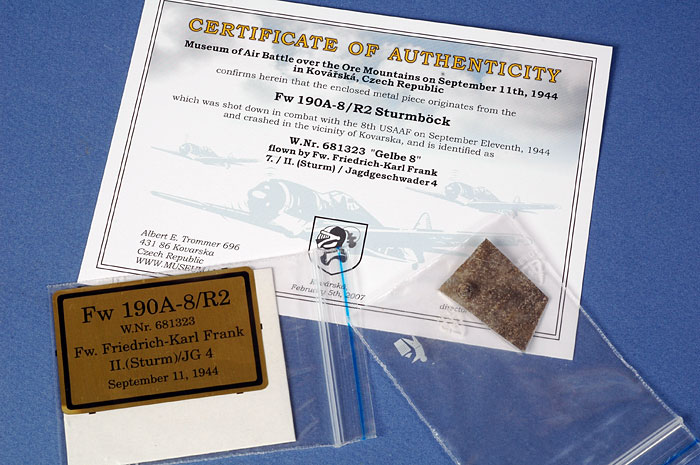 Click the thumbnails below to view larger images:
[../../../photogallery/photo00026259/real.htm]
---
Furthermore, the set contains a replica Iron Cross with Oak Leaves and authentic red, white and black ribbon. This facsimile is presented in a black box.
As if this were not enough, Eduard has also supplied an eight page booklet describing the battle above the Ore Mountains on 11 September, 1944. The booklet is in full colour, and its glossy pages contain maps, historical photos, description of tactics and the events of the day, plus eight nicely executed colour profiles of two P-51Ds, a Fw 190 A-8/R2, three Flying Fortresses and a Messerschmitt Bf 109 G-6.
Eduard's Focke-Wulf Fw 190 A-8/R2 Royal Class package is more than just a model kit. The bonus material will be prized by collectors and Luftwaffe enthusiasts, while the excellent plastic parts have been supplemented with very useful photo-etched details.
It is certainly not cheap at $160, but it is chock-a-block full of accessories, options and souvenirs. Being a limited edition, I can only imagine the prices that will be commanded on Ebay in a few years time!
Keep in mind, though, that Eduard's 1/48 scale Fw 190 kits are not "shake and bake". Modelling skills are required. You will be advised to allocate plenty of time and treat it with the respect that it deserves. If you have already assembled a few kits, however, you should not have any trouble finishing this wonderful Würger, as we have seen in several HyperScale Galleries over the last few months.
Highly Recommended.
Thanks to Eduard for the sample
* Note - with some minor scratch building effort you could make two Fw 190 A-8/R2s from the contents of this box. One of the marking options is Paul Lexfeld's Fw 190A-8/R2, which was armed with 20mm cannon in the outboard wing positions. You could add armour plate to the standard fuselage side, cut from thin sheet plastic, and still have enough parts left over to build another 30mm armed A-8/R2.
---
Review Text Copyright © 2007 by Brett Green
Page Created 14 March, 2007
Last updated 24 December, 2007
Back to HyperScale Main Page
Back to Reviews Page