Fisher Model & Pattern
PREVIEW

HyperScale is proudly supported by Squadron.com
Paul Fisher from Fisher Model & Pattern has provided the following information about forthcoming releases:
---
Fisher New Product News
We are now shipping our 1/48 scale B-58 Hustler upgrade sets (elevons, intakes and ejection seat with clear resin hatch - all available separately) mastered by Mike Braun. These are all very nice and take the Monogram B-58 to a new level of detail. They are listed and illustrated on the website. Soon to come are a number of 1/32 parts sets derived from our kits, the various 5" HVAR Rockets, Tiny Tim rockets, and more for detailing your big scale models.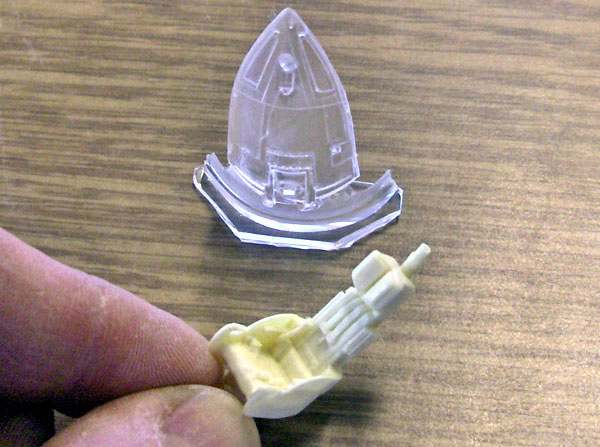 With the coming release of the Hobbycraft Sea Fury in 1/32 we are offering a mass of up-grade sets that will go along way towards bringing the model up to contest level.The entire cockpit, mastered by our buddy Roy Sutherland will be available to go into the kit, as will our accurately shaped and ultra-thin cast clear resin canopy, the wheel-well, landing gear, two types of treaded tires and correctly detailed wheels, prop and spinner, exhausts, drop tanks, rockets with rails, flaps, a wing-fold set and more.A list with prices is in preparation and will be up on the site very soon.
If you still wish to have one of our complete Sea Fury kits, we can make one up for you, but the original Cartograf decal sheets are now all gone so we will have to substitute the newer set we have , with early FAA and RCN markings plus Cuba, Egypt, Iraq and G-FURY.Otherwise, it is still the best bet for a model that looks spot-on right out of the box.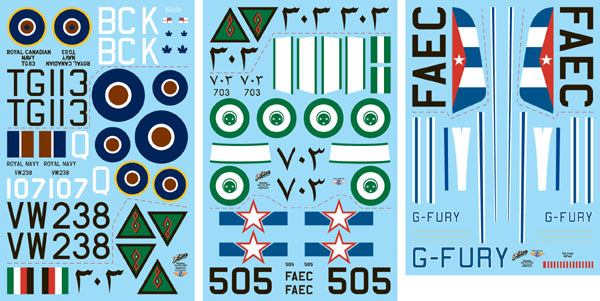 Also, our first racing Sea Fury kit is almost ready, we have finally found a decal maker who can correctly reproduce the flames for Signal Sea Fury / Miss Merced, and the decals are now in print and should arrive soon.Kits will begin shipping as soon as possible.The changes to the airframe to create the racer are far more severe than you might think at first glance, and the kit has an amazing one piece wing complete with exquisite wheel well detail that makes assembly , and that glossy paint-job a snap.
We are offering the massive high-pressure spinner and Skyraider prop blades mastered by Roger McClure and Shane Pulliam for Shane's outstanding coversion to September Fury seen at the IPMS Nats,and a complete up-dated model of this incredible speed machine will be available on a very limited basis from us shortly with full decals to reproduce the unique paint scheme. More race parts will be coming to allow conversions to other Sea Fury racers.
A complete two seat Sea Fury T.Mk 20 ( I can't resist that silver and yellow paint job!) kit will be available soon for those who want a two-holer, and our "Mystery Models" in 1/32 will be announced before Christmas.One has a prop...one is a jet...
The Curtiss Page Racer will be out soon, alterations to make it more accurate are now complete( thanks to Anders Bruun, Rich Dann and Keith Davidson!) and a short run of kits should be ready in time for the Holidays.
If you are one of the many car modellers wondering what's going on with our line of cars, some of them can still be had on a special order basis,just give us a call, or an e-mail. Some are gone for good as we are out of decals and don't feel it prudent to re-print and re-tool, the Porsche 917-30, Pink Pig and Hippy Car are OOP and will stay that way, there will be some up-dates and hopefully a re-issue or two to mark our 30th anniversary making kits (yes, it all started in 1978) next year.
Back to the workbench for me!
PS...anyone out there with an Atelier Noix Supermarine S.4 that you would sell or trade, please give me a shout..need to complete my collection of Noix kits.