D.H. Sea Venom FAW.21
Classic Airframes, 1/48 scale
S u m m a r y

Catalogue Number:
Classic Airframes kit numbers 4112 - Sea Venom FAW.21
Scale:
1/48
Contents and Media:
68 parts in grey plastic; 23 parts in grey resin; three parts in clear; markings for three aircraft
Price:

MSRP 59.00
USD$51.10 available online from Squadron Mail Order
from GBP£38.24 available online from Hannants

Review Type:
FirstLook
Advantages:
Long-awaited subject; high level of detail in cockpit; excellent surface detail including recessed panel lines; includes rockets; three interesting marking options.
Disadvantages:

Limited run technology will demand some previous experience.

Conclusion:
We have a well-detailed and accurate Sea Venom for the first itme as an injection moulded kit. Some previous experience with limited run kits will be helpful.
Reviewed by Brett Green

Classic Airframes' 1/48 scale Sea Venom FAW.21 is available online from Squadron
The de Havilland Venom bore a strong family resemblance to its immediate predecessor, the Vampire, but it was in fact a substantially new aircraft. The Venom featured a larger fuselage pod, bigger wings with a swept leading edge, fixed wing tip tanks and the more powerful de Havilland Ghost engine. The later FB.4 variant featured powered ailerons of larger surface area. The increased aerodynamic forces delivered by these powered ailerons necessitated the installation of larger fins and rudders of a revised design.
The Sea Venom was the navalised version of the two-seater Venom NF.2 night fighter. Modifications included folding wings, a "V" shaped tail hook, strengthened undercarriage and a modified canopy that permitted underwater ejection! The initial Sea Venom production version was the FAW.20. The FAW.21 was fitted with the improved Ghost 104 engine and American radar. 167 were built.
In Australian service, this export variant was designated the FAW.53. 39 Sea Venom FAW.53s saw service with the Royal Australian Navy.
It was logical that Classic Airframes should add the de Havilland Venom to its growing family of post-war British fighters. The Sea Venom joins the excellent single seat Venom FB.1 and FB.4 kits.
Classic Airframes' 1/48 scale Sea Venom FAW.21 comprises around 68 parts in short-run injection moulded plastic, three parts in clear, plus 23 grey resin pieces.
The plastic is shiny and smooth, with finely recessed panel lines. There are no imperfections on the exterior surface of any parts, but there are a number of raised ejector pins that will need to be removed from inside surfaces before assembly, most notably inside the wing halves.
There is some flash on a number of parts. This can be quickly removed by scraping with the back of a hobby knife and a swipe with a sanding stick.
The wings are all-new parts with the larger powered ailerons moulded in place, so no surgery will be required to install separate ailerons here.
The resin parts are beautifully detailed. The instrument panel with integrated coaming is very impressive. The Martin Baker seats look great, with harness straps and other details cast in place. The top ejection handles are supplied as separate parts.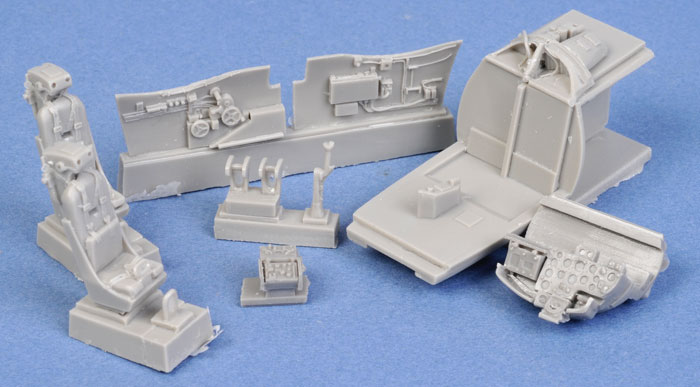 Outside the cockpit, resin parts include the jet exhaust, intakes, nose wheel bay, inner sections of the main wheel bays and wheels.
Some of the resin parts, including the main cockpit floor, the seats and the instrument panel, are cast onto stout blocks so a combination of a good razor saw and caution will be required when preparing these components. A Dremel motor tool fitted with a grinding wheel will make short work of this task.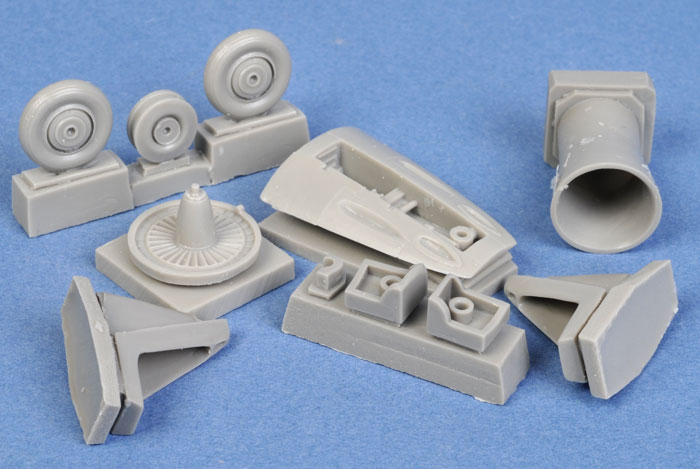 Underwing rockets and stubs are included.
The canopy is provided as three parts in injection moulded clear plastic, making it easy to pose the centre section open. The clear parts are quite thin and shiny straight from the box, but I am sure they will look even better after being dipped in Future floor polish.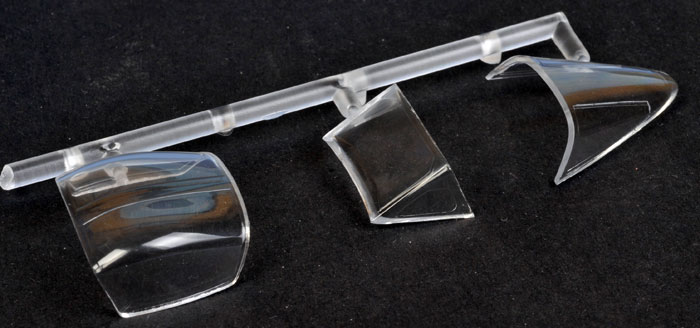 The pitot tube is included in this kit (it wasn't in the FB.1/4 kits), but you'll need to add your own whip aerials from stretched sprue or nylon monofilament.
Please note that any parts common to the Vampire have been completely retooled. One example is the booms, which were slightly skinny on the earlier Vampire kit but which appear to be perfectly dimensioned in the Venom and Sea Venom kits.
Three marking options are offered:
Sea Venom FAW.21, 892 Sqn FAA, HMS Ark Royal, Nov. 1956 finished in Extra Dark Sea Grey over Sky with a flat black radome. This aircraft features a large Squadron badge on each side of the nose plus full Suez black and yellow tactical stripes on the wings and booms.

Sea Venom FAW.21, 894 Sqn FAA, late 1950s finished in Extra Dark Sea Grey over White with a flat black radome. This aircraft features a large shark mouth and eyes, with red and black chequered wing tip tanks. The black chequers are supplied as decals to apply over red-painted tanks.

Sea Venom FAW.53, 805 Sqn RAN, HMAS Melbourne (incorrectly referred to as HMS Melbourne in the instructions), circa 1962 finished in Extra Dark Sea Grey over Sky with a flat black radome. Kangaroo roundels are carried in all six positions. Wing tip tanks are red and white with a jagged saw-tooth demarcation. A full-sized template is provided to assist painting this line.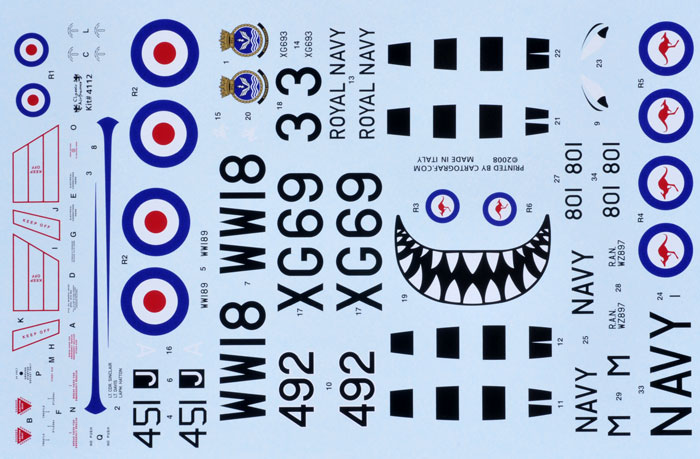 The decals are beautifully printed in perfect register.
---
Construction Notes Based on Test Fitting
I have been eagerly anticipating this model for some time, so I started work on the kit as soon as it arrived. I can offer a few observations based on progress so far, especially with the benefit of having already built 2007's Venom FB.1/4 kit:
The main wheel well detail is moulded onto the inside surfaces of the wings. This makes it much easier to assemble the wings - no griding down resin parts and thinning plastic to squeeze the parts inside. The small resin inboard gear bays fit with no grinding or thinning required, and they provide a secure fit for the gear legs.

The instrument panel and cockpit parts seem to fit between the fuselage halves without any further thinning or sanding. Make sure you remove the casting blocks from the main cockpit part, the rear of the instrument panel and the top of the front wheel bay / cannon panel for the best possible fit.

Based on test-fitting, it looks like some trimming or thinning of the inside surface (underneath) of the forward canopy lip may be needed to permit the resin instrument coaming to sit at the correct height.

I have test-fitted the canopy parts. The fit is pretty good and the width compared to the cockpit opening matches perfectly.

Plenty of nose weight will be required to keep the front wheel on the ground, but there is ample space inside the bulbous radar nose.

Reinforcements will be helpful between the booms and the wings (I used wedges of thick plastic card when building the Venom FB.4), and brass pins should be installed to strengthen the joins at the tail surfaces.
The Venom FB.4 was probably the easiest and best fitting Classic Airframes kit that I have ever built, standing out in stark contrast against the sometimes recalicitrant Classic Airframes Vampire. I should point out again that these new Venom and Sea Venom kits do not have a single part in common with CA's 2005 Vampires.
You can be confident that with these Venom and Sea Venom kits, fit is better, research was done with the assistance of John Adams from Aeroclub, and construction is easier than the Vampires.
The de Havilland Sea Venom is a welcome addition to Classic Airframes' post-war British line-up. In my opinion the Sea Venom was the best looking of the whole Vampire / Venom family.
Classic Airframes' Sea Venom will need more time and effort in the cleanup and preparation of parts than a long-run kit from Tamiya or Hasegawa. Also, the lack of locating pins will call for extra care and dry-fitting. Some adjustment and trimming of parts may be required before committing to glue. In other words, modelling skills are most definitely required.
However, if you are a fan of post-war / Cold War British Naval aviation, and you enjoy tackling the challenges of a limited-run offering, this attractive release will not disappoint.
In my opinion, Classic Airframes' 1/48 scale Sea Venom is a great kit that captures the aggressive lines of this unique all-weather naval fighter. It is accurate using a relatively small number of parts, but delivers a very high level of detail.
---
Thanks to:
Classic Airframes for the review sample

John Adams of Aeroclub for access to his excellent drawings and knowledge, and

Wayne Thompson (my father-in-law) for photographs from his personal collection.
Thanks to Classic Airframes for the review sample.
---
Classic Airframes kits are available worldwide through hobby retailers and from Squadron.com
---
Review and Images Copyright © 2008 by Brett Green
Page Created 18 December, 2008
Last updated 18 December, 2008
Back to HyperScale Main Page
Back to Reviews Page