F6F-3, F6F-5, F6F-3N, F-6F-5N, F6F-5K
Hellcat
Royal Class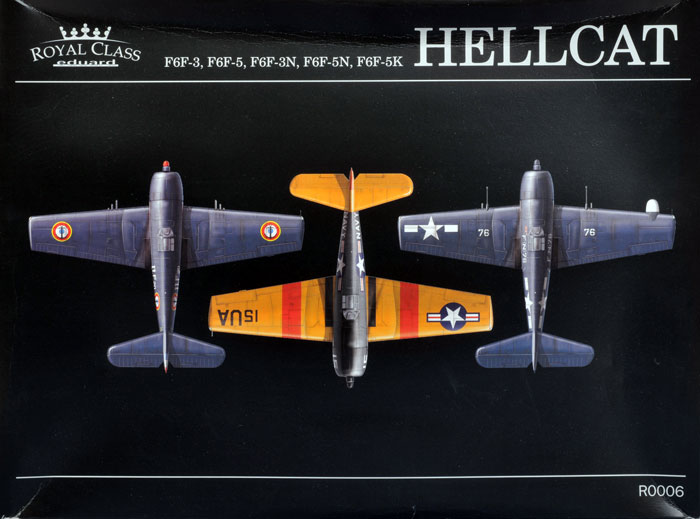 Eduard, 1/48 scale
S u m m a r y

Catalogue Number:
Eduard Kit No. R0006 - F6F-3, F6F-5, F6F-3N, F-6F-5N, F6F-5K Hellcat Royal Class
Scale:
1/48
Contents and Media:
240 olive coloured plastic parts; 34 clear parts; 56 resin parts; 4 x nickel plated photo etched frets; 1 x coloured photo etched fret; masking sheet for canopy and wheels; large decal sheet covering nine markings options
Price:
USD$160.00 plus shipping available online from Eduard's website
and specialist hobby retailers worldwide
Review Type:
FirstLook
Advantages:
Includes two full kits; superb detail; excellent surface texture (combination of recessed panel lines, lapped fuselage panels and fabric control surfaces); straightforward parts breakdown; separate control surfaces; ample options including centreline fuel tank, bombs, rockets and four styles of engine cowling; excellent clear parts with different sliding sections for open and closed options; perfect moulding; excellent quality decals for nine varied options; photo-etched undercarriage bays and gun bay; now includes resin engines, wheels, radome and additional detail parts.
Disadvantages:
Conclusion:
Even more detail, more options, more decals and more variants than Eduard's recent Hellcat packages, plus a bonus.

Reviewed by Brett Green


Eduard's 1/48 scale Hellcat Royal Class is available online from Squadron.com

The Grumman F6F Hellcat was designed as a stop-gap upgrade of the lightweight F4F Wildcat, almost as an insurance policy in the event that the F4U Corsair, then under development, did not live up to expectations.
Despite the clear family resemblance to the earlier Wildcat, the Hellcat was an all-new aircraft. The resulting naval fighter was stocky in profile, large, powerfully armed and armoured, and heavy. The Hellcat secured its place in history with a breathtaking kill ratio of 19:1.
Eduard entered the Hellcat market earlier this year with their F6F-3 Hellcat. This was followed by both major British variants - the Hellcat Mk.I and Mk.II - in a "Dual Combo" boxing.
Before we examine the entire contents of this latest "Royal Class" package Royal Class in detail, let's concentrate on what differs from the first two releases.
For the first time, you can build an F6F-5, or an F6F-3N / -5N night fighter, or an F6F-5K drone straight from an Eduard box.
Perhaps the most obvious addition to this "Royal Class" release is a mass of resin parts. The focus of the resin parts are two engines, two sets of wheels, specific parts for night fighter variants and some additional airframe details.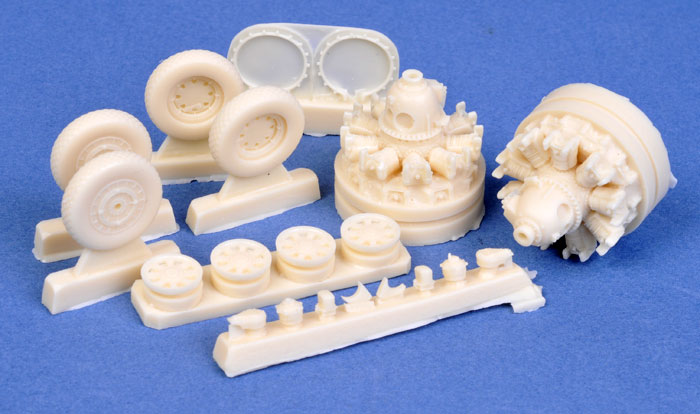 The engine is beautifully detailed and a distinct improvement on the plastic parts in the original kits. Alternate magnetos are provided for different versions of the P&W 2800 engine. Photo-etched pushrods and ignition harnesses are also included, although I will probably replace the flat metal rods with thin plastic rod.
The resin wheels are a welcome addition. These are the correct width for all but the earliest Hellcat variants.
You may build one night fighter from this box too - either an F6F-3N or -5N - using the resin parts supplied. A radome is included, along with flame damper exhausts and gun barrels.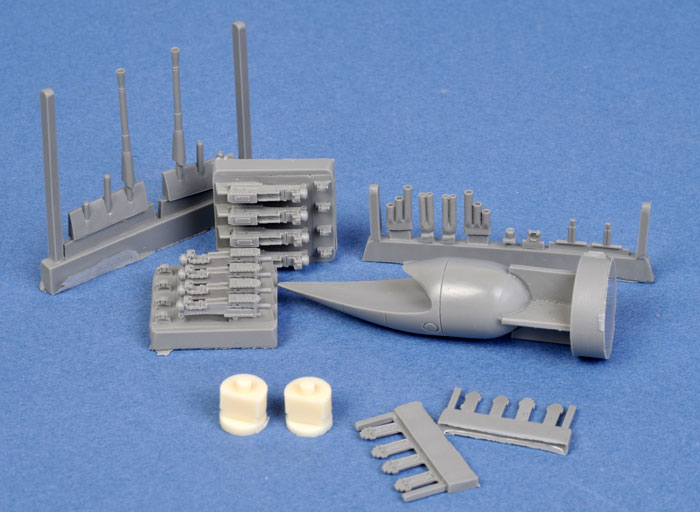 Next is the fuselage for the F6F-5. Eduard continues their policy of "no inserts, no filling panel lines" here. The F6F-5 fuselage is correctly moulded without the small windows behind the cockpit. Two styles of engine cowl are supplied for the F6F-5. This is the same as the Hellcat II fuselage and cowling parts included in the RN Hellcat Dual boxing.
One complete F6F-3 fuselage - with the windows - is also supplied, so you can build one F6F-3 and one F6F-5 based variant from this box.
The wings for the F6F-3 and F6F-5 are subtly different too. Some panels have been deleted below the wings. Don't get these mixed up!
In common with the "Dual Combo" boxing, this package includes two styles of rockets. These are suitable for the F6F-5. Both sets of rockets are moulded complete with their launching stubs, so you will have a complete set of spares when your F6F-5 is finished.
The final difference is the photo-etch. Even more detail has been supplied with this kit compared to the single F6F-3 kit. Most of the extra coloured parts go into the cockpit - specifically the side consoles. Different instrument panels are supplied for the F6F-3 and F6F-5, as well as subtle sidewall and switch details.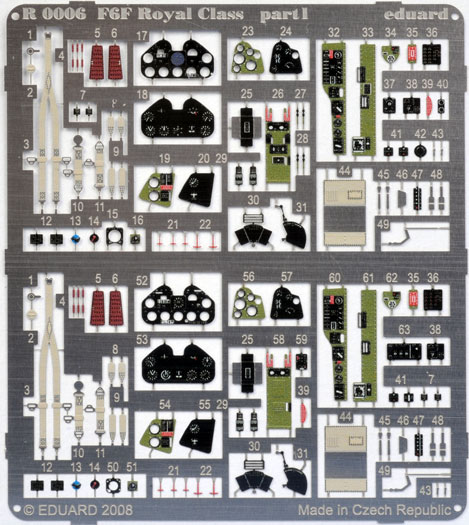 In addition, this "Royal Class" version provides two big photo-etched frets to build new and better detail main landing gear bays for both kits.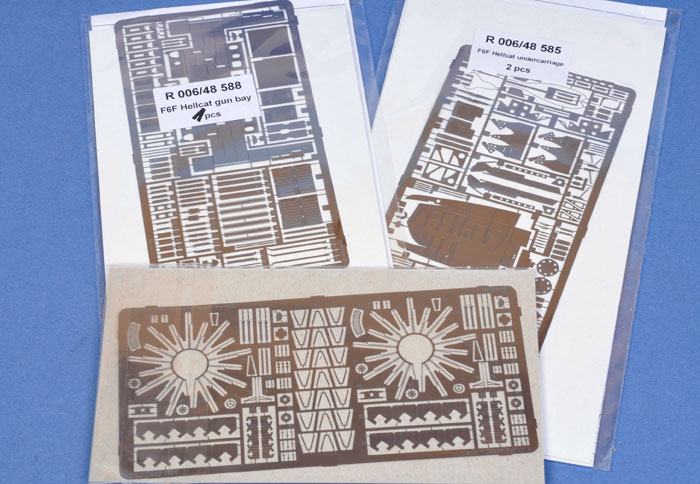 Two wing gun bays are also included (you could use both on one aircraft, or one on each). The bulk of the gun bays and ammunition are supplied in photo-etch, while the gun breeches are resin.
---
Bonus Part
The bonus part included with this kit is a full-sized metal take-off and landing checklist placard.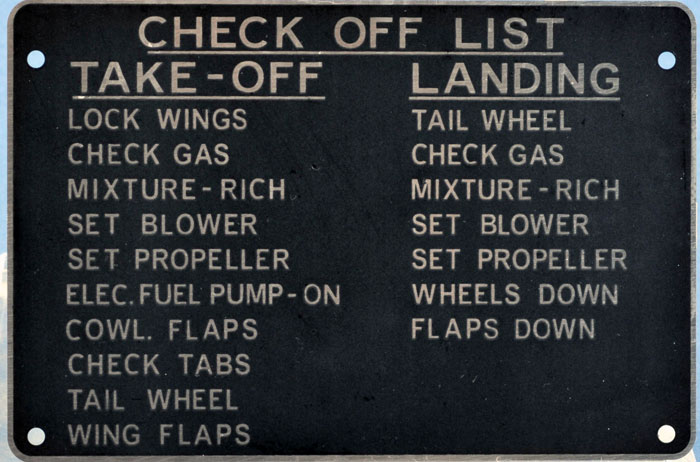 This should look nice on your model room wall or mounted on your monitor!
---
Markings
Nine marking options are included on the large decal sheet:
F6F-3, Lt Hollis 'Holly' Hills, VF-32, USS Langley, April 30th, 1944. Finished in mid-war tri-colour USN scheme.

F6F-3, Lt. Hamilton McWhorter, USS Essex, November, 1944. Finished in mid-war tri-colour USN scheme.

F6F-3N, Orate Field, Guam, 1944. Finished in mid-war tri-colour USN scheme.

F6F-5, Cdr. Theodore Hugh Winters Jr., CAG19 USS Lexington, 1944. Overall Gloss Sea Blue.

F6F-5, Lt. Hamilton McWhorter, VF-12, USS Randolph, May, 1945. Overall Gloss Sea Blue with horizontal white tail markings and white ailerons.

F6F-5N, Major Robert Bruce Porter, VMF(N)-542, June, 1945. Overall Gloss Sea Blue.

F6F-5, Aeronavale Francaise, Flotille 11F, SM Robert, Cat Bai, Indochina, April 26, 1954. Overall Gloss Sea Blue.

F6F-5K, VU-1, Oahu, Hawaii, September 17, 1959. Gloss Sea Blue fuselage. Yellow wings and tailplanes with red stripes and red rudder.

F6F-5K, Chincoteague Naval Air Station, Virginia, 1949. Overall hi-viz Orange/Red
The decals are opaque, with good colours and perfect register. My experience with Eduard decals has been very positive. They are thin and settle down well into panel lines and contours, responding well to Micro Set and Micro Sol.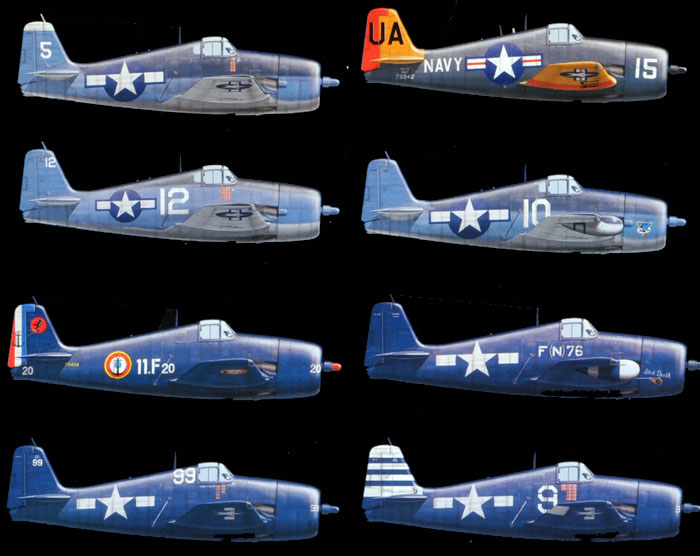 As usual, Eduard has supplied self-adhesive die-cut masks for the canopy and wheels.
---
Recap
Now that we have covered the main differences, let's recap with details of the entire package:
Eduard's 1/48 scale Hellcat Royal Class comprises 240 olive coloured injection moulded plastic parts; 34 clear parts; 2 x nickel plated photo etched frets; 2 x coloured photo etched frets; masking sheet for canopy and wheels; and a large decal sheet covering six markings options.
Surface texture on Eduard's latest releases has been superb, and these Hellcats enhance that already impressive reputation. In addition to crisp, finely recessed panel lines and selected rows of rivets, the Hellcat fuselage employs a subtle lapped panel effect. This really works well. The fabric ribs on the control surfaces are also very convincing.
Details are equally good. The cockpit is supplemented with the usual compliment of colour photo-etched parts including a layered instrument panel, switch panel and harness straps. For those who prefer to paint their cockpit, an alternative (and very nicely detailed) injection moulded instrument panel is also supplied.
I think the plastic seat is a bit clunky, although it does look better once it has been dressed up with photo-etched details and colour harness straps. Still, a resin replacement in this Royal Class boxing might have been nice.
The plastic engines are still included on the sprue. These are simple assemblies with only five plastic parts each. Pushrods are moulded in place, a photo-etched ignition harness is included, plus several colour photo-etched parts for the crank case. The resin parts are much better detailed though, especially in the areas of the cylinders, crank case and magnetos.
The undercarriage legs and wheel wells are suitably busy. The plastic wheels are supplied with separate hubs and tyres. These appear to be the plain narrow style fitted to the prototypes and the earliest production models, and should be appropriate for the earliest Hellcats. If you are building a later Hellcat F6F-3 or -5, you can use the new resin wheels supplied in the kit.
The main gear legs are the appropriate height for an unloaded aircraft. If your model is loaded with bombs and rockets, you might like to shorten the legs by a few millimetres.
The delicate antenna post on the fin is a separate part that may be installed following construction and painting. This is a thoughtful touch that will avoid the almost inevitable damage to a post moulded in place on the top of the fin.
The canopy parts are crystal clear and thin. Separate parts are supplied to permit the sliding canopy to be displayed open or closed.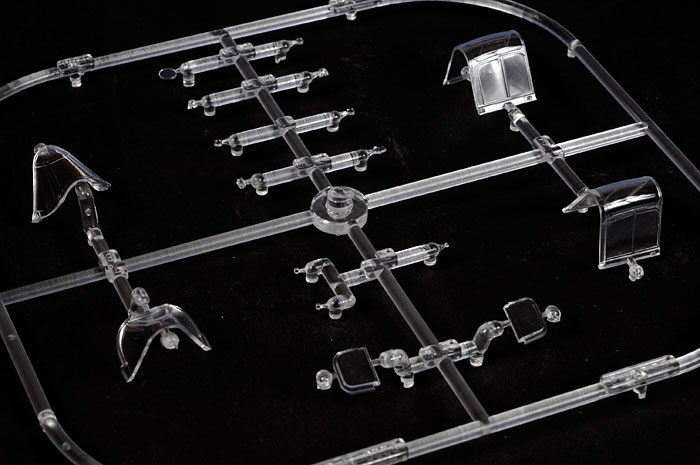 Control surfaces are all supplied separately. These are tabbed to assist precise alignment in the neutral position. It appears that the ailerons and elevators may easily be repositioned after slicing the tabs off.
The cowl is broken down into three pieces, and four different cowl styles are offered.
Eduard's 1/48 scale Hellcat is beautifully detailed, features excellent surface texture and offers plenty of useful options to the modeller.
Whereas Eduard's last two new-tool offerings, the Fw 190 and Bf 110 families, have been challenging to build in some respects, this new Hellcat is noticeably more straightforward. Eduard has responded to comments about kit complexity with a model that is quite simply broken down without compromising detail in important areas such as the engine face, cockpit and undercarriage.
I have already finished Eduard's 1/48 scale Hellcat Mk.II, and I can report that it was an absolute pleasure to build with no major construction challenges. I have no reason to expect that this kit will be any different, but some extra preparation will be needed for the additional resin and photo-etched parts.
The resin engines and wheels address the two main issues of the original Eduard Hellcat releases, and the extra mass of multimedia parts provide a wealth of detail and more options for different variants.
With even more detail, more marking options and more variants possible in the newest Royal Class release, this luxury package should appeal to all Hellcat fans.
Thanks to Eduard for the sample
---
Review Text and Images Copyright © 2008 by Brett Green
Page Created 22 October, 2008
Last updated 22 October, 2008
Back to HyperScale Main Page
Back to Reviews Page