Ambrosini SAI 207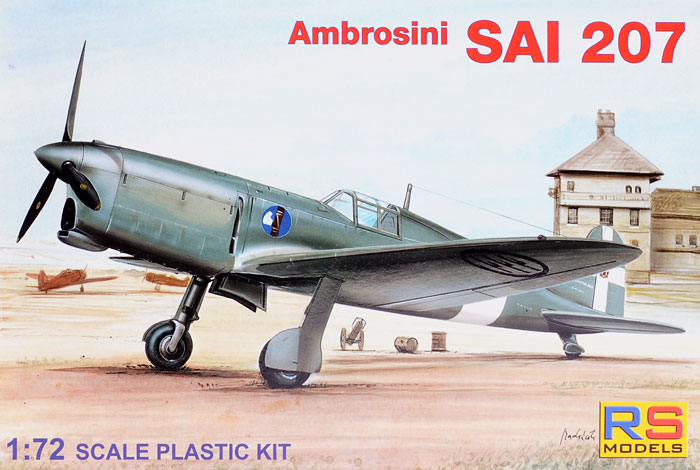 RS Models, 1/72 scale
S u m m a r y

Catalogue Number:

RS Models kit number 92036 - Ambrosini SAI 207

Scale:
1/72
Contents and Media:
32 parts on a single sprue of styrene, 1 transparency, 1 fret of pre-coloured photo-etch for 13 parts and decals for three subjects.
Price:
From £12.34 available online from Hannants and specialist hobby retailers worldwide.
Review Type:
FirstLook
Advantages:
Cleanly moulded short run kit with finely engraved panel lines and control surfaces; beautifully detailed cockpit; unique type.
Disadvantages:

Transparencies a little thick; instructions are a little confusing; modelling experience will be required

Recommendation:
Recommended

Reviewed by Peter Mitchell

HyperScale is proudly supported by
Squadron.com

I must confess that prior to receiving this kit for review, I had not heard of the Ambrosini aviation company, however, a bit of digging on the internet revealed the story.
Ambrosini was founded in Umbria, Italy during 1934 as the Societá Aeronautica Italiana. Its principal successes came from a series of light touring and racing aircraft, most notably the SAI 7 training aircraft of 1937.
The SAI 207 came out of this development as the companies answer to the light fighter concept that had some what of a following in the late 1930s.
A single seat, conventional low wing aircraft, the SAI 207 had a very light construction of wood (spruce) and was powered by an aircooled Isotta-Fraschini delta RC40 750hp engine. It was designed to wring the best performance from the scarce power available to it and indeed it was capable of a stellar 580km/h in level flight and over 800km/h in a dive.
The SAI 207 was a handsome little plane and looked strikingly like an "Italianised Caudron C714".
It seems to have also suffered the same shortcomings as the French product; these being poor climbing ability and lack of agility. Furthermore a lot of structural compromise had been made to achieve so high a performance, the choice of air-cooling for the engine resulted in the aft cylinders overheating due to insufficient airflow when recovering from a dive.
The SAI 207 was more of a racer than a fighter.
The first of three prototypes flew in the autumn of 1940; however by mid 1941 two had crashed with fatal consequences.
Ambrosini-SAI persisted and made a further twelve pre-production machines for operational testing (MM 8425-36). One of these machines (MM 8433) even had two 20mm cannons installed in the wings, however these were removed once the effects of recoil on the wing structural integrity were realised.
Operational testing was carried out briefly with three squadrons (83rd Squadriglia, 19 Gruppo and 3º Stormo) and despite its performance, the SAI 207 did not find favour in eyes of Italian pilots who were by this time equipped with the likes of the Messerschmitt Bf 109, Macchi C.202 and C.205.
By January 1943 all orders for the SAI 207 had been cancelled and the pre-production machines were returned to SAI-Ambrosini for refurbishment, the October armistice saw to the end of any further development of this natty little aircraft.
So then, what became of the Ambrosini-Societá Aeronautica Italiana?
Well, after the war Ambrosini reformed in 1946 and continued to develop aircraft, this time they turned their attention to jet fighters. None of these were to prove successful. During the 1960s Ambrosini ventured into boat building (they produced "Azzurra", Italy's first Americas Cup contender) and eventually into of all things oil rigs before closing their doors in 1992.
RS Models produces high quality short run type kits of subjects that most manufacturers would not dare to produce.
In doing so they have opened wide the door to some wonderful esoteric types that would not otherwise be available. This philosophy has seen them produce some very smart looking subjects, often prototypes and this kit is no exception.
When I first saw the Ambrosini SAI 207 I was immediately attracted to the elegant racy lines of this little aeroplane.
When I saw the kit, I wanted to start it ASAP. It is full of promise.
The kit is fairly simply designed with a sensible breakdown of parts moulded on a single sprue of caramel coloured styrene. The few panel lines that are present are finely engraved and control surfaces are delicately textured to imply fabric covering. The wing is produced as a single piece with wheel wells moulded in place. This should save quite a bit of fiddling when putting the wing in place plus it ensures a sharp trailing edge. The tailplanes even have fine location tabs on them.
There is some flash on a few of the parts and some of the sprue attachments are a little thick (such as the wing leading edge), but nothing a sharp knife and a few minutes of sand paper won't take care of.
Some of the engraved detail becomes a little soft at the top of the engine cover, again nothing to lose sleep over.
Plastic parts make up the major components of the cockpit, but the detail here is provided by the beautiful pre-coloured photo-etch fret. This includes a two piece instrument panel, trim wheels, throttle leavers and the elaborate seat harness so common in Italian fighters.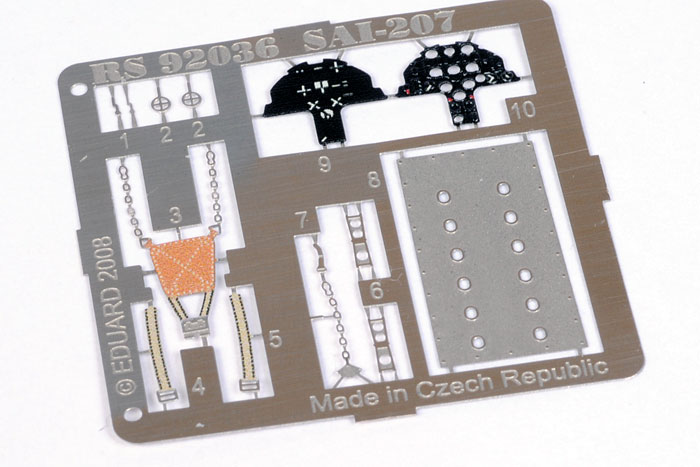 I cannot vouch for the accuracy of the kit since I have no plans to compare it to. However, the kit does compare well to photos of the Ambrosini SAI 207 and it appears to have captured the lines of the subject quite well.
The decals are finely printed by AVI-Print, they are comprehensive, detailed and in register. A correction sheet has been included for the set of fasces emblems for the wings.
The canopy transparency is clear but a little thick and this is perhaps my only disappointment with the kit. It would have been a nice touch to include a vac-form alternative or a two piece that enabled the canopy to be displayed open so as to see the lovely detail inside.
My only other misgiving if you can call it that is with the instruction sheet. Parts of it are a little busy and confusing. It will require more than passing consideration to obtain the correct placement of some parts.
The modeller is provided with the choice of three schemes, two Italian and one Luftwaffe version.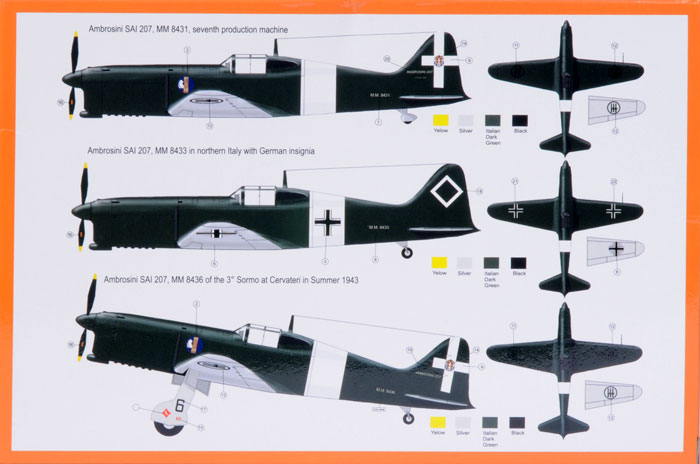 One of the Italian types is in the service of 3º Stormo. All versions are in a very simple dark green topside extending over the bottom of the fuselage, a white fuselage band and light grey under the flying surfaces. There is perhaps some confusion as to where the green stops and the grey starts.
I am looking forward to starting this kit and RS should be commended for producing it.
I do not expect it to be without some challenges, but that is the nature of a short run kit. I would not expect it to be beyond the abilities anyone except the raw novice and it promises to be a unique addition to any collection of aficionados of Italian aircraft or those like myself who have a soft spot for prototypes.
Recommended.
PS. Some excellent photos of the Ambrosini SAI 207 can be found on the internet. http://www.tgplanes.com/planfile.asp?idplane=214
Thanks to RS Models for the sample
---
Review Text Copyright © 2008 by Peter Mitchell
Page Created 7 June, 2008
Last updated 7 June, 2008
Back to HyperScale Main Page
Back to Reviews Page