Mitsubishi A6M5/5a Zero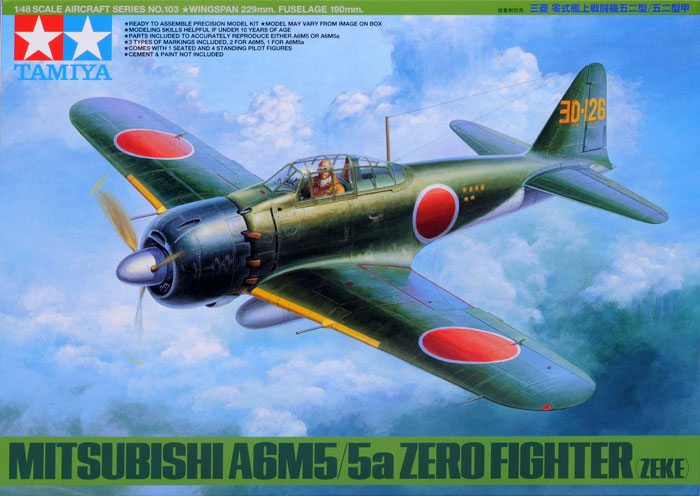 Tamiya, 1/48 scale
S u m m a r y

Catalogue Number:

Tamiya kit number 61103 - Mitsubishi A6M5/5A Zero Fighter

Tamiya item number 12624 - A6M Zero Fighter Detail Up Parts Set

Scale:
1/48
Contents and Media:

Kit - 115 parts in grey plastic (aircraft); eight parts in clear; four standing pilot figures made up of 21 additional grey plastic parts; polythene caps; self-adhesive canopy masking sheet; decals for three marking options.

Upgrade - Photo-etched fret; three parts in stainless steel; spool of copper wire.

Price:

3,200 Yen (around USD$29.00) available online from HobbyLink Japan

Photo-etched Detail-Up Parts Set available separately for 900 Yen

Review Type:
FirstLook
Advantages:
All-new tooling; state-of-the-art quality in terms of moulding and surface features; wonderful detail; useful options including alternate drop tanks, positionable flaps, open and closed cowl flaps; three-part canopy; accurate; includes four standing Japanese pilot figures; high quality decals.
Disadvantages:
Conclusion:
Easily the best Zero in 1/48 scale - fabulously detailed and a pleasure to build
Reviewed by Brett Green


Tamiya's 1/48 scale A6M5/5a Zero is available online from HobbyLink Japan
Superlative Advisory
If you are offended by terms such as "extraordinary", "superb", "excellent" and "state of the art", you'd better stop reading now. A lot of these adjectives will follow!
---
Tamiya's 1/48 scale A6M5/5a Zero
Hasegawa released the first of their 1/48 scale Zero family more than ten years ago. At the time, they were state of the art - nicely detailed and quite accurate. These kits stand up well a decade later.
It was therefore a bit of a surprise to hear that Tamiya was planning an all-new 1/48 scale A6M5/5a kit. Did we really need a new Zero?
I humbly suggest, after having worked on this new release over the last week, that the answer is an emphatic "yes"!
Tamiya's new Zero outclasses the Hasegawa kits in virtually every respect. Let's take a look at the contents.
Tamiya's new 1/48 scale A6M5/5a Zero comprises 115 parts in grey plastic; eight parts in clear; four standing pilot figures made up of 21 additional grey plastic parts; polythene caps; a self-adhesive canopy masking sheet and decals for three marking options.
Moulding quality is perfect. Surface detail is mainly by way of very finely recessed panel lines, with some subtly raised fabric strips on control surfaces. Selected rows of subtle rivets are present along some of the panel lines.
Detail is extraordinary. The wheel wells are authentically deep and busy. The engine is made up of only six parts, but this engineering simplicity does nor compromise detail. Cooling fin detail is crisp, and a separate row of pushrods makes painting a breeze.
The cockpit is the best I have seen in a 1/48 scale plastic kit. In my opinion, it even pips Tamiya's 1/48 scale P-47 cockpits - the previous holder of this honour. The seat is realistically thin and lightening holes are all present and correct. Sidewall detail is deep and accurate, with the various quadrants and boxes added from separate parts. The floor features a separate clear viewing window. The instrument panel is a minor masterpiece, mounted on the front of the ammunition bins and with the gun breeches included. The panel features decal instruments, which look fantastic if carefully aligned.
The one-piece engine cowling is seamless.
Options include the choice of open or closed cowl flaps, open or closed landing flaps and two styles of drop tank. A number of detail differences between the A6M5 and the A6M5a are also accurately portrayed.
Poly caps are used to fit the propeller assembly and the drop tank.
The clear parts are thin and completely free of distortion. The canopy is supplied in three parts, and the centre sliding section will fit well in either the closed or open positions. Other clear parts include wing tip navigation lights and the nicely detailed reflector gunsight.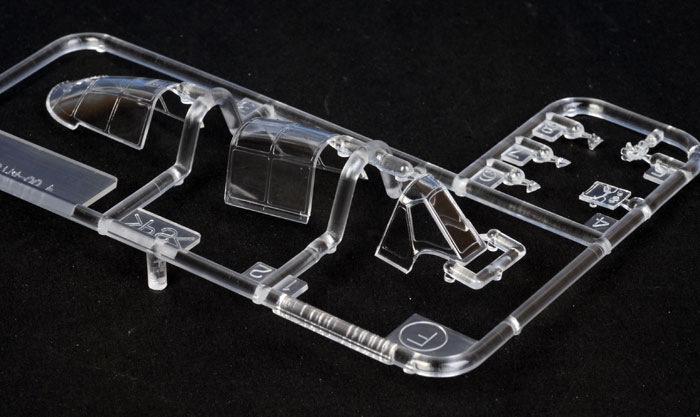 Markings are supplied for three aircraft - two A6M5s and a single A6M5a. All aircraft are finished in IJN Green and IJN Grey.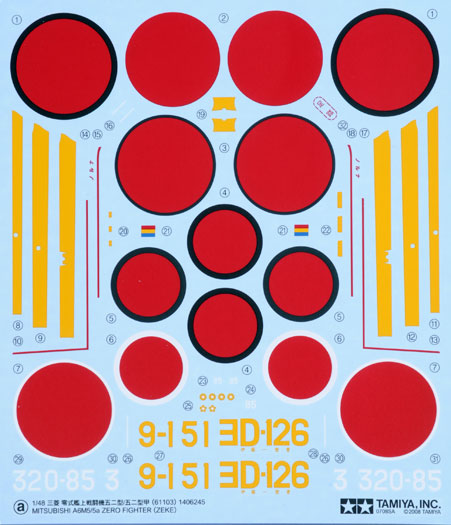 The decals look a bit thick on the backing paper, but they settle down nicely with a coat of setting solution. Markings are in register and opaque, even over dark camouflage. In addition to the aircraft markings, the decal sheet includes printed harness straps for the pilot's seat.
Two decal sheets are included. The first contains Hinomarus and individual aircraft markings, while the second includes mostly stencil markings.
In addition to the aeroplane and a seated pilot figure, Tamiya supplies four standing Japanese pilot figures, each sporting different flight gear. Two of the pilots are wearing Samurai swords. The figures are very well detailed.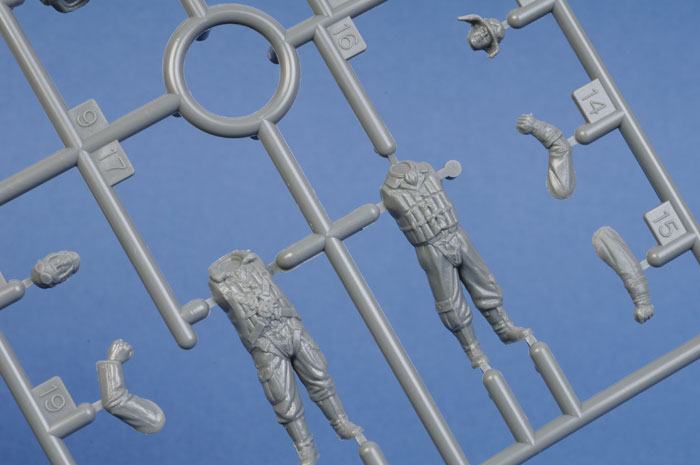 A self-adhesive canopy masking sheet rounds out the package. This is manufactured from material similar to the current Eduard masks and Tamiya masking tape. The outline of the canopy frames are marked on the sheet but they are not die cut. You will have to carefully cut the frames out of the sheet with the aid of a sharp hobby knife and a ruler.
I have already built this kit. A few photos may be seen by following this link. I can confirm that Tamiya's new Zero is sheer luxury to build. Fit is close to perfect.
---
A6M Zero Fighter Detail Up Parts Set
Tamiya has also released a small multi-media upgrade for their new 1/48 scale Zero.
This comprises a photo-etched fret with harness straps, undercarriage indicators and wheel chocks; three turned metal parts (20mm cannon barrels and pitot tube), and a coil of copper wire representing rope for the chocks.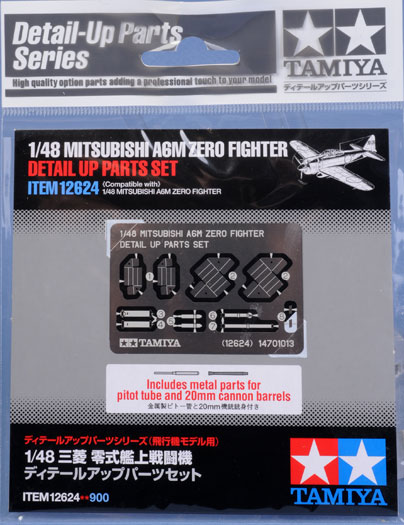 The photo-etched fret is presented in very thin stainless steel. After annealing, the harness straps are flexible and may be positioned as desired.
The 20mm cannon are simply gorgeous, with flared barrels and precisely hollow at the ends.
The Tamiya Zero can certainly be completed with decal harness straps and the plastic cannon barrels and pitot tube, but this "Detail Up" set adds an appropriate touch of class to an already superlative model.
Tamiya has done it again.
Although Hasegawa's A6M family is accurate and quite well detailed, Tamiya's new kit easily snatches the crown as best 1/48 scale Zero.
Tamiya's A6M5/5a is beautifully detailed, with perhaps the best 1/48 scale cockpit straight from the box seen to date. Options are very useful, and the model is a pleasure to build thanks to the thoughtful planning of Tamiya's designers.
Even if you are not a big fan of Japanese aircraft, you would be doing yourself a favour by sampling the sheer excellence of Tamiya's new 1/48 scale Mitsubishi A6M5/5a Zero.
I do hope that Tamiya will be working through the whole Zero family.
Thanks to HobbyLink Japan for the sample
---
Review Text Copyright © 2008 by Brett Green
Page Created 11 August, 2008
Last updated 11 August, 2008
Back to HyperScale Main Page
Back to Reviews Page