Hasegawa's 1/48 scale
F-4B Phantom II

by Paolo Di Teodoro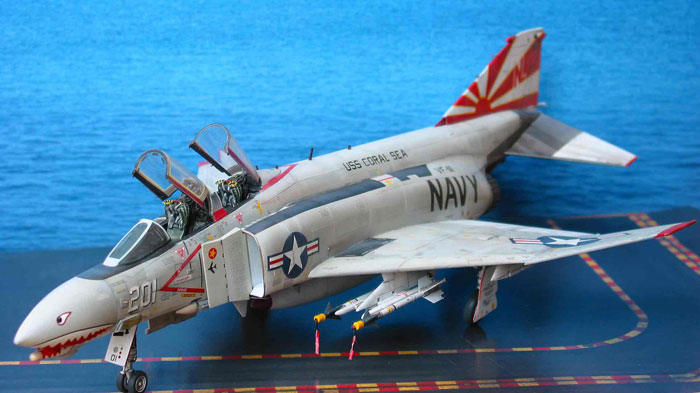 McDonnell-Douglas F-4B Phantom II
VF-111 Sundowners


Hasegawa's 1/48 scale F-4B Phantom II is available online from Squadron.com


While waiting for the announced 1/48 scale Eduard F-4B I have just built the venerable Hasegawa Navy Phantom.
Since my 20's I have been spellbound by the VF-111 rising-sun tails and by their sharkmouths so, now on my 40's, I have once again decided to go ahead with an F-4B in this colourful option.
Known in the squadron as "Old Nick", Bu.No.153019 -201, is one of the most famous US Navy F-4's. In this aircraft Gary Weigand and Bill Freckleton shot down a Mig-17 above the Gulf of Tonkin on 6 March 1972, so this Phantom is a Mig Killer.
Duto the raised panel lines of the Hasegawa -B mold, I decided to backdate a –J kit, taking all the unique early parts from a –B kit languishing from so long on my stash. Here is the result of the surgery.
The main issue when backdating a Phantom J to a B/N is to flatten the wings.
Smart modellers prefer to use the entire main upper panel of the -B raised wing and rescribe it.
Preferring to complicate my life, I chose instead to do a sort of cut & paste between the bumped/umbumped parts of the panel. Please don't ask me why. I don't remember any more!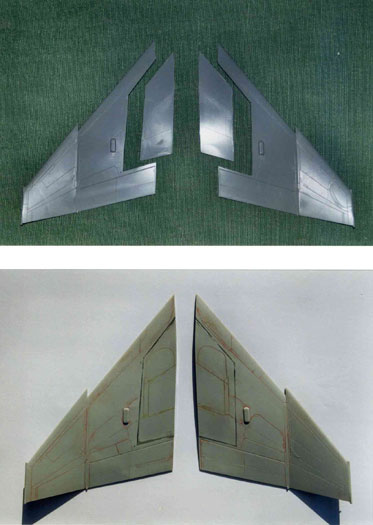 As you can guess, to proceed that way entailed a certain amount of effort puttying and sanding in order to conceal the join line. But with a lot of work I've been able to obtain a good finish.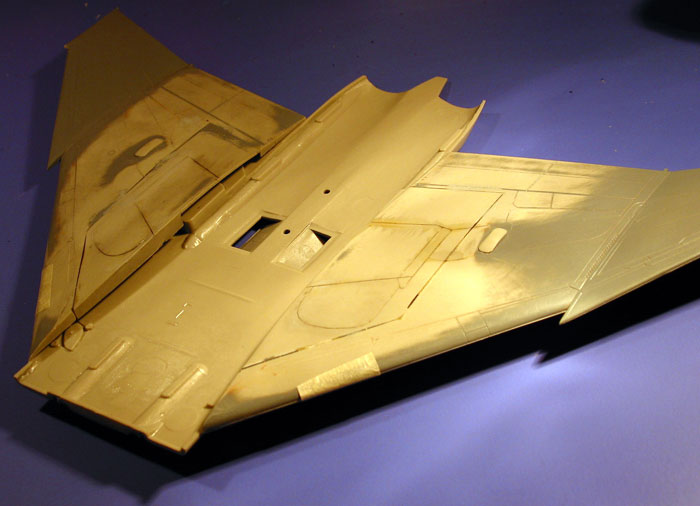 For the lower surfaces of the wing only minor filing and sanding was required, since the main bumped areas are limited to the wheel doors and airbrakes. Only a small triangle behind the legs and the narrow area between wheel well and airbrake need to be thinned.
Works started in 2000 and, after having modified the wings, I lost all the motivation to complete the model so my Phantom languished for years in the cellar.
This was a really sad fate, especially for the –B pieces.
Only a pizza-contest last year with my friends brought my determination back to life to actually finish the Sundowner.
The cockpit was replaced with a Black Box set, and the rails plus some other details came from Eduard photoetched parts. Short burner cans are from KMC. Neither sets fits perfectly, but they will after some small adjustments (and headaches) here and there, a good result can be obtained.
Once painted and installed the cockpit, the assembly can go straight to the painting phase with no major issues
Paints are from Gunze acrylics range. The decals are a mix of Superscale sheet # 48-73 and Eagle Stike #48096, while stencils are Aeromaster. The rising sun on the fin was almost completely repainted, since the Supescale decal is undersized for the Hasegawa tail and a lot of small yellow stripes were missing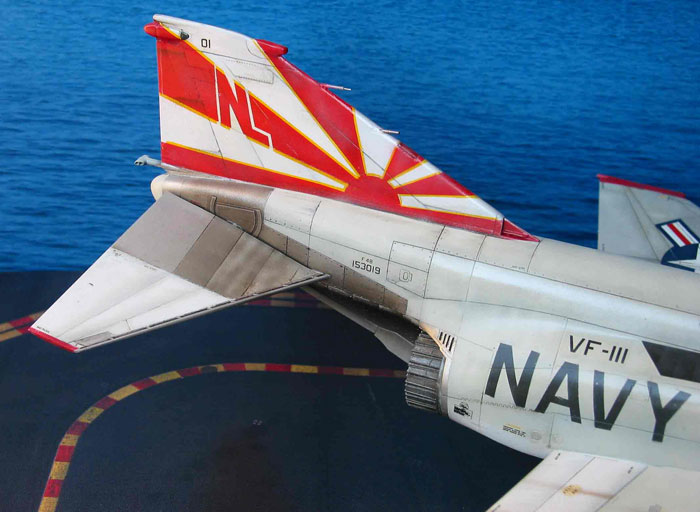 The metal area on the tail has been painted with Alclad Duraluminium, Dark Aluminium, Magnesium, Jet Exhaust and various cocktails of these were the shades used. Later on, the area among the engines received some light layers of heavily thinned mix of dark brown and black (more dirt thinner than a paint).
After decaling and washes in black and/or brown oils, panels and the fuselage sides were retouched in various shades of grey.
Hasegawa's F-4 Phantom remains a really beautiful model to work on except for some minor defects. Even these are well known and easily fixable and well worth the effort.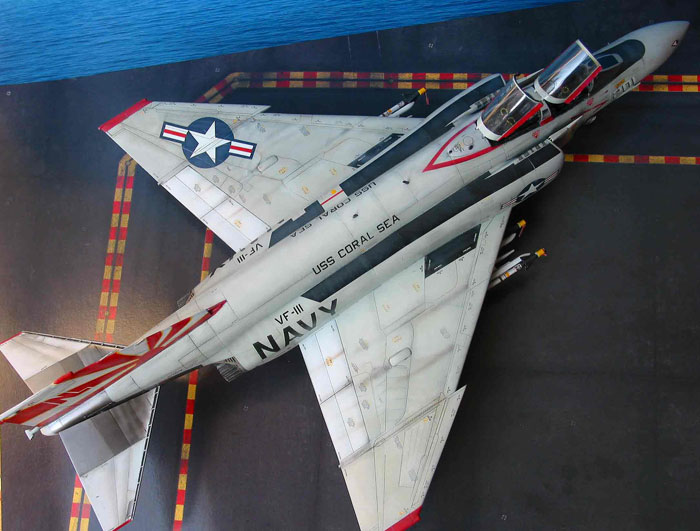 Having said that, we strongly need a new Phantom family, moulded in today standards!
C'mon Eduard !
---
Acknowledgements
Sincere thanks goes to my friends Fulvio "Spilloneforever" Felicioli and Davide "Starflyer" Splendore for their invaluable help.
Thanks for looking!
---
Model, Text Copyright © 2008 by Paolo Di Teodoro
Page Created 8 January, 2009
Last Updated 8 January, 2009
Back to HyperScale Main Page