PZW Siedlce 1/72 scale conversion
SZD-9 Bocian Puls
by Piotr Dmitruk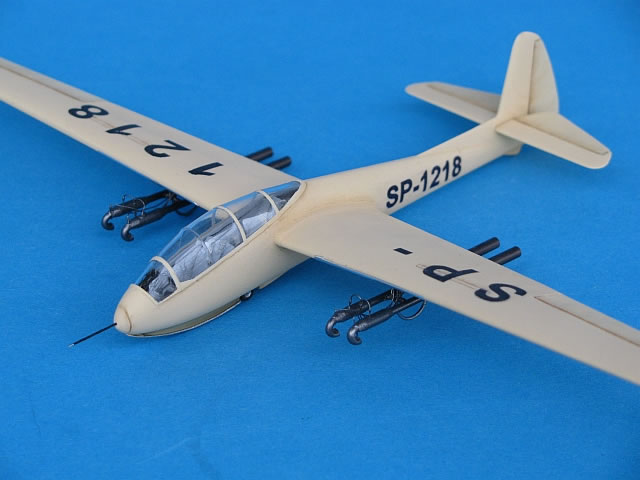 SZD-9 Bocian Puls (Stork Pulse)

HyperScale is proudly supported by Squadron
The Polish Aviation Institute conducted research on valveless pulse jet engines in the 1950s.
After ground testing, a decision was made to test it in flight. The second prototype of a two-seated, forward-swept winged glider SZD-9 Bocian (SP- 1218) was used as a testbed. It was not only research, but it was thougth as a practical solution for gliders to start the flight under its own power. From December 1955 to June 1956 this glider was rebuilt.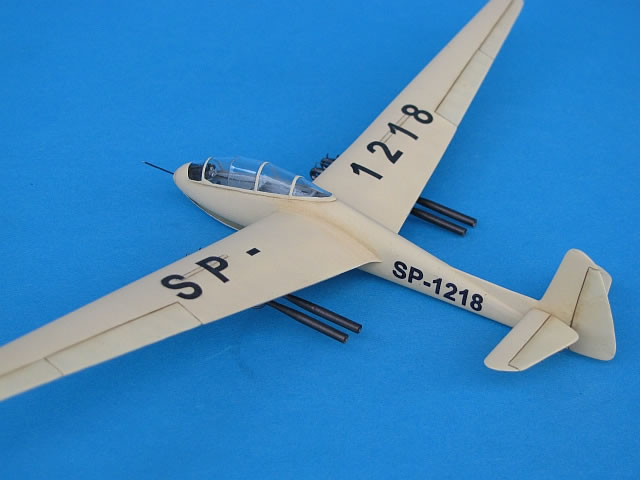 The wings were strengthened, and covered with metal sheets and asbestos, airbrakes were fixed in the closed position, and the fuselage and empennage was painted with fireproof paint. Four pulse jet engines, each giving 10 kG thrust were mounted under the wings, and additional equipement in cockpit and luggage compartment.

For the first flight the glider was towed by Cessna UC-87 Bobcat (SP-GLC).
After igniting the engines, it was become clear, that engines offered less thrust, but caused more drag, than was originally calculated, not letting allowing for \ level flight. The noise was terrible too. It could be heard from several kilometers, and pilots could not comunicate with each other.

After a few flights the program was cancelled as ineffective and nonprofitable.
PZW Siedlce's 1/72 scale kit SZD-9 D was produced many years ago, and has some nice as well as some bad parts. The fuselage, wings and empennage are good, but the cockpit canopy and undercarriage wheel are useless.
It is important to mention that this kit represents the SZD-9 D –version, slightly differing from the second prototype. My first step was therefore not construction of the cockpit interior, but plastic surgery.
After gluing together the fuselage halves, the undercarriage skid was removed and a new scratchbuilt item was substituted, together with the wheel well. The forward sweep angle of the wings was increased by grinding the wing roots. The shape of the rudder and elevators was changed, horizontal stabilizer was also replaced. The pitot probe, airbrakes and hand grips were made from scratch as well.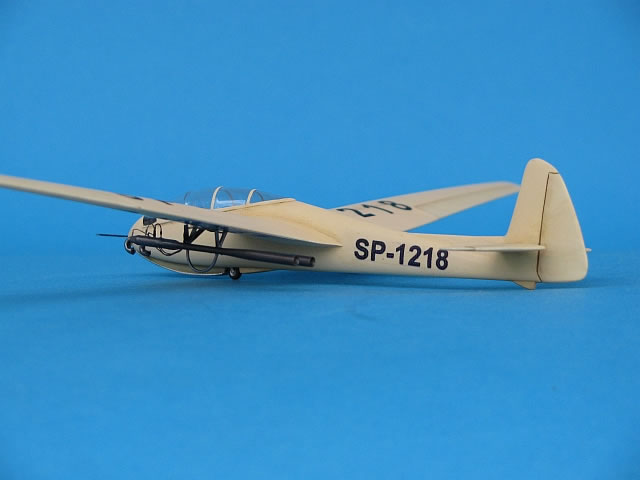 When I saw a picture of this glider with sun shining through the translucent linen covered parts, I immediately wanted to model this effect. I grabbed my Dremel drill and made over 250 holes. Then I cut off all spaces between ribs with sharp knife and cover it all with tranparent self-adhesive foil. Light misting of Gunze Mr. Base White offered good base for the paint.

All cockpit equipment was scratch built. Only Eduard's pre-painted seatbelts were added to give some life.
It would be a pity to cover all my hard work with the semi-transparent kit part, so I vacuformed a new, crystal clear cockpit canopy.
After masking, the airframe was painted with thin layer of Humbrol no 148- Radome Tan.
Decals were made and printed on my home PC.
After final varnishing some elements were treated with MIG pigments.
Thick self-adhesive aluminium foil was applied on the lower wing surfaces, simulating asbestos and metal fireproof cover. Jet engines were made from brass pipes, injection needles, wire and bent plastic rods. After painting with several shades of Alclad paints, they were glued under the wings.
Just listen! A four-engined jet-glider!
---
Model, Images and Text Copyright © 2009 by Piotr Dmitruk
Page Created 27 April, 2009
Last Updated 27 April, 2009
Back to HyperScale Main Page