Tamiya 1/48 scale conversion
Vought XF4U-1
by David Weeks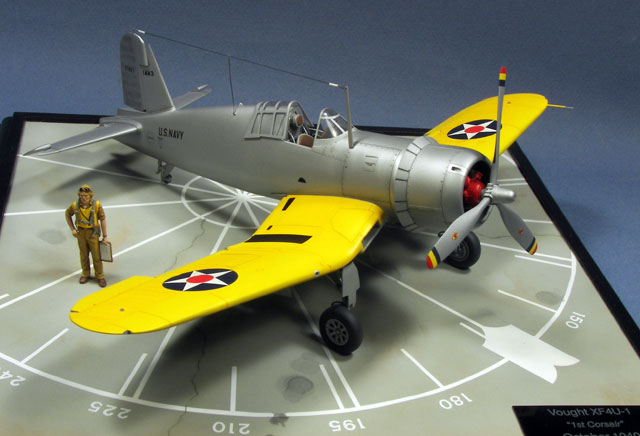 Vought XF4U-1


Tamiya's 1/48 scale F4U-1/2 Corsair is available online from Squadron.com


Here are some photos of my 1/48 scale Tamiya XF4U-1 conversion.
It took two Tamiya F4U-1 kits (I used a F4U-1/2 Birdcage and F4U-1D) to complete this project.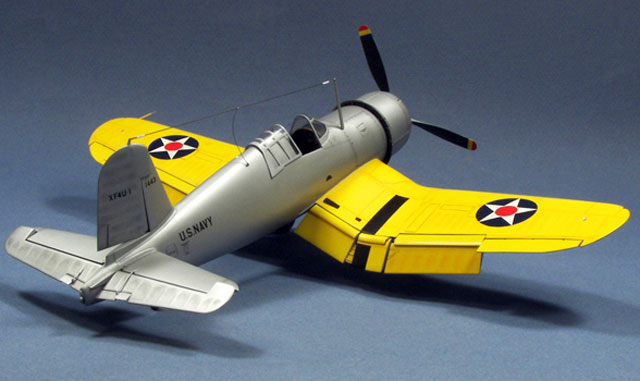 One could do this modification with only kit if the additional fabric work on the wings was dispensed with.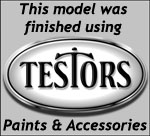 The following is a list of the modifications I made to the kit:
Fuselage Modifications
Shortened the fuselage (both forward and behind wing), relocated cockpit, shortened tail cone.

Filled and re-scribed fuselage panel lines (The XF4U-1 was hand-built and there were very few fuselage panel lines aft of the engine accessory compartment).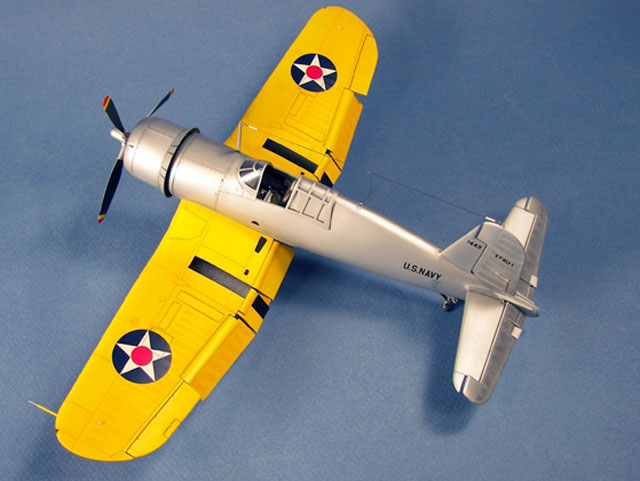 Filled in existing lower window rectangle and added "tear-drop" bomb aiming window under fuselage.

Added catapult hooks, scratch-built exhaust stacks and re-located forward antenna mast.

Used birdcage kit windscreen and flat topped canopy, lengthened aft end of canopy with sheet styrene, sanded off all canopy framework, re-located and then re-painted it.
---
Cockpit Modifications
Scratch-built main instrument panels.

Moved side consoles out-board and re-configured.
Added new lower sidewalls and scratch-built all added detail.

The only aftermarket parts used on model were Eduard Seat Belts and Placards.
---
Engine Modifications
Scratch-built details on engine crankcase housing to simulate P&W XR-2800-4 engine.

Scratch-built magneto housings, ignition harness, spark-plug wiring and misc. plumbing.

Added 30 cal blast tubes and gun ports in upper cowling.

Using second kit completed open cowling flaps over top of fuselage, added flap actuator details.

Used the propeller out of the birdcage kit.
---
Wing Modifications
Removed outer 50 cal wing guns and associated panels.

Used second kit to add fabric-covered areas further inboard on both upper and lower wing surfaces.

Added upper wing gun, ammo access panels and floatation bag panels as well as the under wing bomb bay doors.

Shortened ailerons and re-positioned aileron hinges, shortened and re-positioned left aileron trim tab.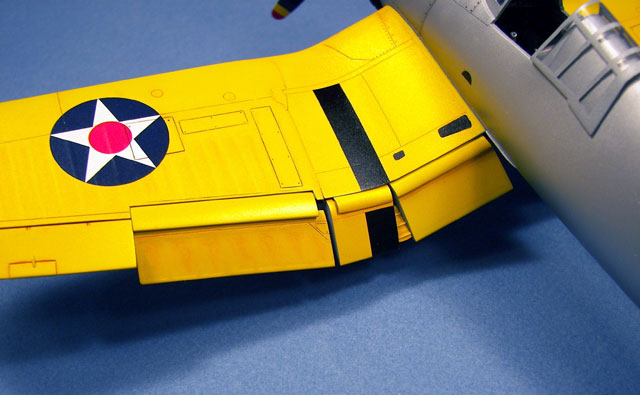 Used second kit to lengthened the out-board flaps. Reconfigured all flaps from slotted to deflector plate type.

Used the upper flap parts from the second kit to create the upper gap spanners for the inner flaps.

Re-positioned all flying surfaces. Removed identification lights on lower right wing surface and most access covers on the wings and horizontal tail surfaces.

Added clear navigation lights to wingtips as well as all other position lights.

Squared up outer edge of oil cooler intakes.
---
Landing Gear Modifications
Added brake lines, several small details and the coil around retraction cylinders on main landing gear struts.

Removed tread from tires.

Added prototype inner door detail to the main landing gear doors, added detail to gear wells.

Scratch-build new tail wheel assembly
Paint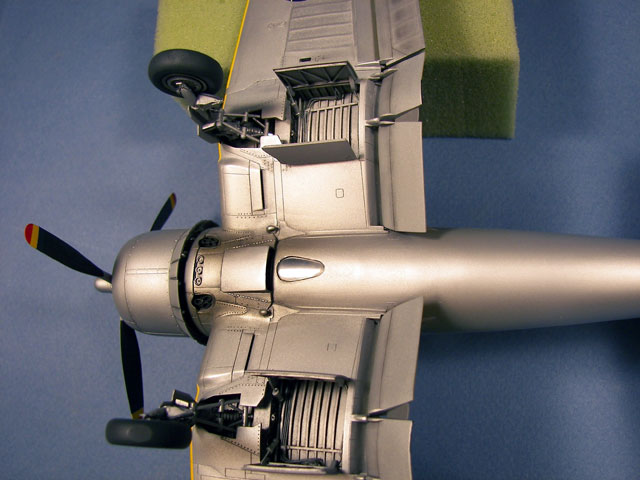 Gunze Yellow (H329) over Tamiya Flat White was sealed with a mix of Gunze Clear Gloss and Flat for the upper wing surfaces.

All shading/washes were done with chalk pastels.
---
Markings
The early U.S. Insignia and the "U.S. NAVY" came from the Aero Master sheet "Neutrality Patrol – USN 1941".

The serial number and the "XF4U-1" were pieced together from the Accurate Miniatures F3F-2 decal sheet.

The stencils were from a Scale Master F8U data sheet (1/72 scale).
---
Model, Images and Text Copyright © 2009 by David Weeks
Page Created 26 January, 2009
Last Updated 30 January, 2009
Back to HyperScale Main Page