Albatros D.II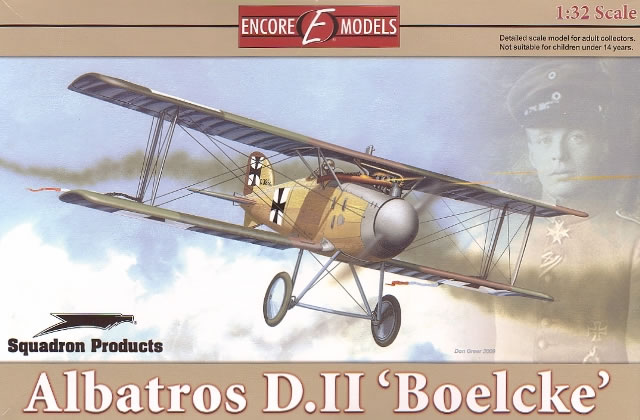 Encore Models, 1/32 scale
S u m m a r y

Catalogue Number:
Encore Models Kit No. EC32001 - Albatros D.II
Scale:
1/32
Contents and Media:
80 parts in tan coloured plastic; 82 photo-etched parts; painting maks; markings for four aircraft
Price:
USD$62.99 available online from Squadron
Review Type:
FirstLook and FirstBuild
Advantages:
A sound foundation kit to start from, superb resin engine, plethora of etched metal parts including a coloured fret, decals in perfect register with minimal carrier film, well detailed figure of the man himself.
Disadvantages:

The fit of the original kit will challenge inexperienced modellers.

Conclusion:

A well thought out upgrade of the existing 1:32 scale Roden Albatros D.I. By taking an existing release and sprucing it up with quality after-market extras we get a package that not only gives the modeller a much needed D.II but is also a lower price than the sum of its parts.

Reviewed by Rob Baumgartner


Encore Models' 1/32 scale Albatros D.II is available online from Squadron.com

When Roden released their 1:32 scale Albatros D.I they filled a very important niche in the marketplace.
Until recently, World War One aircraft of this size were few and far between. Now there are quite a few to choose from with more on the way. Although well detailed in their own right, the dimensions of these subjects encourage a higher level of detail from the modeller.
Traditionally these extras come in the form of resin and photo-etched metal parts. This release from Encore contains the original Roden kit as well as the aforementioned enhancements.
The first thing that strikes you is the superb box art from Don Greer.
Upon opening the box, we find 7 sprues that contain a total of 115 plastic parts. Also included is a generous bag of resin items, among which is a figure of Oswald Boelcke, but more of him later. To complete the package there are two frets of etched metal (one coloured), a set of white metal struts, an acetate sheet for the windscreen, and decals for 3 options.
The plastic parts were very well molded on my example although quite a few sink marks were found that will need filling. Thankfully most were located on items that had resin replacements or were due to be modified with bits of p-e anyway. There are also some ejector pin marks that will need removing with the biggest being seen inside the fuselage halves. None of this is too taxing although it does add a bit more time to the cleaning up process.
This release is supposed to represent a D.II, so a few modifications have to be made to the Roden original. As such we need extra parts so the contents are supplemented with the shorter outer struts in white metal. Although these should be strong enough for the job, I'd personally use the longer plastic items and shorten them to the correct length.
Now we come to the items that will make this kit a "show stopper". There are two frets of p-e with one of these being pre painted. A bag of resin goodies is also supplied and this covers the highly detailed 160-hp Mercedes D.III engine.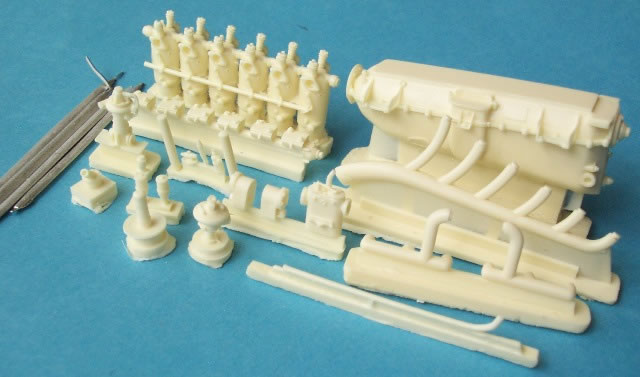 A comparison with its plastic counterpart reveals just how much additional research that has gone into this item. For example, we get the air pressure pump, something that always seems to be missing on other kit representations. Subtler changes are the 2 bolt heads on the rocker covers for these earlier engines as opposed to the 4 seen on later types.
Spark plugs and their ignition wires are all part of the moulding although the modeller is left to add those wires that went to the magnetos. The engine is a very impressive kit in its own right and it would be a shame to hide it in a fully cowled fighter. Should you choose to have the front of the Albie closed up, use this resin masterpiece as a template to add the more obvious details seen on the plastic version. There are photo-etched parts supplied to start you off in this direction.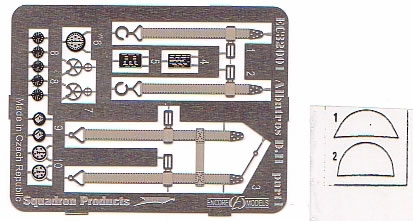 Speaking of the frets, there are 180 standard etched metal pieces as well as a further 15 coloured items.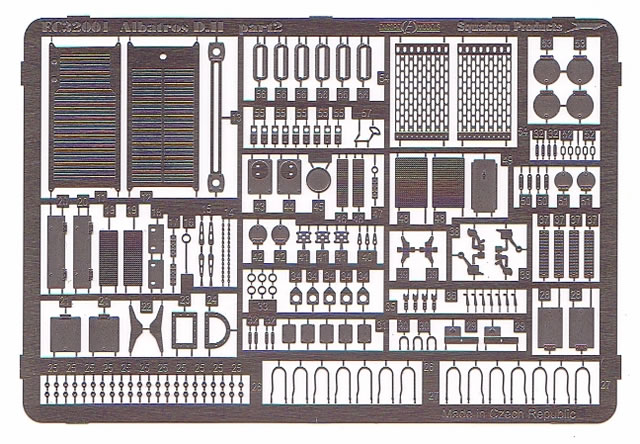 This comprehensive offering allows for the wing radiator that was seen on Boelcke's aircraft while other parts enhance the Windhoff ear radiators seen on the two Richthofen options.
Virtually every access panel, plate, step, cable entry, bracket, and strap that's moulded on the kit can be replaced by a p-e alternative. It's up to you how far you want to go but Encore should be commended for providing all of the choices.
The machine guns get the detailing treatment from this medium in the form of fretted jackets. This is essential in this scale and Roden unselfishly give the modeller the uncovered "Spandau" parts for this. The p-e enhances what is already a busy looking cockpit with better valve control levers, control column details and ammunition box enhancements. There is even a "chain" for the magneto switch key!
The coloured fret completes the extra detailing with seat belts, and faces for the tachometer, fuel gauge, and air-selector valve position indicators. Surprisingly there is nothing for the compass.
There are a vast number of bulkheads and other interior parts for the fuselage halves to contain. This will require quite a bit of test fitting to allow everything to fall in place and patience is required. One together though, it certainly is an impressive sight to behold.
The wings are single piece affairs with sharp trailing edges and no deformities of any kind. The ailerons are separate items and even include the characteristic "washout" at their extremities. Another good sign is that they include the actuators, which others have missed in their products.
The instructions are very precise on where everything is to go and includes a separate section for the addition of the photo-etched and resin parts. A rigging diagram leaves no doubt regarding this detail and a colour section tackles the aircraft and figure.
This figure represents Oswald Boelcke who was not only the leader of Jasta 2 but also a skilled tactician. It was under his tutelage that pilots such as Manfred von Richthofen honed their skills in the art of aerial warfare.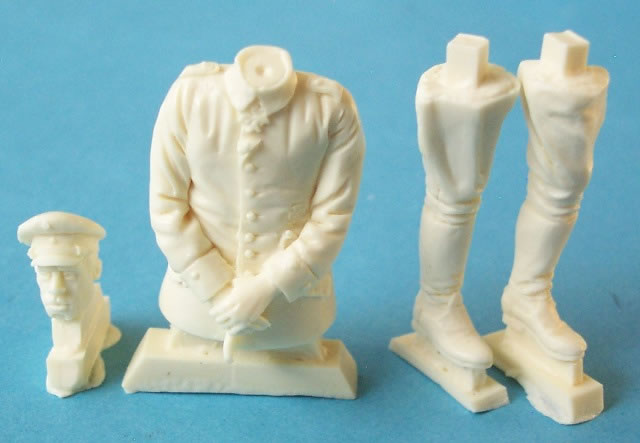 The figure is very well cast with fine detail and good overall features. Whether this translates to an adequate likeness of this famous personality will depend of the brushwork of the painter.
He wears the Pour le Mérite at his neck and the Iron Cross 1st class and Pilot's Badge on his chest. His button hole contains the ribbon of the Royal Hohenzollern House Order; Knight's Cross with Swords as well as that of a Life Saving Medal.
Sadly my example has a large air bubble on the chin which I assume is an isolated incident.

---
Marking Options
As befits a "Boelcke" kit release, his aircraft is one of the 3 options with his prize student contributing the other 2. The decal sheet is well printed by Cartograf so you can be assured of the quality.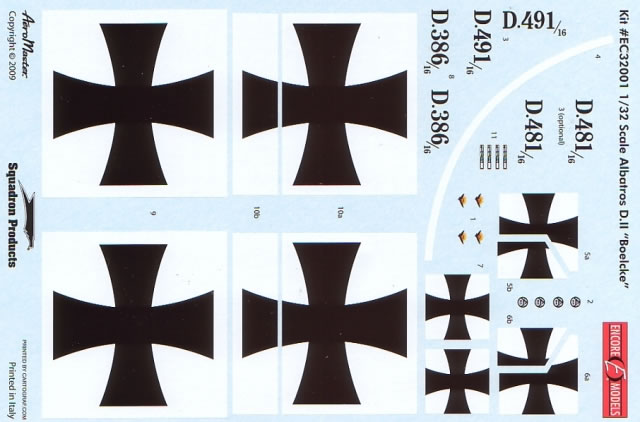 The minimal carrier film is very thin and the colour density excellent. As well as the usual markings, there are also Albatros and Axial logos to decorate your subject.
Albatros D.II 386/16, flown by Hpt. Boelcke Jasta 2, October 1916.
Boelcke died in this aircraft on 28 October 1916 after colliding with Ltn. Böhme during a melee with DH 2s of No. 24 Sqn. It carried a varnished plywood fuselage and camouflaged wings. The rudder was densely over painted in a swirled pattern with at least one photograph showing this application on part of the lower port wing. Note that tri-coloured streamers were also attached to the lower wings which are thoughtfully printed on the instruction sheet.

This is an important machine as Boelcke may have scored as many as 14 victories in this aircraft.
Albatros D.II 481/16 (?), flown by Ltn. Von Richthofen, Jasta 2, November 1916.
Sources vary as to the actual serial number of this aircraft so Encore kindly provides both types. It was either 481/16 or 491/16 and is presumed to have had a finish similar to the machine above. Photographs show it with a white stripe around the nose and with a very light coloured spinner. It certainly was a lucky aircraft for him as he is credited with 16 victories in it while at Jasta 2.
Albatros D.II 481/16 (?), flown by Ltn. Von Richthofen, Jasta 2, November 1916.
This machine now received a coating of red but to what extent is not certain. Thus the scheme presented is considered conjectural. It is thought to have flown in this livery for his 15th, 16th, and 17th victories. Richthofen eventually finished with 80 before meeting his end on 21st April 1918.
This is an excellent piece of packaging. It combines all those items that "super-detailers" require to turn a sound kit into one of outstanding one. The photo etched parts are ideally suited for a model of this kind and the superb resin engine can be displayed outside the aircraft in a multitude of diorama ideas.
This is encouraged by the figure which is an added bonus and will add a lot of "atmosphere" to such a scene.
The original Roden kit will take some skill to put together as the large number of parts need a bit of tender loving care to align correctly. This is especially true of the bulkheads so be prepared for a little adjustment of some key items.
The end will justify the means however as what you get is a very impressive Albatros D.II in 1:32 scale. The cost of the kit is not much more than the price of the original Roden release so this ensemble represents excellent value for money.
Thanks to Squadron for the sample
---
Review Text Copyright © 2009 by Rob Baumgartner
Page Created 24 February, 2009
Last updated 25 February, 2009
Back to HyperScale Main Page
Back to Reviews Page