Supermarine Southampton RAF & RAAF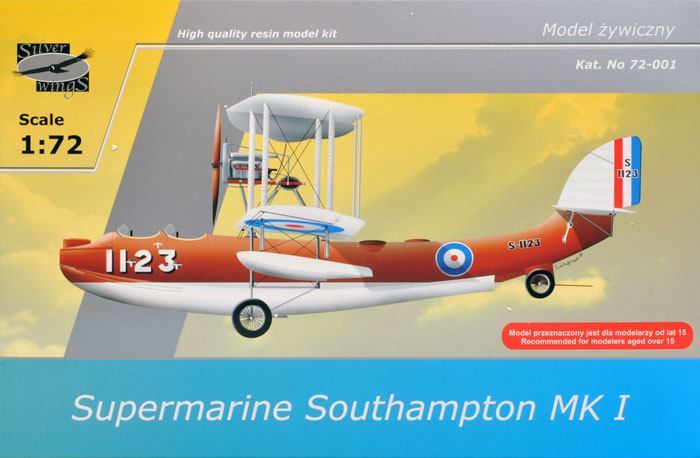 Silver Wings, 1/72 scale
S u m m a r y :

Catalogue Number:

Silver Wings kit number 72-001 - Supermarine Southampton RAF and RAAF

Scale:

1/72

Contents & Media:

About 210 x pale olive resin airframe parts, 1 acetate strip to cut canopies from

Price:

Available online from Silver Wings. Contact Silver Wings for pricing in your country.

Review Type:

First Look

Advantages:

Superb quality castings, good fit, wire-reinforced struts, very high level of detail, and excellent packaging.

Disadvantages:

Lack of list price and distributors, but overcome this by going to Silver Wings direct. Bank transfer requirement may add expense however.

Conclusion:

A superb kit, and marvelous first effort! Buy one now and watch for more Silver Wings releases.
Reviewed by Mark Davies


HyperScale is proudly supported by Squadron.com
Note: Images of the kit under construction have been supplied by Silver Wings.
---
The Supermarine Southampton was ordered from the drawing board following successful trials of the Supermarine Swan, from which it was derived. The Southampton was designed by Reginald Mitchell, and was the first new flying boat design to enter RAF service after the end of the Great War. First flown in March 1925, it was to have a service life duration for flying boats second only to the Short Sunderland.
Southamptons replaced the aging Felixstowe boats in RAF service, and incorporated a number of new design features. These included wing attachment by spar bracing tubes rather than using wing roots built into the fuselage. The fuselage was constructed as one piece, to which the hull's planing bottom and two steps were attached. The wooden fuselage of the Mk I was to be replaced by an all-metal one in the Mk II as it enjoyed a 900 lb weight advantage (500 lb structural and 400 lb water soakage). In fact some Mk I's were converted to use metal hulls later in their careers. One notable feat of the Southampton was its ability to maintain altitude on the power of one of its Napier Lion V engines, something few twin-engined aircraft of the time could do.
During its long service life the Southampton was subjected to various engine fits, experiments, and trials. One of interest was the three-engined Southampton development called the Nanok, designed for the Danes but not accepted. It was acquired by the Hon. AE Guinness of brewing fame, named Solent and converted to a luxury air-yacht and used for many years.
The Southampton saw military service with the RAF, Argentine Navy, RAAF, Turkey and Japan (I'm unsure of whether it was in naval or air force service for the last two). It was used in civilian service with Imperial Airways, and Japan Air Transport.
Given the two types of hull, and variety of engines and operators, Silver Wings has several possibilities for future releases based on this kit.
Personally, I think almost all flying boats are superb modelling subjects, and biplane ones even more so. The last Supermarine Southampton kit I'm aware of was a vac-form offering from Contrail that approximated to 1/76 scale (Scale Models Sep 1975 features a detailed build and several excellent interior detail sketches). Many readers will know that Contrail kits can be made to look very good, but often take a huge amount of work to do so, and are hard to find these days. Consequently this offering from a new Polish company, Silver Wings, is very welcome indeed.
The kit comes in a stout top-opening box with a lid featuring attractive glossy graphics and profile of the subject. The contents are enclosed in several zip-locked plastic nags, which are each in turn slipped into bubble-wrap pockets. This is a commendable way of packing a resin kit, and will serve to minimise transit damage A further zip-lock bag contains the decals and finally, loose in the box, is a quite thick strip of clear acetate with protective film on both sides (more on this later).
Instructions consist of 10 A4 pages in landscape format and bound using staples and white tape. The constructional drawings are very clear and straightforward to follow. Written information and colour call-outs are in English (although one notice is also in Polish). Colour scheme profiles are printed in colour, and are quite adequate for decal placement.
Where this kit really impresses is in the quality of casting. It's as good as any I've seen, and hits the benchmark for casting established by resin brands such as Czech Master Resin (CMR), Olimp Pro Resin, and Chorozny Modelbud. I have only test fitted some parts, but the main airframe parts come without casting block attachments of any kind and dry-fit very well. Equally unusual is that they feature fitment guides in the form of pins and holes just like a mainstream injected kit (the two fuselage halves came clip-fitted together in their bag and bubble-wrap pocket, and stayed clipped together when I took them out). The wings are each consist of three section plus two ailerons, and the again the wing sections clip together precisely using the pins and holes. Personally I feel this feature is indicative of production precision, rather than any significant constructional advantage, as I often remove guide pins from even the best of injected styrene kits.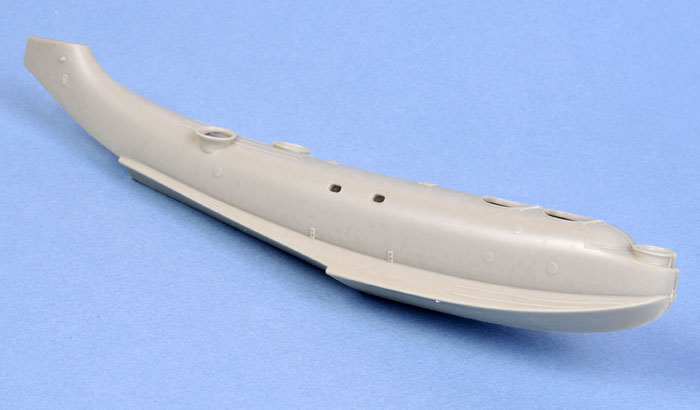 Surface detail of all parts is commendable, and I felt that the wing leading edge riblets in particular are very nicely captured. The main wing struts have a copper wire core inserted, which is quite an achievement given their fine section. In all cases these appear well located within their castings. The additional strength these will provide should be reassuring. Another nice feature of the strut casting is the way they are attached to their casting blocks by two thin attachment points as each end, thus reducing cleanup to a minimum after removal.
Interior detail is very good, and no doubt reflects research based on the wooden hulled Southampton Mk I beautifully restored in the RAF Museum. The interior wooden framing is cast into the fuselage halves; with further interior detail being built up on a separate floor, consisting of seats, their frames, rudder bars, control columns and so on.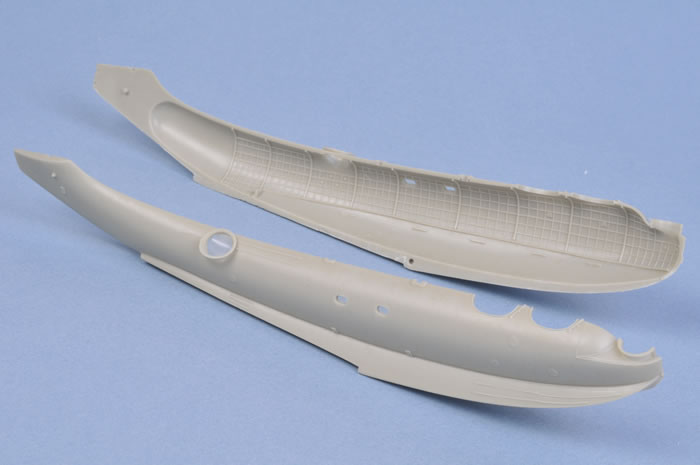 There is also what I assume to be a chemical toilet and a bailing bucket, along with ammo drum stowage for the Lewis Guns. Some incredibly fine castings provide throttles, which might have been easier to handle using photo-etch brass (more on this later). Much of this nice detail should be visible as there are five fuselage openings, and its interior is painted white.
The Napier Lion engines are simply beautiful, and include a considerable amount of detail. Perhaps surprisingly, given the considerable number of very finely cast detail parts, the modeller must make the coolant pipes between the engines, radiators and coolant tanks. Not that this is a problem as such.
All told there are bout 100 tiny detail parts, the largest of which are exhaust and Scarf mounts, and the smallest being things like mounting steps, throttles, navigation-lights and so on. They are all well cast, but will be tricky to work with when removing from their fine casting blocks simply because they will be so fragile.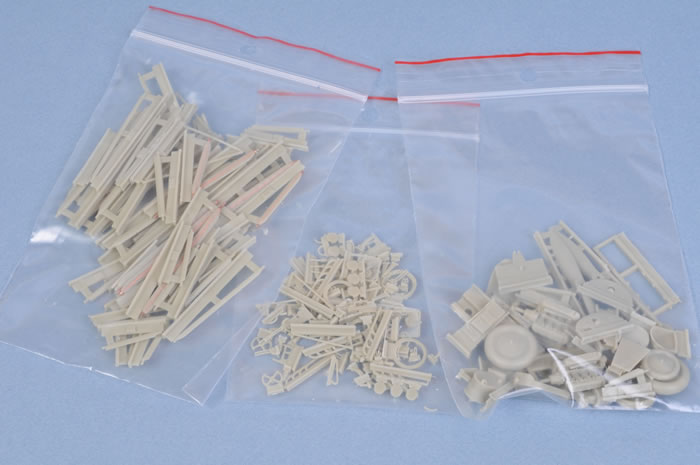 Beaching gear is provided, and it is here that a lack of photo-etch (PE) detail is most apparent. This is because both the kit's instructions and the photos I have seen show the use of open spoke wheels rather than the covered type provided by the kit. The use of PE could have provided spoked wheels, along with other details this medium lends itself to. Things that spring to mind are seatbelts, gunsights and easier to remove small items such as throttles in the manner of CMR and Olimp Pro Resin kits. The lack of PE is not a major issue, and would no doubt add cost. But, in my opinion, it would in some instances be easier to work with than resin parts no matter how well they are cast
There is only one area where I feel the kit falls just a little short, and that is its lack of a photo-negative style outline on acetate for the windscreens, and clear resin inserts for the hull windows. Instead it supplies a very thick strip of acetate from which the windscreens and presumably windows are to be cut. The windscreen outlines are printed to scale on the instruction sheet. Of course it will be a simple matter for modellers to find some thinner and easier to cut clear material, and the hull windows can be made from scrap clear styrene or Clearfix type products.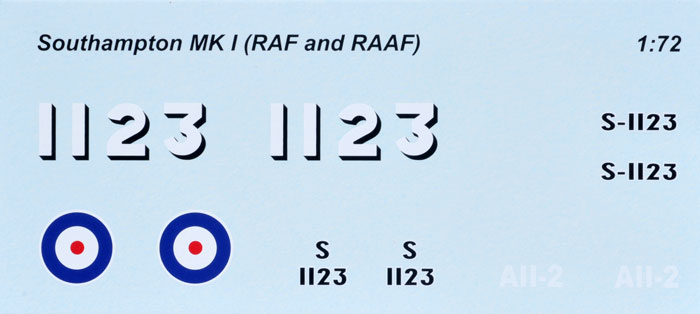 The decals provide for a RAAF machine of No 1 Training School, or a RAF machine of 205 Squadron.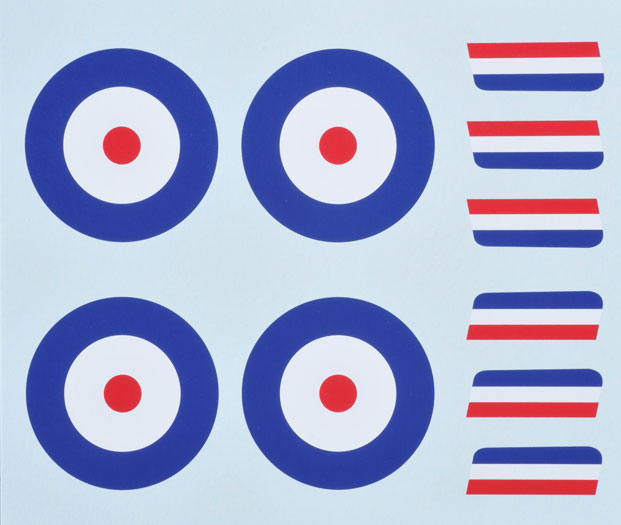 The decals appear to have good opacity and are well registered.
This is an outstanding first release that immediately places Silver Wings in the top ranks of resin aircraft kit producers. Biplane construction challenges aside, this should be no more difficult to build than a comparable injected styrene kit (the Roden Felixstowe or Cutis H-boat perhaps being the best comparison here). Some photos of the lit under construction appear in Silver Wing's gallery page (although only page 1 of 3 has images at the time of writing).
The only problem I foresee for sales of this terrific kit is that Silver Wings seem to lack a global distribution network, a Google search mainly seeming to identify Aussie eBay sellers. Silver Wing's website does not state the kit's price although they will reply emailed price inquiries.
I can understand a lack of distributors for a new company, as either their pricing strategy will not permit a stockist's margin, or because they wish to have a direct relationship with their end-user customer base. But whatever the case, I strongly suggest that they have a list price on their website for products, as most of us want to know what the asking price for any product is. Of greater concern is the need to pay by bank transfer, which is likely to add not insignificant cost to the purchase due to bank fees. Secure credit card payment via Silver Wing's website would be desirable, or simply offering Paypal might appeal to many would-be buyers.
Silver Wing's next release is to be a 1/32 Heinkel He 51, and whilst this is not my scale, I should think this will be a stunning kit if their Southampton is anything to go by. Silver Wings state on their website that they are focussed on the 1914-39 period, and so I would encourage all modellers with similar interests to support Silver Wings and contribute to their success.
Thanks to Silver Wings for the review sample
---
Text Copyright © 2009 by Mark Davies
Images of kit parts with blue background Copyright © 2009 by Brett Green
Images of kit progress by Silver Wings
This Page Created on 22 February, 2009
Last updated 21 March, 2009
Back to HyperScale Main Page
Back to Reviews Page