Wingnuts
Behind the Lord of the Wings

by David Wilson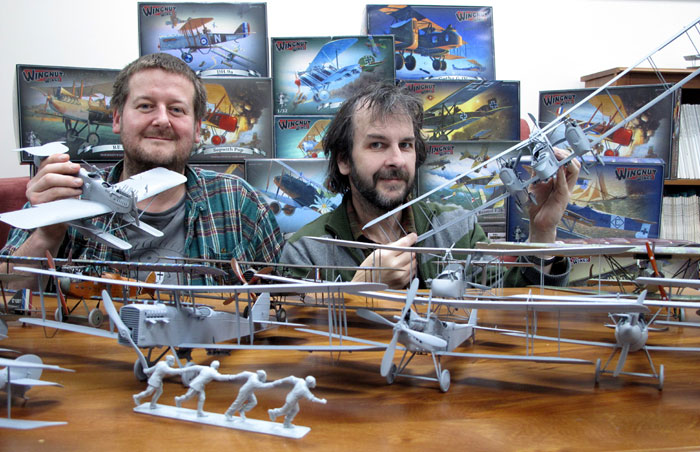 (From left) Richard Alexander and Sir Peter Jackson of Wingnut Wings

In the early 2000s, while completing the Lord Of The Rings movie trilogy that would catapault him to Hollywood fame, Oscar glory and a Knighthood, New Zealand film director Sir Peter Jackson quietly embarked on realizing a private passion- to create a new line of accurate, highly detailed large scale World War 1 aircraft models.
New Zealanders already knew Peter Jackson as a man with a lifelong personal fascination with World War One, and especially the aircraft of the Great War. Wingnut Wings announced this interest to the world.
Sir Peter, in exclusive comments for HyperScale, says he has never lost his lifelong interest in model making.
"I've made WW1 models since I was a kid, and if I can't build them due to work pressure, I still buy and collect unbuilt kits. Wingnut Wings is really a dream company for someone like me, who is lucky enough to take their hobby to another level."
What Sir Peter Jackson was able to do- thanks to the success of making blockbuster movies – was realize every modeller's dream- to start his own model making company.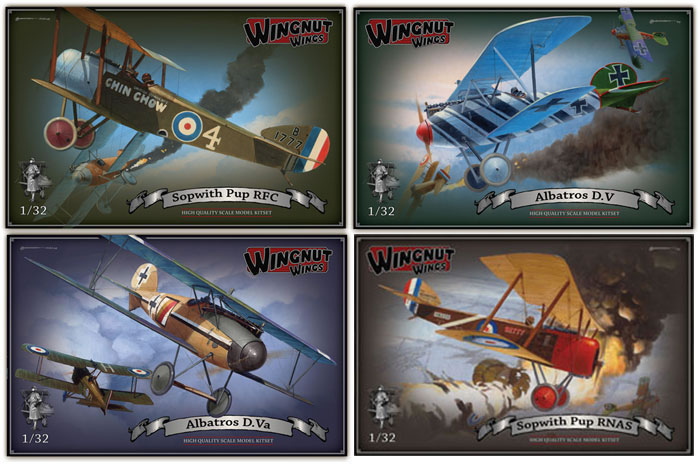 Richard Alexander, Wingnut Wings' Project Co-ordinator, who is in day to day charge of the operation, says the company's philosophy is simple:
"Peter's wish and Wingnut Wings' objective is to provide models the way Peter has always wanted models to be made- highly detailed, accurate, large scale WW1 aircraft models that are simple enough to be assembled by relatively inexperienced modellers and still achieve a good result all at a reasonable price."
Richard, an award-winning modeler with extensive experience in the model and hobby industry in New Zealand, became part of the Wingnuts operation around 2006.
"The project really gained momentum in late 2005 with the arrival of the mould and tool coordinator Umberto 'Taffy' Figliola. The initial digital modelling was done by people co-opted from movie CGI work but this has now changed. What makes for a great CGI model does not always work for a scale model kitset. Movie CGI software is also not really compatible for manufacturing purposes either.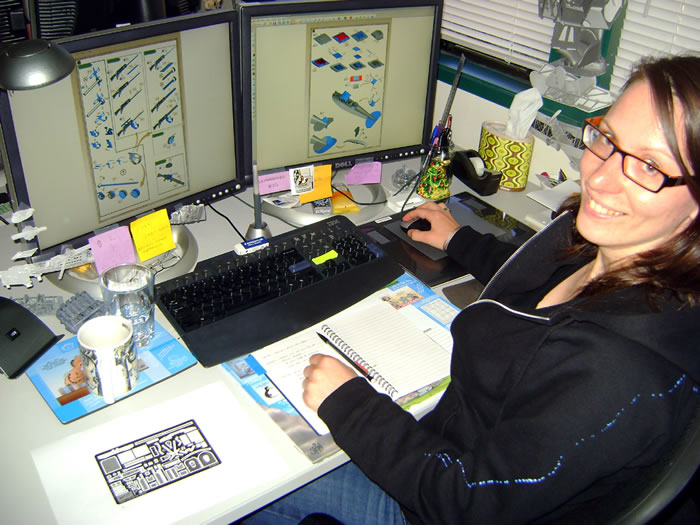 Steffi Hipp working on the LVG C.VI special edition instruction renders
---
"In the beginning Peter was able to oversee the digital modelling and engineering of the models but it soon became apparent that the project required more supervision than Peter had time for. This is when I was brought on board in the middle of 2006.
"My background is mainly 20 years of experience in the model and hobby industry and hundreds of built models from all the different genres of modelling, which has exposed me to all the good and bad that's been available in the hobby. This has enabled me to apply many (hopefully) elegant design solutions to the problems encountered when our models are broken up into their various parts."
However Richard emphasized Wingnut Wings continues to be Peter Jackson's vision and he keeps a close watch on the models being produced.
As well as his film making and movie effects houses, Peter Jackson owns an aircraft restoration and manufacturing company, The Vintage Aviator, which makes flyable 1:1 scale replicas of World War One aircraft.
TVAL reportedly laser scanned the Albatros DVa aircraft in the Australian War Memorial at Canberra, to help the company make an accurate flying replica. The laser scans were then shared with Wingut Wings to help design the 1/32 Albatros DV and Dva kits released in mid March.
Since its surprise launch on the world hobby market in April 2009 Wingnut Wings has announced a substantial release programme of new kits, special editions and aftermarket accessories such as decal sheets, photo etch, rigging wire and 1/32 resin figures.
It's all a bit mind boggling considering Wingnut as a model company was unknown until just a year ago. Wingnut emerged from a shroud of uber secrecy in April 2009 to be launched with a quartet of 1/32 model kits that redefined the standards of WW1 models.
The Junkers J.1, SE5a (Hispano engine), LVG C.VI and Bristol F2b Fighter kits stunned the modeling world, earning descriptions like "Tamiya quality" for design and engineering quality previously unheard of in the more niche world of WW1 modelling.
The frenzy that greeted the release of the kits has not abated and Richard Alexander says the release programme is fully booked through to the end of 2011 and beyond.
"We have many models planned for the years to come. At last count there were 33 unique aircraft model kits at various stages of production and development, this number does not include reboxings like the Pup variants or Special Edition releases." He said.
As well as the four kits released in March- the Albatros DV and DVa, Sopwith Pup RFC and Sopwith Pup RNAS – the 2010 release schedule includes:
Gotha G. IV

Pfalz D.111a

Roland D.Via

DH.9a

Hansa - Brandenburg W.29

Fokker D.VII

R.E.8

F.E.2b

D.H.2
"The release order will be dictated by the toolings and when we are satisfied with them," Richard said.
"During 2010 we will also start to release special editions of many of our models featuring at least 10 decal options, comprehensive etched metal details and resin figures for diorama builders

"We will also be releasing sets of 1/32 resin figures throughout 2010 and 2011 to help modellers build realistic WW1 aircraft diorama scenes," he said.
While those subjects are percolating through the chain, the 2011 release programme is also exciting offering subjects such as:
Fokker E.1

Fokker E.11/111

Pfalz D.XII

Rumpler C.IV
So how are Wingnut subjects chosen? Richard Alexander explains the process:
"We are modellers too so the decision process goes something like this;
Do we want to see a model of it ?

Do we have enough reference material to make an honest attempt at it?

Do we think other modellers will want to make a model of it?
"Of course we are always open to suggestions from our customers, we watch the forums and love reading customer suggestions, and encourage people to send in their requests to us. Unfortunately it is not always possible to answer every email but we do read them all," he said.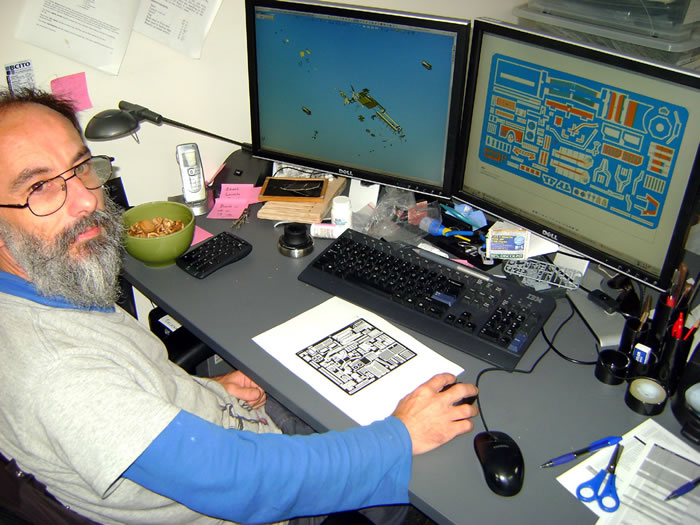 Stu Whitfield guards his nuts. On his screen can be seen the photo-etch 'cloud' from the forthcoming Albatros D.V special edition
---
Richard said Wingnut had no plans to shift its preferred scale to 1/48th.
"We feel 1/32 scale is the ideal scale for WW1 aircraft as they are quite small in comparison to WWII aircraft. The larger scale allows us to incorporate a high level of detail and at the same time the larger parts simplify much of the assembly.
"It also makes the job of rigging a lot easier. Rigging is an area which has probably prevented many prospective WW1 aircraft modellers from giving it a go but hopefully we've made this task a little more manageable."

Richard said Peter Jackson's "vision" is in every kit.
"Peter is a very busy man but initially he was very involved in the design process for each model. This is particularly visible in the design of the LVG C.VI tailplane. It is his vision that dictates that our models are simple to assemble, with nice deep strut holes and big wing tabs to ensure correct wing alignment etc.
"This is a vision that I believe it is the only way to attract new modellers to the WW1 genre. The simple to follow blue on grey assembly steps and overall 'look' of the instructions are also part of Peter's vision. These days his involvement is less hands on, leaving much of the key design decisions up to myself and the various digital modellers," Richard said.
He said the design of a new Wingnut Wings kit now follows a steady process.
"I normally assign two digital modellers per aircraft (usually teaming an experienced digital modeller with a recent arrival) who do all the digital modelling and much of the research. I spend several hours a day reviewing every modeller's work, kit design, parts breakdown and fact checking their research.
"Once the digital modelling is completed and I have given final approval of the model it is handed on to Taffy Figliola, the mould-tool coordinator, who double checks that all the parts are suitable for injection moulding and tooling.
"When this is completed we design the parts layout of the sprues and send the files off to the tooling factory. Concurrently with this, the instruction illustration renders and basic layout is being worked on by Steffi Hipp, the photo-etch is being designed by Stu Whitfield and decal art is being drawn up by Malcolm Laird using Ronny Bar's beautiful profile art as a start point.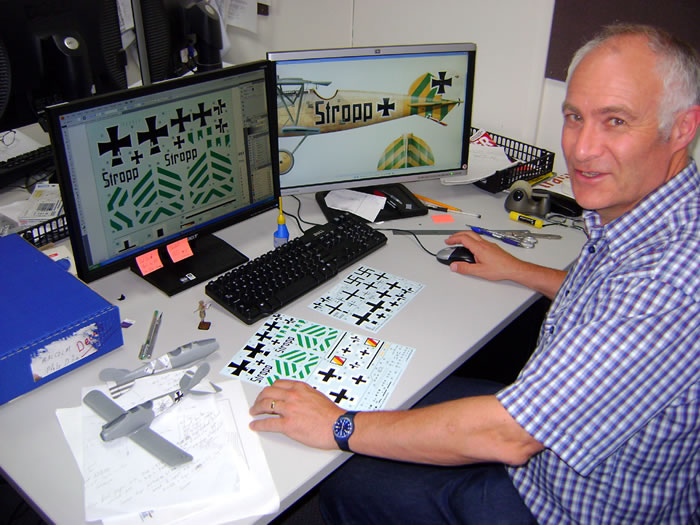 Malcolm Laird checks the decals for the Albatros DVa printed from his artwork against Ronny Bar's profile art
---
"Usually the very last thing to be completed is the instruction manual which I write up and Brad Goff, the graphic designer, puts the finishing touches on. Brad is also responsible for laying out each overall box art design incorporating Steve Anderson's inspirational box art paintings and Ronny Bar supplies our beautiful profiles," Richard said.
"All the design work takes place in Wellington but all our tooling, photo-etch and printed material (excluding decals) are produced in Asia at various factories. Our decals are printed by Cartograf in Italy.
"I have 13 full time people working with me in Wellington. None are from, or involved in, movie work. This includes eight digital modellers, three graphic artists/renderers and one mould/tool coordinator."
Experience has cut down the gestation period for new kits. From concept to having a finished and boxed kit in the hand is now down to as little as a year and a half.
"Some projects are more difficult and time consuming than others, mostly to do with complexity (as in the case of the Gotha) and availability of suitable references" Richard said.
He dismissed rumours the Wingnut kits were tooled or moulded by Trumpeter in China.
" I was surprised to read this somewhere and, while Trumpeter (and Dragon) are producing some great models, they are not producing ours. It is just not true. Also, while our first eight releases have been moulded in China, not all of our kits are being tooled there."

In the early days, Wingnut being based in New Zealand and the moulding happening in China generated its own problems, he admits.
"In the beginning it certainly did. Often the Chinese want to be too helpful sometimes 'improving' things for us which of course takes quite some time to get 'unimproved' back to our original specifications. This situation has improved over the years and now we have very capable people overseeing production. We receive sample test shots to monitor progress and this process usually takes three to four shots before we're completely satisfied with the tooling and feel ready to go into production." he said.
Planning's also well ahead on the reissue of some kits as "super" editions.
"We're working on perfecting the various components for the Special Editions and we hope this shouldn't take too much longer. We have been conscious to keep the photo-etched parts count of our standard edition kits low but the gloves have come off for the Special Editions, some of which will have over 250 photo-etched parts.
"Prices are yet to be determined, but like our other kits, they will be competitively priced. Often buying aftermarket decals, photo-etch and resin figures can easily double the original kit's price, or even higher, and we're not doing that. Our Special Editions will be value for money – we're determined to give modelers who already own the basic kit, real satisfaction." he said.
However modellers hoping for Wingnut kits of WW2 subjects such as a 1/32 Lancaster will be disappointed.
"We are concentrating on WW1 subjects. Personally I feel that the vast majority of WW2 subjects have been covered pretty well in 1/32, " Richard said..
"It's possible that by producing very high quality kits of WW1 subjects we will draw even more people into the WW1 market thereby increasing the size of the marketplace. This situation is also partly why we have been so open about many of our upcoming releases, letting everyone know what we've got planned in the hope of reducing the duplication of our ranges. We keep our development under wraps until we're at least done with tooling – it lets other companies know what's happening, but probably won't give them time to get a competing kit out. Having said that, of course we have a few surprises up our sleeves yet.
One surprise is the decision not to do a 1/32 Sopwith Camel..
"There's a pretty good new tool 1/32 Sopwith Camel already available from Hobbycraft. While I'm not going to completely rule one out in the future it is not currently being considered (despite what some may have read on the ever reliable internet).

Nor are there plans to do a Viper-engined SE5a.
"But if we get enough requests for a subject we will consider it."
Nor does Wingnut have any plans to establish distribution centres outside New Zealand. While the company has won international fans with its free postage anywhere in the world deal, this will end soon.
"Postage costs will be based on the NZ Post international postage calculator and not any proposed postage rates from Wingnut Wings. Our future shipping charges have not been finalized," Richard said.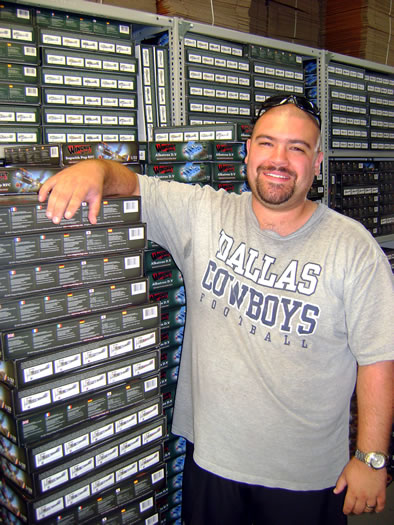 Dave Johnson - Warehouse Manager Dave Johnson with a stack of new release Sopwith Pup RFC and Albatros DV kits about to be despatched around the world.
---
Peter Jackson said he was delighted modellers were enjoying the Wingnuts kits.
"I look forward to hearing reactions to the long line of great kits we've got coming up. We've taken our time to get things right, and I'm sorry for the delays. They are caused by nothing more than us wanting to get everything as right as possible, and now we've got most of the bugs sorted.
"We're on the verge of "getting into our stride", as the saying goes. The modeling team are doing wonderful work. Richard is doing the work of three people, and still enjoys all of your feedback. But do me a favour, and feel free to drop him a line simply saying "go faster!" He gets that from me everyday!" Peter said.
While Wingnut Wings is a business, in Peter Jackson's eyes it's more than that and his message to HyperScale readers is: there's lots more to come.
"I'm determined to keep the hobby aspect going, which is why we are not driven by market forces and profit – it would then become something I don't want it to be.
"I have many ideas and dreams for the company and you should look forward to many surprises in the future – we've barely started."
---
Text Copyright © 2010 by David Wilson
Page Created 18 March, 2010
Last Updated 18 March, 2010
Back to HyperScale Main Page