As comedienne Judy Tenuta might say,
"Hey, it coulda happened!"...
North American N.R.349
by "Bondo" Phil Brandt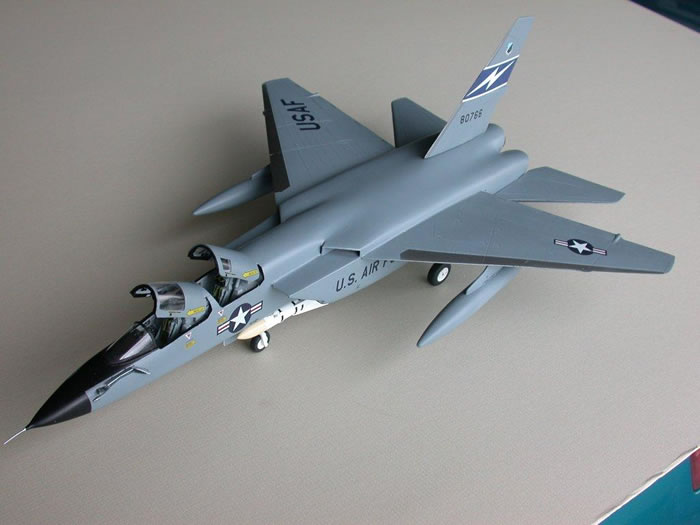 North American N.R.349

Special Hobby's 1/48 scale Spitfire Mk.VC is available online from Squadron
So...three years ago, give or take, I'm looking at my newly acquired Trumpeter 1/48 RA-5 Vigilante injected kit. Next to it on the shelf is its obsolete predecessor, the (now) essentially worthless $189 Collect-Aire resin release which for years had been the only 1/48 Vigilante kit extant, especially since the ballyhooed-in-advance Meteor Products Vigilante release of the Nineties turned out to be "vaporware."
Usually this curmudgeon bows to the inexorable march of modeling science and willingly consigns such obsolete kits to the Bondo Industries Reclamation and Part Repository, but $189 is $189, and that dollar outlay edged me closer to doing something useful with the big chunk of resin, ie. "dance-with-the-one-that-brung ya."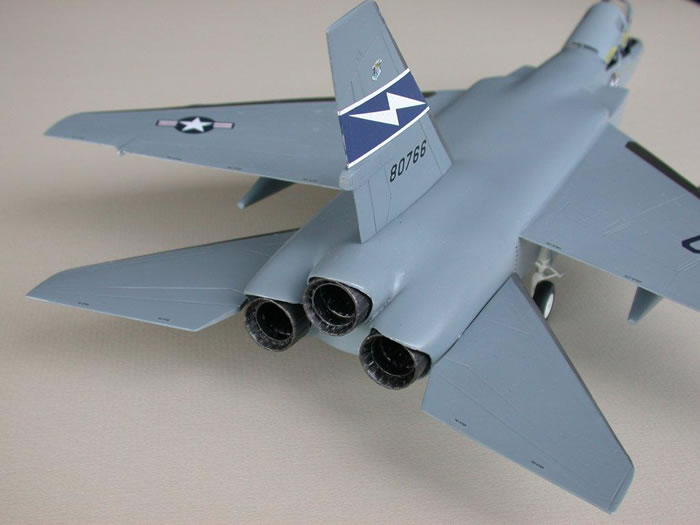 The old-but-still-excellent Aerofax Vigilante book had a brief paragraph or two and a couple of artist's renderings, including an airframe " see-through" of a Fifties/Sixties North American design study, the N.R.-349, aimed toward selling converted three-engined Vigilantes to the Air Force as Phoenix missile-carrying replacement interceptors for Convair's long-in-the-tooth Deuces and Darts, and even in place of the F-108, then also in development. Three proven J79s would have produced a goin' machine; the two-engine airframe development work had already been done, produced and was operational in the Navy. But, in the heat of DOD bidding wars and developmental turbulence of the time, the design study never made it to the mockup stage and, as we all know, the Seventies produced a hands-down winner of the interceptor sweepstakes for the succeeding three decades, the venerable F-15.

Fuselage
Much of the model's USAF conversion occurs on the resin fuselage top, where two smaller horizontally-arranged jet intakes had to be fashioned out of plastic sheet, translating into a large empennage hump housing the third J79.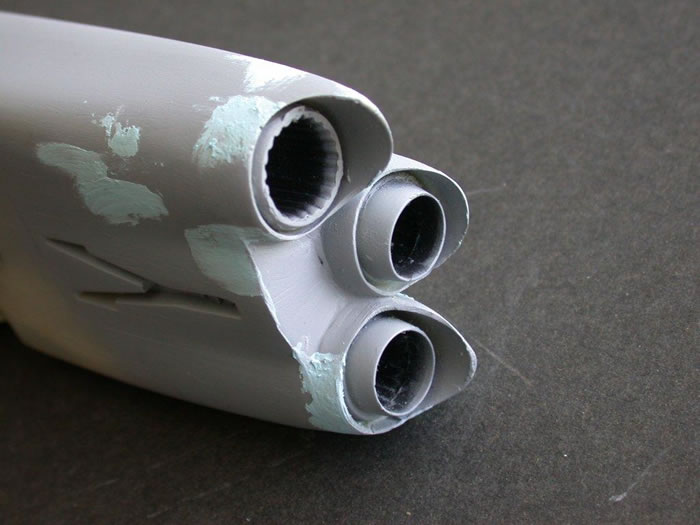 Interlocked plastic formers outlined the new profile, and the spaces were filled with A&B epoxy putty which is fairly easy to mold with wetted fingers.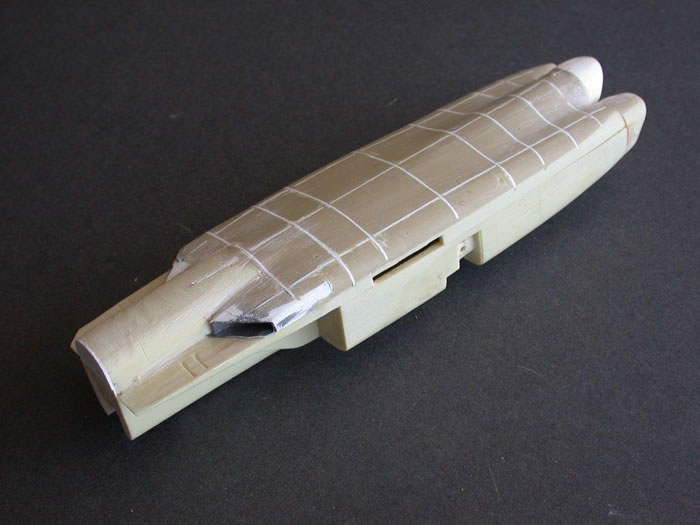 An injected Trumpeter jet exhaust outlet was used as a master for an RTV mold, which, in turn, enabled the casting of the third engine outlet.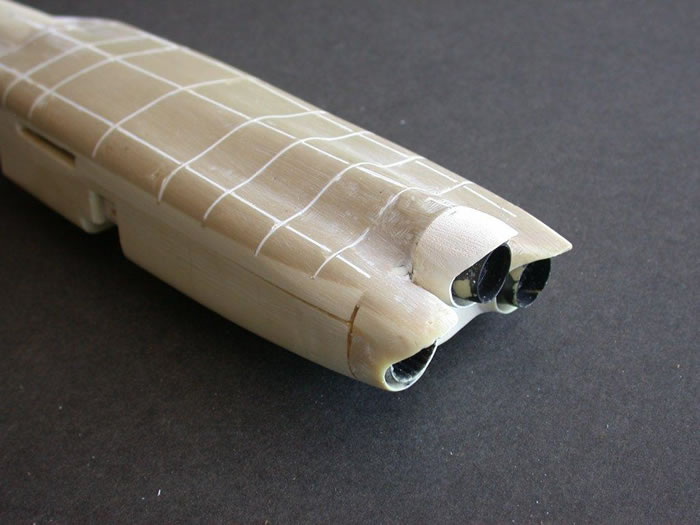 Initially, I planned on using the Collect-Aire forward fuselage assembly en toto, but there were just too many nitnoys with which to deal (such as a vac'ed canopy), plus Eduard PE was readily available for the Vigilante cockpit. So...it was time to mate the entire Trumpeter forward fuselage to the slightly-larger-in-diameter Collect-Aire mid-aft assembly; not exactly a Tamiyagawa-grade fit!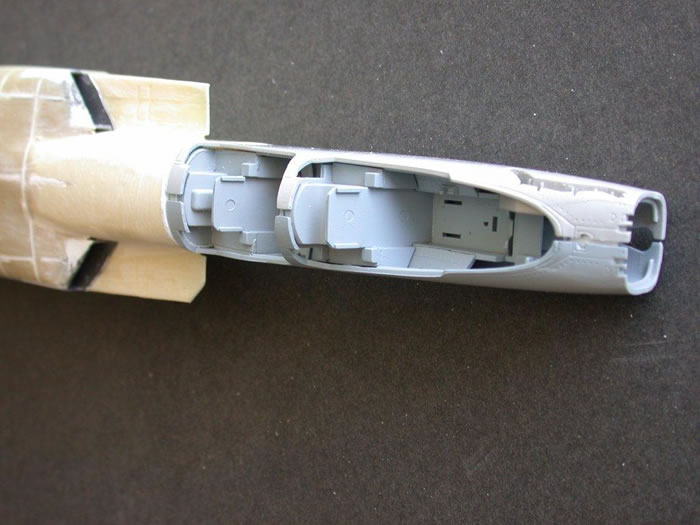 Additionally, the prominent recce sensor "canoe" on the RA-5C underside had to be significantly lengthened forward to provide a launching surface for up to six Phoenix missiles shown in the Aerofax artwork and was altered to allow nesting of the nosegear.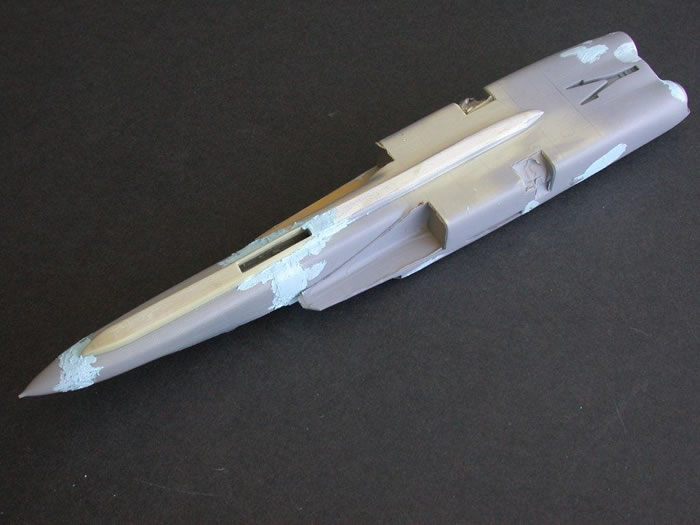 The Collect-Aire canoe was used as a master to cast additional lengths of canoe.
---
Cockpit
Straightforward Trumpeter injected components were used, with Color-Etch Eduard seatbelt harnesses/instrument panels.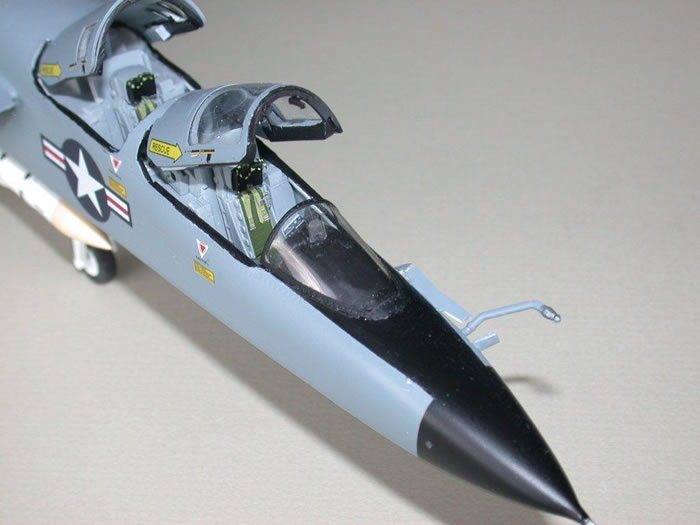 The Collect-Aire kit included resin inner surfaces for each canopy to give needed thickness to the thin vac'ed outer surfaces.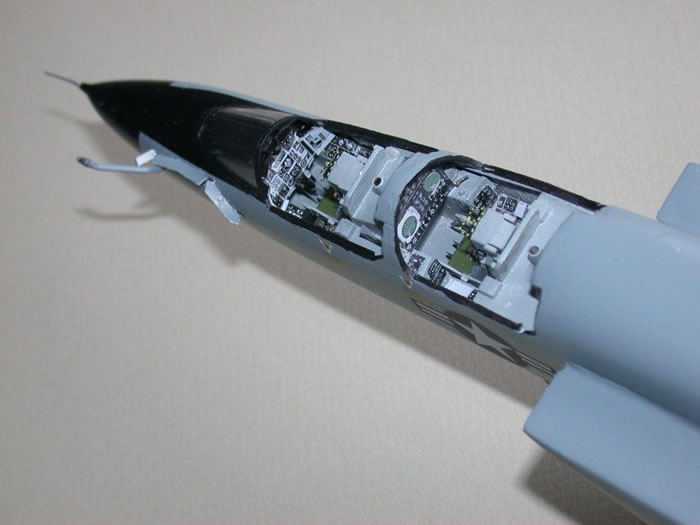 Pix of the real deal reveal that, much like the hatches on a B-58, the canopies are substantially thick assemblies.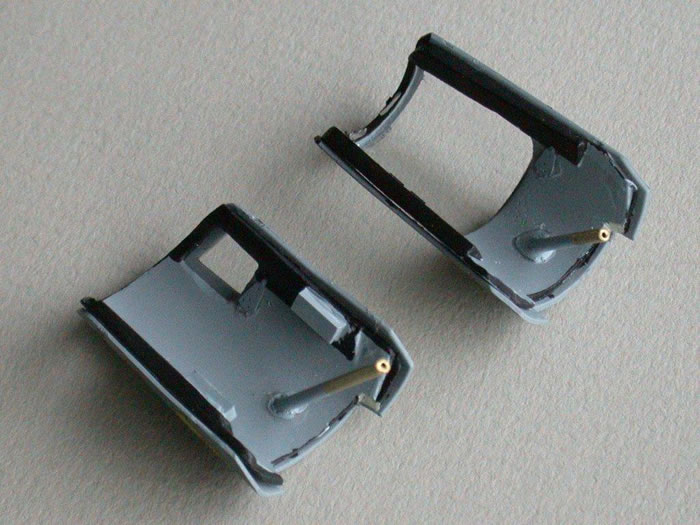 Accordingly, I adapted the Collect-Aire inner resin pieces to the injected clear Trumpeter canopies.
---
Landing Gear
Initially, I was concerned with the significant weight, not only of the original Collect-Aire resin castings, but of the added A&B monolithic fuselage top. A close examination of the Trumpeter injected struts led me to believe that they could indeed carry the weight without long term deformation.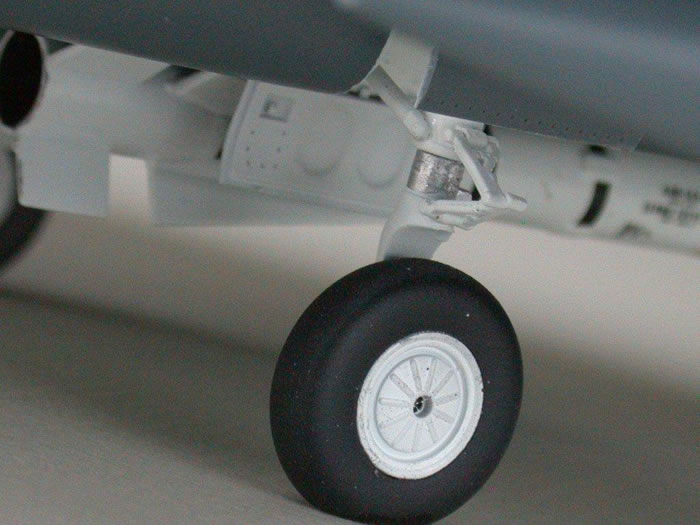 Each maingear strut has two large horizontal locating pins, and I Dremeled holes for these in the already substantial sidewall of the resin fuselage. The nose gear, of course, needed no adaptation, since it would be Trumpeter-mounted-in-Trumpeter-gear-well. The better-detailed Trumpeter gear doors have been slightly trimmed to match the Collect-Aire gear well openings.
---
Wings
Once again I originally considered adapting the multipiece injected wings, with their individual leading edge and main flaps, but the engineering difficulties and fit to the Collect-Aire fuselage and intake area didn't, in my elderly mind, justify the overall effect, which to me, at least is governed not by wings, but by the three large engines.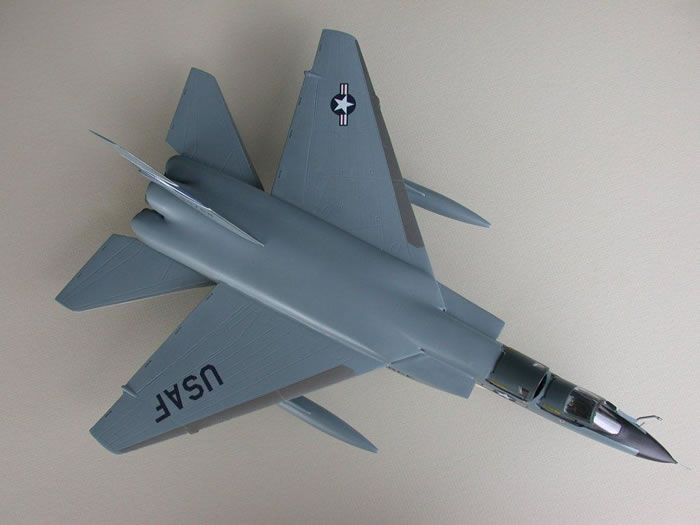 The nicely engraved Collect-Aire wings are one-piece and fit perfectly. Re extra fuel tanks: I reasoned that a thirsty third J79–you oughta see those fuel flow meters spin, as I have, when the Romeo Fox Four is in full blower--would definitely require externals, and what better ones to use than those already on a supersonic F-106 which the 349 was supposedly intended to replace? Monogram to ze rescue!
---
Weapons
The Phoenix missiles are from the venerable Hasegawa Weapon Set series.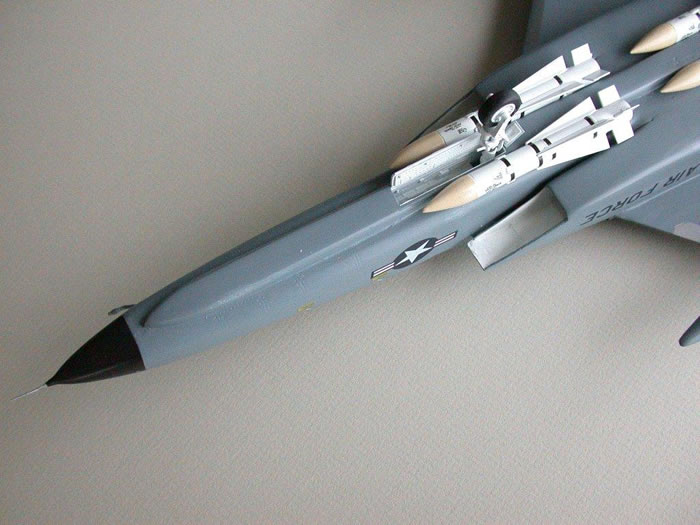 I portrayed this model with only four due to esthetics–two forward missiles jutting out just behind the radome simply didn't look attractive.
Many iterations of auto primer and Blue Acryl lacquer putty, followed by laborious wet sanding (up to 8000 grit), eventually provided a decent base for Tamiya Haze Gray spraycan lacquer.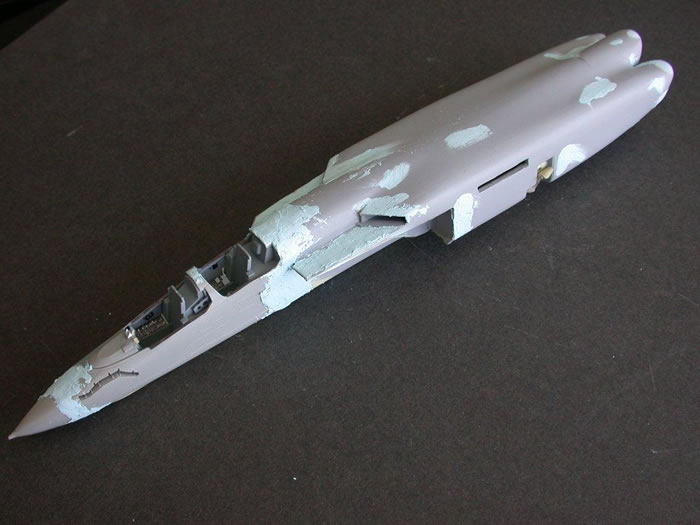 I would've chosen "F-15 Gray", but Tamiya doesn't make that color in lacquer, or in a spraycan, my preferred painting technique for larger models having just one or two colors.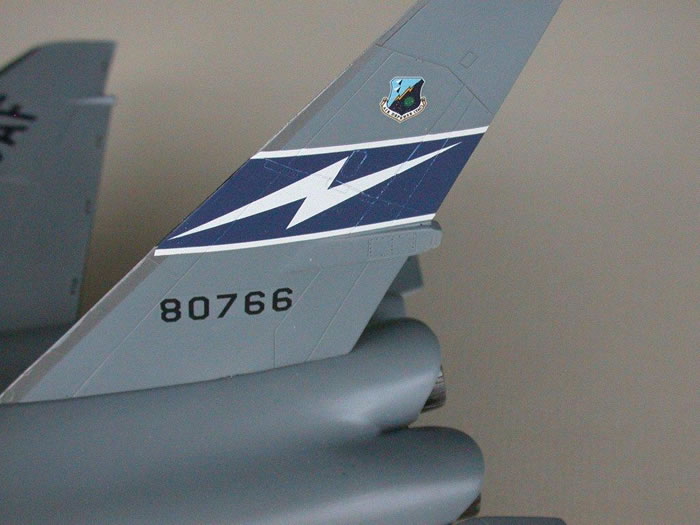 Decals are from various Aeromaster sheets; the tail logo is, appropriately, from a 106 outfit.
One of our senior Austin Scale Model Society club members (a longtime Nats judge) joked with me that the N.R.-349 was a modern day American equivalent to Luftwaffe '46 dream schemes, to which I offered a smiling rejoinder that the BIG difference is that "we're" still here!
---
Model, Images and Text Copyright © 2011 by by "Bondo" Phil Brandt
Page Created 9 August, 2011
Last Updated 10 August, 2011
Back to HyperScale Main Page