S u m m a r y :

Catalogue Number, Description and ISBN:

Kagero Monographs 46 – Messerschmitt Me 262 Schwalbe Vol.1
by Marek Murawski and Marek Rys
ISBN: 9788361220893

Contents & Media:

Soft cover, 96 pages, A4 format

Price:

Available online from Casemate Publishing for £19.99

Review Type:

First Look

Advantages:

Useful history of the Me 262's development accompanied by good period photographs; superb three-dimensional CAD walkaround images which examine the Me 262 from all angles

Disadvantages:

Possibility that CAD images may be less accurate than original photographs of the real thing

Conclusion:

Highly recommended

Reviewed by Brad Fallen


HyperScale is proudly supported by Squadron.com




There have been many books written about the Messerschmitt Me 262, but I suspect none before from this angle. I use the word "angle" deliberately, because this book – the first of two volumes promised on the subject – is listed as a '3D' edition of Kagero's popular series of aircraft monographs, and portrays the Me 262 as few readers will have seen it before.
The book begins conventionally enough, with a thorough examination of the concept of jet propulsion, further refinement of the idea in Germany during the 1930s, and the development of the Me 262 from initial design to the beginning of full production in mid-1944. This first section of the book is illustrated with a nice selection of (necessarily) black and white photos of various prototype and operational Me 262s – only some of which I had seen before – and concludes with a detailed bibliography and endnotes section.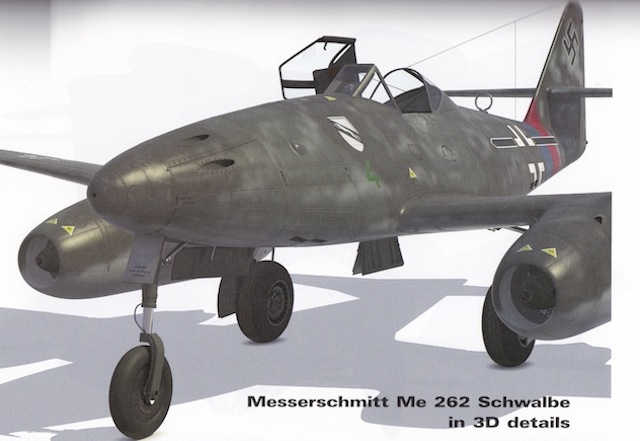 What sets this book apart are the following 55 pages, which provide an exceptionally detailed CAD walkaround of an Me 262A-1a airframe, both complete and reduced to many of its component subassemblies and parts, such as:
• Fuselage internal structure and assemblies

• Interior detail of engine cowling panels

• Six pages dedicated to the Jumo 004 turbojet engine

• 10 pages dedicated to the Mk 108 cannon and other assorted weaponry

• 16 pages dedicated to cockpit details, and

• nine pages dedicated to undercarriage details
These illustrations are crisp, subtly coloured and – yes – three dimensional in appearance. It's hard to imagine how anyone modeling an Me 262 subject could require more detailed information than what is provided in this virtual walkaround. While in my view there is no substitute for a good photograph of the subject you're modeling, how many times have you searched unsuccessfully for a clear photo of that specific cockpit part that you absolutely have to get right? Assuming that Kagero have done their homework here and produced accurate drawings, you won't have this problem any more in relation to the Me 262.
The book concludes with eight 1/48 scale black and white profiles of different Me 262 variants, with the differences between each type usefully highlighted in yellow. These variants will be examined in more detail in Volume 2 of the series, which will also consider the Me 262's operational history, camouflage and markings, as well as reprint original technical and flight manual illustrations.
This is an excellent book that deserves to sell well. While purists may look askance at its reliance on CAD images rather than photos of the real thing, this technique enables Kagero to examine details of the Me 262 that would be almost impossible in a traditional walkaround volume. And the inclusion of original technical drawings in Volume 2 should provide a useful point of comparison with the modern 3D illustrations. Hopefully Volume 2 will be published shortly, because on the basis of what I've seen here, I'll be buying a copy.
Highly recommended!
Thanks to Casemate Publishing for this review sample.
---
Review Copyright © 2011 by Brad Fallen
This Page Created on 23 August, 2011
Last updated 24 August, 2011
Back to HyperScale Main Page
Back to Reviews Page