RCAF Sunderlands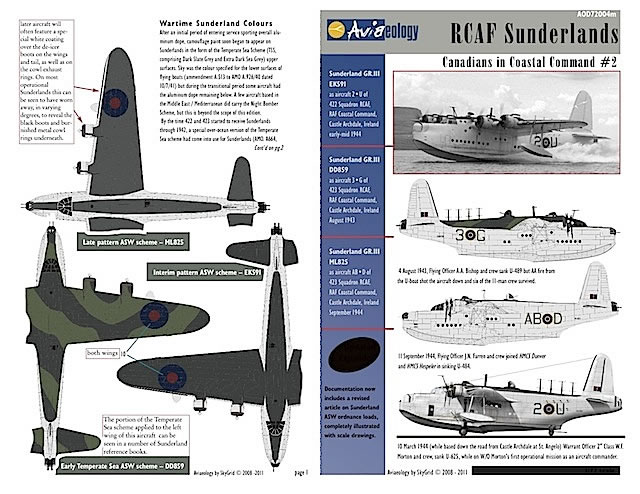 Aviaeology, 1/72 scale
S u m m a r y :

Catalogue Number and Description:

Aviaeology Item No. AOD72004m - RCAF Sunderlands

Scale:

1/72 (also available in 1/48)

Contents and Media:

1 x waterslide decal sheets of national markings, code letters, serial numbers and (in 1/72 scale) porthole outlines; 5 page A4 black and white instruction sheet featuring marking options for three aircraft, which is also available to Aviaeology customers as a printable full-colour PDF.

Price:

AOD72004m – CAD $9.59 each
Also available in 1/48: AOD48004m – CAD $16.99 each
Available online from www.aviaeology.com

Review Type:

First Look

Advantages:

Interesting subjects, high quality decals and outstanding instructions

Disadvantages:

None noted

Conclusion:

Very highly recommended – almost worth buying for the instructions alone if you are considering a Sunderland project
Reviewed by Brad Fallen


HyperScale is proudly supported by Squadron.com
When Mark Davies reviewed Aviaeology's 1/72 "RCAF Beaufighters – Canadians in Coastal Command #1" decal release here on Hyperscale last April, he concluded that it was one of the best packages he had ever seen. Aviaeology's follow-up Coastal Command offering, focusing on RCAF Sunderlands, is similarly impressive.

The release provides markings for three Canadian Sunderland GR.IIIs that operated from or very close to RAF Castle Archdale, Ireland in 1943 and 1944:
3-G/DD859 flown by Flying Officer A.A. Bishop of 423 Squadron RCAF, RAF Coastal Command. This aircraft, which destroyed U-489 on 4 August 1943 but was shot down in the process, was finished in an early version of the Temperate Sea ASW scheme of Dark Slate Grey and Extra Dark Slate Grey over White. It was probably also fitted with the ASV.III radar installation.

2-U/EK591 flown by Warrant Officer 2nd Class W.F. Morton of 422 Squadron RCAF, RAF Coastal Command. This aircraft sank U-625 on 10 March 1944 during W/O Morton's first operational mission as commander. It was camouflaged in an interim ASW scheme of Extra Dark Sea Grey over White, and also carried the ASV.III radar.

AB-D/ML825 flown by Flying Officer J.N. Farren of 423 Squadron RCAF. ML825 assisted in the destruction of U-484 on 11 September 1944 and was finished in a later version of the ASW scheme that was applied to EK591, but with a very high Extra Dark Sea Grey demarcation on the fuselage. An ASV.IVc radar installation was carried by this aircraft.
Aviaeology has printed the decals in both 1/48 (for those who can find and afford the Alpha Flight or Signifer kits) and 1/72, which should be popular given the number of modelers who have the Airfix kit in their stashes and/or are anticipating Italeri's release later this year.
The decals (the 1/72 sheet is being reviewed here) look to be of high quality, with crisp printing and good registration, density and colour. I particularly liked the representation of the blue and red on the upper wing roundels: neither too dark nor too bright. The inclusion of white circle decals as a means of fixing the too-large portholes in the Airfix kit is a thoughtful touch – although as Aviaeology concedes, possibly not a foolproof solution given the potential difficulty of matching paint and decal colours.

As usual with Aviaeology releases, however, the decals themselves are only the beginning of the story. Five densely-packed A4 pages of grayscale instructions are supplied with the decals, covering the following topics:
A general description of the evolution of Sunderland camouflage during World War 2, supported by appropriate drawings.

Detailed painting and decal placement guides for each of the featured aircraft, using a combination of profile views, text boxes and arrows that leaves absolutely no room for doubt as to what goes where and why.

A general description of the differences and similarities between the Sunderland Mk.III and Mk.IIIA.

An extremely detailed description of the distinguishing features of each subject aircraft, including the types of radar, armament and bomb doors fitted.

Comprehensive descriptions and illustrations of the different types of racks, carriers and antisubmarine weapons carried by Sunderlands.

A 12-step guide to trouble-free application of Aviaeology decals.
This is a huge amount of information to include with a decal sheet, to the extent that it's almost overwhelming at first glance; I needed to re-read the instructions several times before I could take in all of the material provided. While I haven't tested the instructions for accuracy, given Aviaeology's commitment to research I seriously doubt that there is anything here that will lead modelers astray.

However this isn't all: as with the Beaufighter decals mentioned earlier, these instructions are available to Aviaeology customers upon request as an emailed, printable PDF. In this format, the instructions are even better, because they are in full colour and rendered more crisply than the paper version supplied with the decals. I don't know if the images are as fully scalable as those in the Beaufighter instructions – I'm a technological dunce – but even without this feature, they are extremely useful.
Any modeler considering a Sunderland project in either 1/72 or 1/48 scales should seriously think about getting this release. As confirmed U-Boat killers, the featured aircraft are all interesting subjects that have been extensively researched by Aviaeology. But even if you don't like the specific subjects, the information contained in the instructions is arguably worth the purchase price alone, because it will go a long way to ensuring that you end up with an accurate Sunderland model. This is an outstanding decal release that builds on the already high standards that Aviaeology has set for itself.

Review Sample Compliments of Aviaeology
---