Ju 87 B & 1/48 Ju 87 B/R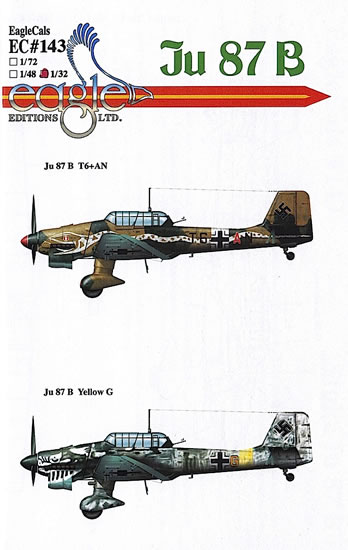 EagleCals Decals
1/32, 1/48 and 1/72 scales
S u m m a r y :

Catalogue Number and Description

Eagle EC#143 Ju 87 B
EC#144 Ju 87 B/R

Scale

1/32 and 1/48

Contents and Media

1/32 EC#143 contains 2 waterslide decal sheets of national markings, codes and other aircraft-specific markings, and 1 x A3 fold out full-colour instruction sheet with marking options for two aircraft.

1/48 EC#144 contains 1 waterslide decal sheet of national markings, codes and other aircraft-specific markings, 1 x A3 fold out full-colour instruction sheet with marking options for four aircraft, and 1 x A4 black-and-white photo supplement.

Price

EC#143 and EC#144 available from www.eagle-editions.com:
1/32 US$18.50
1/48 US$15.50
1/72 US$12.50

Review Type

First Look

Advantages

Interesting subject choices; high quality decals backed up by thorough research and excellent instructions

Disadvantages

None noted

Conclusion

Highly recommended to anyone considering a Ju 87 B build in any of the three most common scales.
Reviewed by Brad Fallen


Eagle Cals #143 Ju 87 B is available online from Squadron.com


Eagle Editions has released two new decal sets under its EagleCals label that six interesting Ju 87 B and R Stukas. The sets are available in 1/32, 1/48 and 1/72 scales, with the 1/32 version of EC#143 and the 1/48 version of EC#144 being examined here.

EC#143 contains markings for two aircraft:
Ju 87 B-2 'T6+AN' of 5./St.G 2, based in Libya, September 1941. This is one of the striking St.G 2 'snake' Stukas that have been popular with kit and decal manufacturers for decades. Arguably the most influential depiction of such a machine has been that of 'T6+MP' on the box art of Revell's 1/32 Ju 87 B kit from 1969, adorned with a vivid red-and-white snake (I've included a copy to show you what I mean). Contemporary interpretations of original black and white photographs suggest the 'red' spots were more likely to have been sand-brown, and this is the colour Eagle Editions has gone with. Careful research has also gone into the shape of the snake on the decal sheet, which matches perfectly with the one photograph I've been able to find of 'T6+MP'. The overall aircraft was finished in factory standard colours of RLM 70 Black Green and RLM 71 Dark Green over RLM 65 Light Blue, with the upper colours overpainted with patches of probably Giallo Mimetico from Italian stocks.

Ju 87 B (or possibly Ju 87 R) 'Yellow G', unit unknown, Eastern front, Winter 1941-42. This enigmatic Stuka was also finished in a standard 70/71/65 scheme, oversprayed with a scrappy application of winter whitewash and with what appears to be a shark mouth roughly painted on its cowling and radiator.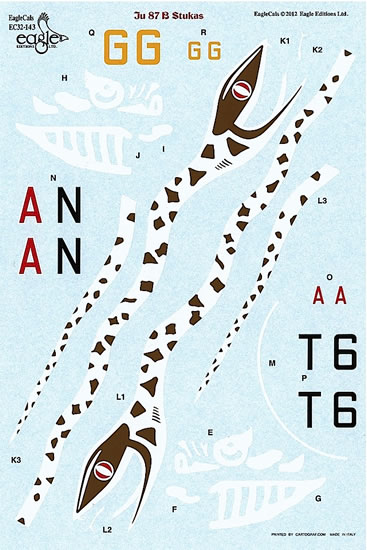 EC#144 contains markings for four aircraft, all of which carried variations of the 70/71/65 scheme:
Ju 87 B-2 'T6+AK' of St.G 2, Balkan campaign, probably Autumn 1941. This very colourful machine carried an RLM 04 Yellow cowling and rudder, red-and-green spinner, red 'scottie dog' unit emblems and a red 'A' code letter that was repeated on each upper wing. Eagle Editions has thoughtfully included two photographs of this aircraft on a supplementary sheet that appear to back up these marking suggestions.

Ju 87 B-2 '<F1+AN' of 8./St.G 77, Russia 1941. Another colourful Stuka, '<F1+AN' had a red, white and green spinner in addition to its RLM 04 theatre markings.

Ju 87 R-2 'T6+AC' flown by Major Walter Enneccerus of Stab II./St.G 2, Mediterranean, 1941. Although less flamboyant than the other aircraft featured on this sheet, 'T6+AC' will still make a striking model with its bright green code letter and spinner, fuselage Balkenkreuz centred on the white theatre identification band, and two long-range fuel tanks.

Ju 87 B-2 'White 18' flown by Sergente Bartolomasi of 209 Squadriglia, 96 Gruppo, Regia Aeronautica, captured by Allies at Sidi Barrani, Egypt, September 1941. Hand-me-down and/or captured aircraft make great modeling subjects, and this Stuka ticks both boxes. 'White 18' is depicted here as marked when it fell into British hands, although apparently it later wore dual Italian and British national insignia – now that would be an interesting scheme!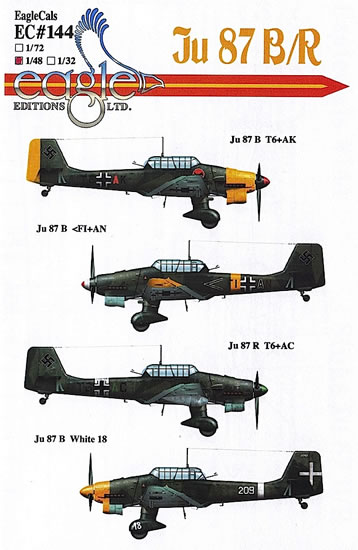 EagleCals instruction sheets are always prepared to a very high standard, and these are no exception. Full colour port or starboard profiles and overhead views are provided of each aircraft, as well as scrap drawings showing the placement location of underwing decals. All decal locations are clearly indicated, with separate line drawings provided that show the correct placement of stencils. The illustrations are backed up by a detailed written description of each aircraft, which includes specific reference details for modelers wanting to undertake further research – a welcome touch that I wish all decal manufacturers would adopt.
The decals are printed by Cartograf and appear to be excellent in all respects. I am particularly struck by how much better they are than the decals that come with Trumpeter's 1/32 Ju 87 B-2 kit in terms of their registration, colour density and accuracy. For example, Trumpeter's upper wing crosses are incorrect, and the 'Immelmann' 'scottie dog' emblems for the kit's marking option A are not handed – a mistake that Eagle Editions has not made. For me, this sums up what makes these two EagleCals sets so good – attention to detail in both research and production that results in customers getting high quality products that are as accurate as possible.
As you can tell, I really like both of these sets. EC#143 is the more ambitious release, providing decals for two very strikingly marked aircraft. However the less spectacular Stukas featured on EC#144 will also look great in model form. As always, the difficulty will be in choosing which scheme to apply!

Highly recommended.
Thanks to Eagle Editions for the review samples
---
EagleCals decals are available from Eagle Editions Website
---
Preview Text Copyright © 2012 by Brad Fallen
This Page Created on 27 November, 2012
Last updated 27 November, 2012
Back to HyperScale Main Page
---